As mentioned in the DDR3-1600 kit, as processors develop the manufacturers raise the minimum speed to which those processors and memory controllers are rated. This means that higher speed memory kits are guaranteed, and as such the market has to adjust – with the high end Trinity processors supporting DDR3-1866 out of the box, the rest of the spectrum will rise to cover this. As a result, the memory manufacturers have to argue for better deals over their ICs, and make sure the design of the ICs will secure higher yields of the faster stuff which they can sell on to the users. Our leap from DDR3-1600 to DDR3-1866 is a leap from an $80 kit to a $95 kit, or an increase in ~19% in the price.
Visual Inspection
The Sniper kits are the oddest of G.Skill's lineup. As we can see in the images below, the heatsink is shaped like a rifle. Bonus points if you can tell us what rifle it is meant to be. The benefits of having a rifle as a heatsink may point towards building a Gigabyte G-series system or MSI Big Bang XPower rig, both of which take designs using weapons as part of the standard. Apart from this, there is not much benefit to a stylized heatsink such as this – heat dissipation will be similar to the other kits in this review, and the main reason for this heatsink is to protect the user and competition from knowing what ICs are under the hood.
As with the RipjawsX kit, I placed a module of the kit in our system with the TRUE Copper, just to see the effect of having a large air cooler would have on the nearest memory module on a motherboard: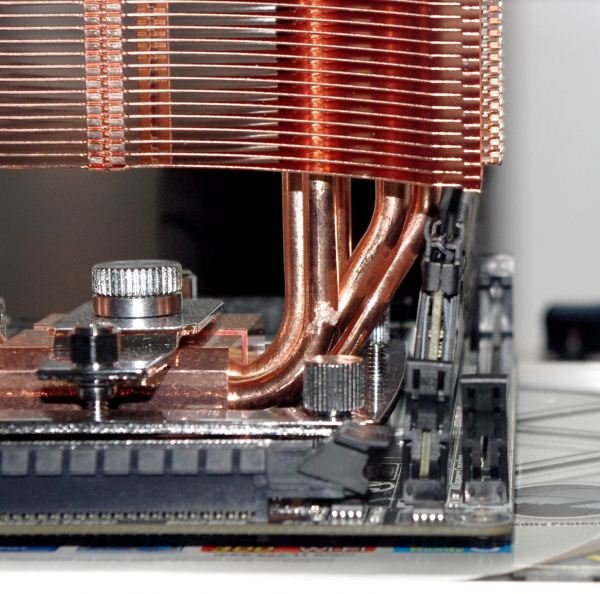 Again due to the height of the module, large air coolers that impinge on the memory slots will cause the Sniper kits to be placed at an angle.
JEDEC + XMP Settings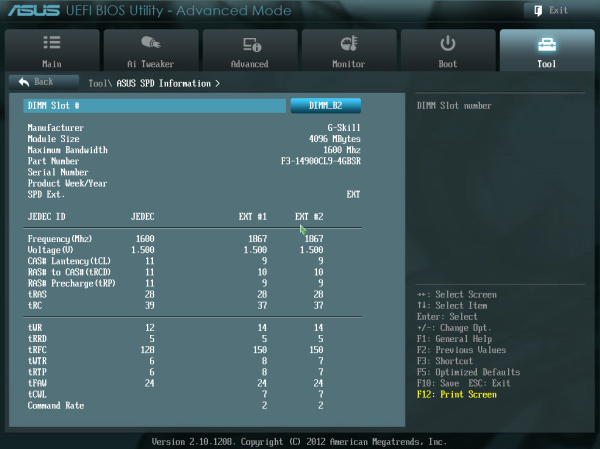 G.Skill
Kit Speed
1333
1600
1866
2133
2400
Subtimings
9-9-9-24 2T
9-9-9-24 2T
9-10-9-28 2T
9-11-10-28 2T
10-12-12-31 2T
Price
$75
$80
$95
$130
$145
XMP
No
Yes
Yes
Yes
Yes
Size
4 x 4 GB
4 x 4 GB
4 x 4 GB
4 x 4 GB
4 x 4 GB

---

MHz
1333
1600
1867
2134
2401
Voltage
1.500
1.500
1.500
1.650
1.650
tCL
9
9
9
9
10
tRCD
9
9
10
11
12
tRP
9
9
9
10
12
tRAS
24
24
28
28
31
tRC
33
33
37
38
43
tWR
10
12
14
16
16
tRRD
4
5
5
6
7/6
tRFC
107
128
150
171
313
tWTR
5
6
8/7
9/8
10/9
tRTP
5
6
8/7
9/8
10/9
tFAW
20
24
24
25
26
tCWL
-
7
7
7
7
CR
-
2
2
2
2