Synthetic testing has a way of elevating what may be a minor difference between hardware into a larger-than-life comparison, despite the effect on the usage of the system being near minimal. There are several benchmarks which straddle the line between synthetic and real world (such as Cinebench and SPECviewperf) which we include here, plus a couple which users at home can use to compare their memory settings.
SPECviewperf
The mix of real-world and synthetic benchmarks does not get more complex than SPECviewperf – a benchmarking tool designed to test various capabilities in several modern 3D renders. Each of these rendering programs come with their own coding practices, and as such can either be memory bound, CPU bound or GPU bound. In our testing, we use the standard benchmark on the IGP and report the results for comparison.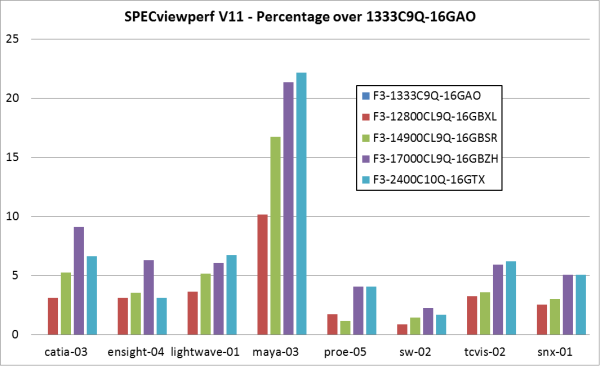 Each of these tools uses different methods in order to compute and display information. Some of these are highly optimized to be less taxing on the system, and some are optimized to use less memory. All the tests benefit in some way moving from DDR3-1333 to DDR3-2400, although some as little as 2%. The biggest gain was using Maya where a 22% increase was observed.
Cinebench x64
A long time favourite of synthetic benchmarkers the world over is the use of Cinebench, software designed to test the real-world application of rendering software via the CPU or GPU. In this circumstance we test the CPU single core and multi-core performance, as well as the GPU performance using a single GTX 580 at x16 PCIe 2.0 bandwidth. Any serial factors have to be processed through the CPU, and as such any memory access will either slow or speed up the benchmark.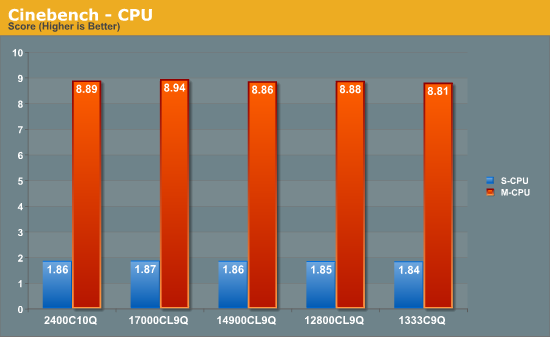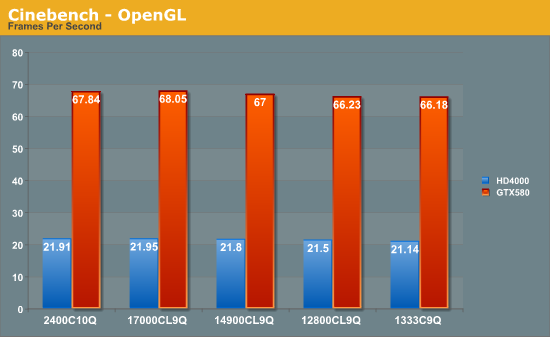 In terms of CPU performance in Cinebench, the boost from faster memory is almost negligible; moving from DDR3-1333 to DDR3-2133 gives the best boost of about 1.5%.