Conclusion: NZXT Wants to Give You Everything
I think before the NZXT Phantom 820 was sent to me, that if you had told me NZXT was going to send me a first class enthusiast case that easily ranked among the best in performance, I would've been skeptical. They've had some hits (the Phantom 410 was actually a surprisingly adept little box), but performance has consistently been more middle-of-the-road.
That's changed completely with the Phantom 820.
NZXT has finally been able to marry features with performance in a very compelling way. Their latest offering is expensive, so if you're just looking for something to hold your hardware and perform reasonably well, this isn't going to be it. This is for the people who buy the big bling cases, the ones that are meant to guarantee superior thermal and acoustic performance, and it needs to be measured on those terms.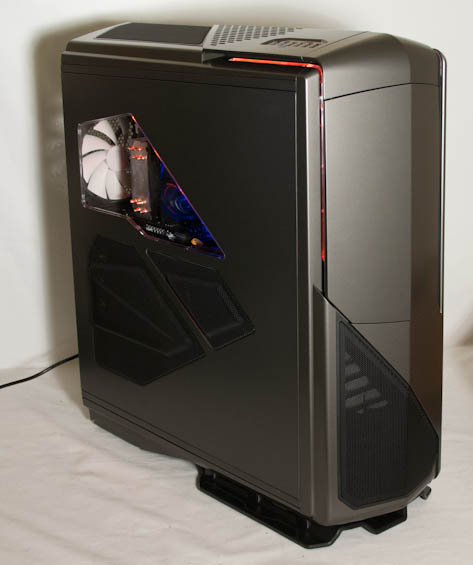 While I quibble with the mess of cables and the drive trays, I'm not convinced the side intake was necessary, I also have a hard time denying that the case does provide the end user with almost everything they could possibly ask for. The fan controller, configurable LED lighting, and integrated SD card reader are all great features that many users might have been forced to add on their own in another case. The fact that the fan controller has four independently configurable channels each capable of supporting up to three fans makes it a very robust solution that should produce satisfactory results for all but the most particular users.
Meanwhile, custom watercooling users should have a fairly happy time with enough space for either a 360mm or 280mm radiator in the top of the case along with a second 240mm or 280mm radiator in the bottom, and enterprising users can even add additional 140mm radiators to the back exhaust and the internal fan slot. That's a cumulative 920mm of radiator capacity, and that's ignoring the fact that there's actually z-height space for the radiators in the enclosure.

At $249 the NZXT Phantom 820 might still be a bit too expensive for a case that does use plastic in parts of the shell, but it goes a long way towards justifying itself with the mountain of features. I personally feel a price tag that high is starting to get too onerous for a case, but the performance and bonuses really are there. It's a great case with room to grow and if the price comes down it's going to be very hard to compete with. If you're looking for a big, powerful case, the Phantom 820 is tough to beat. It's only the price and few iffy design decisions that keep it from earning a better award, but I think a Bronze Editor's Choice is definitely appropriate for what NZXT has accomplished here. Well done.