Crysis: Warhead
Kicking things off as always is Crysis: Warhead. It's no longer the toughest game in our benchmark suite, but it's still a technically complex game that has proven to be a very consistent benchmark. Thus even four years since the release of the original Crysis, "but can it run Crysis?" is still an important question, and the answer continues to be "no." While we're closer than ever, sub-$200 cards still struggle to hit 60fps at 1680x1050, never mind 1080p.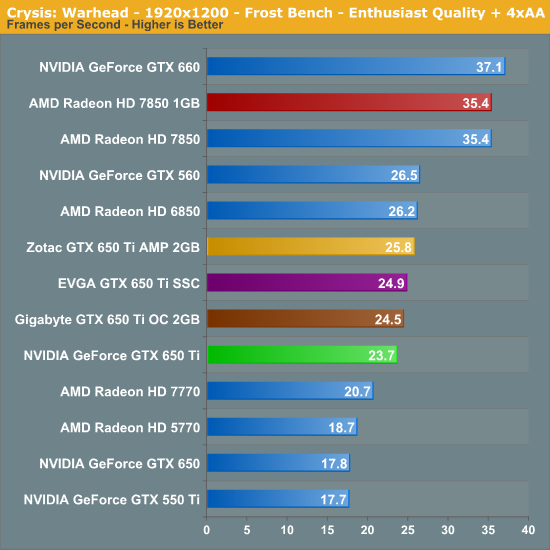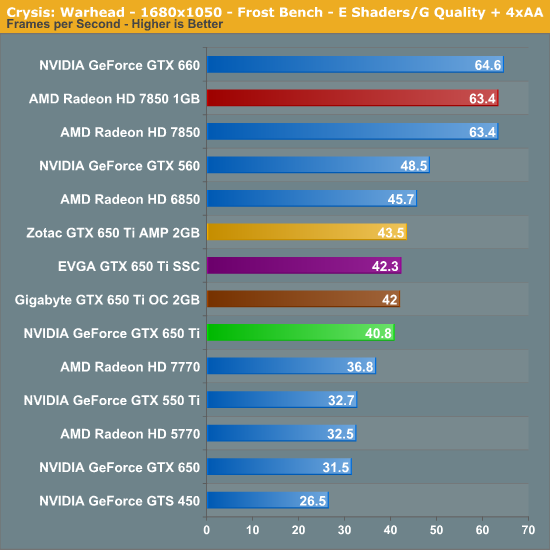 Crysis is a game that has consistently fouled up NVIDIA's GeForce 600 cards, and this is especially evident with the launch of the GTX 650 Ti. The performance difference makes this a no-contest bout; the 7850 is nearly 50% faster. GTX 650 Ti doesn't stand a chance here. At best you're looking at a 42fps average for the GTX 650 Ti at 1680, which is a far cry from the 60fps smoothness the 7850 can deliver.
Meanwhile looking at our retail factory overclocked cards, all of them improve on Crysis's performance, but not by nearly enough. Because this game is memory bandwidth limited at times, the Zotac GTX 650 Ti AMP with its memory overclock is the winner here, squeezing out the Gigabyte and EVGA cards with their reference memory clocks.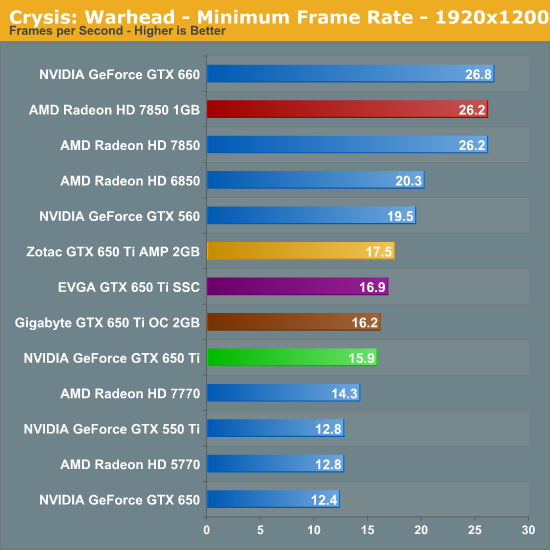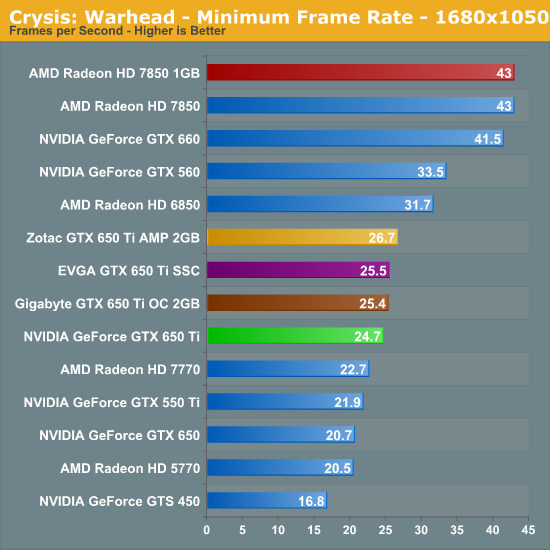 As bad as the averages were for the GTX 650 Ti, the minimums are even worse. At 1680 the GTX 650 Ti is only hitting 57% of the performance of the 7850 1GB; it doesn't even crack 30fps.