Power switching is a simple home automation application in which a device can be powered up or down at the socket level remotely. Simple Wi-Fi switches such as the NetRC1 have been around since early 2010. One of the first mainstream companies to enter into this space was Belkin. In this section, we will take a look at two interesting Wi-Fi based power switches, the Belkin WeMo kits and Visible Energy's offerings.
Belkin WeMo
Belkin's WeMo lineup consists of two offerings, the plain WeMo Wi-Fi controlled switch ($50) and the WeMo switch combined with a motion sensor ($100). Currently, only an iOS app is available for controlling the switch.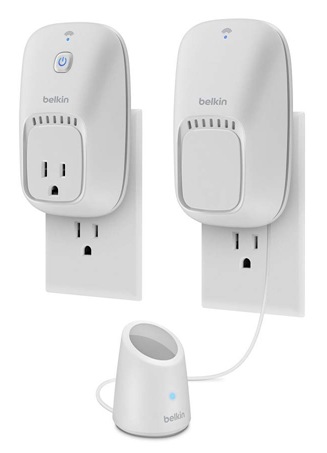 A web-service called 'If This Then That' works with these switches and allows bidirectional reaction to events. For example, a event triggering the motion sensor on a particular unit could be used to generate an email message. Similarly, an event happening on a website (say, a weather channel website indicating that the sun has set at a particular location) can trigger a particular switch on.
Currently, the device seems to be recommendable only to consumers in the Apple ecosystem because of the absence of an Android app. It is not clear whether the unit is accessible from a browser on the local network in the case that there is no access to the Internet and an iOS device is not available. Similar to the walled garden being created by Nest, Belkin also refuses to document the APIs officially. However, this has not prevented the communication methods from getting exposed. The concerns that I voiced in the earlier section regarding Nest warrant a repetition here too. Belkin does plan to add more Wi-Fi enabled home automation devices such as door locks and light bulbs to this lineup. That is a positive compared to having a dedicated app with a different UI for the thermostat alone. In any case, home automation system adopters should try to ensure that the components being put in have well-documented control interfaces.
Visible Energy
My search for an economical and open Wi-Fi power switch ended when I spotted Visible Energy's UFO Power Center and Monostrip. In addition to the ability to power the outlets up and down over Wi-Fi, they also provide real time power usage feedback. Like the WeMo, only an iOS app is available right now. However, web access is also provided using the Visible Energy Web Dashboard. The four-outlet UFO Power Center comes in at $130, while the two-socket Monostrip comes in at $49. Visible Energy also sells a version of the Monostrip with temperature and humidity sensors at $130.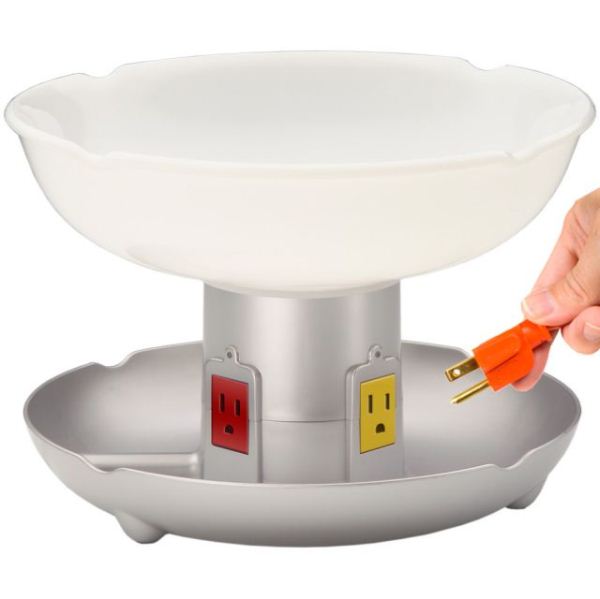 The UFO power center has a strange industrial design, while the Monostrip is a little more conventional in nature. While we are looking at the two units from a Home Automation perspective, the company stresses the fact that the products are more about conserving electricity and creating a user friendly energy management system.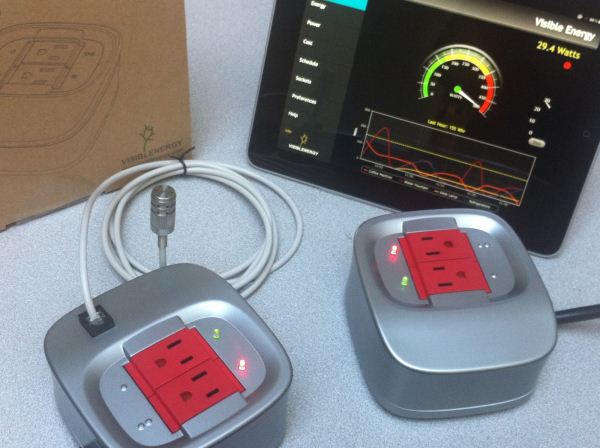 The energy management goals make it necessary for the product to have real time power monitoring. This is a very useful feature (actually, the primary feature) present in Visible Energy's products when compared to other Wi-Fi enabled power switches. Power consumption is calculated and refreshed every second. Energy usage is calculated 50 times a second and the data is recorded at 5 minute intervals.
The real clincher is the availability of extensive developer documentation for accessing the energy / power data and controlling the units. This makes it easy for third parties to create custom interfaces in a home automation setting.