Razer Blade (late 2012) - Switchblade UI
Easily the most significant issue I had with the original Blade's user experience while I had it was the usability of the Switchblade UI system, and other than the overall system value quotient, it was the biggest reason I could point to for not recommending a Blade purchase. By "usability of the Switchblade UI", I'm not even saying that it was hard to use, just that it was never working reliably enough for me to use on a day-to-day basis. Synapse, Razer's cloud-driven device settings manager, would crash with regularity, and the entire system had issues coming out of standby mode.
The good thing here is that the Synaptics drivers were pretty solid, so you could still use the touchpad part of it even when Synapse and Switchblade were long gone. Of course, there were also the occasional times when Switchblade would nuke itself completely (to use the technical term for it)—the LCD buttons would turn white and the touch panel would become unresponsive, necessitating a full system reboot. Through my three months with the original Blade, I probably spent two-thirds of my time with the Switchblade part of things not working. I didn't care most of the time as long as the multitouch trackpad was working, but it was definitely a significant problem that needed to be addressed going forward.
I wasn't the only one who noticed this, as Razer took a beating in various online notebook owner forums. Thankfully, the company was very proactive about pushing new updates and new content to Switchblade. Based on my interactions with the new Blade and also the DeathStalker Ultimate keyboard over the last month, it's definitely a night and day difference in terms of stability and usability.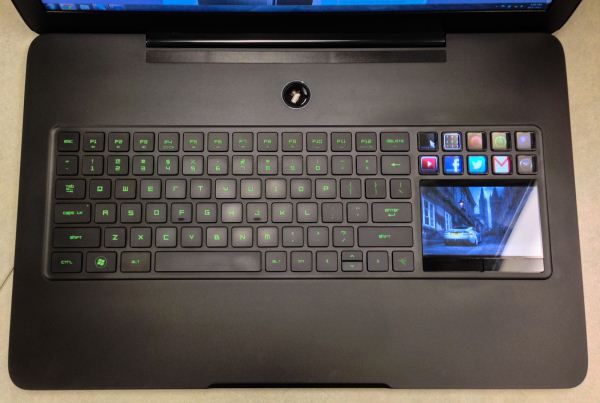 This is a very, very good thing. So is the new SDK that was released by Razer, something that will become an asset as more Switchblade devices hit the market. There are a couple of new applications, including a game timer and a screenshot app. Razer is also working with a number of game developers to add support for a number of popular titles, including CounterStrike, CS:Source, CS:GO, Team Fortress 2, Battlefield 3, and Star Wars: Knights of the Old Republic at present, with more games currently in validation. And call me shallow, but I find the new ability to set your own wallpaper for the LCD touchpad simply awesome.
But here's my deal. Even with all of the improvements being made to Switchblade, it's still a cool concept with only a very specific usage model. Even then, a lot of the experiences are subpar—the browser is still Mobile IE 7 running on an embedded Windows NT 5.1 kernel, and it absolutely pales in comparison to basically any modern smartphone browsing experience. The Gmail, YouTube, Facebook, and Twitter applications are just the mobile IE 7 experiences, which makes them generally painful to use, but it's also worth noting that YouTube videos played back at a very low frame rate, 20 frames per second or less. Any iPhone or iPod touch (going all the way back to the ARM11-based originals from 2007) will top that. So will the Zune HD or any credible Android/Windows Phone/WebOS device made in the last three years.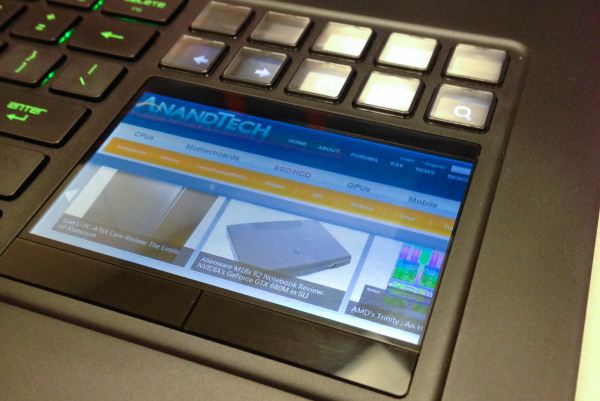 It's a blatant issue—it's far easier and more convenient to just pull out a smartphone or an iPod to check the internet, email, or social networks. The gaming functions are nice enough, as is the screenshot application, and I suspect we'll see Switchblade get more useful as developers come aboard and more games-specific applications are launched. The game developers can do some pretty innovative things with Switchblade; we were shown a demo of the Firefall application that allowed you to use the touchscreen as either a virtual analog controller or showed the environment map, for example.
Switchblade clearly has the potential to enhance gaming experiences, but it's just as clear that it needs a lot of work in other areas. I enjoy the idea of having a touchscreen input, along with the configurable shortcut keys at the top. The placement, too, is very convenient and is much more natural to use than a traditionally placed touchpad once you get used to it. But with such outdated software experiences powering the core web-based functions of Switchblade, it's sadly going to remain a novel but not particularly functional sideshow outside of its uses in the gaming realm.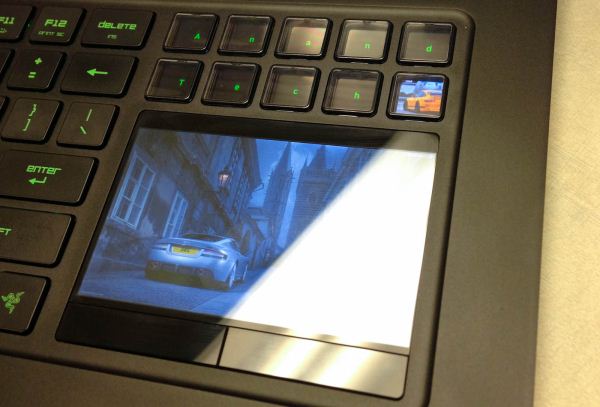 If you look solely at the keyboard and mouse, things look pretty solid. The touchscreen trackpad, like I said above, is great to use; Synaptic's multitouch drivers are seamless and offer a wide range of gesture support. Razer has improved the touchpad buttons to give much more positive feedback on clicks—there's less of a cheap plastic sound when you actuate them. The keyboard is almost untouched, meaning fully anti-ghosted and individually backlit keys that have zero flex, though the key travel itself is a bit shallow. Razer has backlit the secondary functions (brightness, volume, etc), which has made using them in the dark significantly more convenient. I still take issue to the layout (seriously, there's little to no reason for the Fn key to be on the right side of the spacebar) but you get used to it quickly enough as long as you aren't switching from notebook to notebook.