The Chip
Whereas NVIDIA actually shipped the GeForce2 MX with a slightly altered version of the GeForce2 GTS core (two rendering pipelines on the MX versus four on the GTS, and a lower clock), ATI is using the exact same Radeon chip on their value product, the Radeon SDR.
Just as a quick refresher, this 0.18-micron Radeon core operates at up to 183MHz.  Unlike the GeForce2 GTS, the Radeon only features two rendering pipelines (like the GeForce2 MX) but features three texture units per pipeline.  While this doesn't help the Radeon any in current dual textured games such as Quake III Arena, since one of the texture units is left unused, ATI is banking on the developers implementing higher order multitexture implementations in future games.  In a game that takes advantage of three textures for example, the Radeon would be able to render two triple textured pixels at once while the GeForce2 GTS would only be able to do one.  But as we just mentioned, this doesn't help ATI any now, instead it could help the Radeon last a bit longer than the GeForce2 GTS in the long run as well as perform better in such situations.
The Radeon also features ATI's Charisma engine, which makes them the second major graphics chip manufacturer to embrace an on-board Hardware T&L engine, the first being NVIDIA.  The Charisma engine has the ability to perform all transforming, lighting and clipping calculations itself thus offloading some of the work from the host CPU.  This puts it, feature-wise, on par with the GeForce2 GTS' T&L engine.  Performance-wise, on paper at least, the ATI T&L engine is capable of processing 30 million triangles per second, compared to 25 million on the GeForce2 GTS. 
The Charisma engine also includes quite a few DirectX 8 features which we describe in full detail, as well as other parts of the Radeon core in our full review of the Radeon here.
Video Card Specification Comparison

ATI Radeon 64DDR

ATI Radeon 32SDR

NVIDIA GeForce 256

NVIDIA GeForce2 MX

NVIDIA GeForce2 GTS

3dfx Voodoo5 5500

Core

Rage6C

NV10

NV11

NV15

Napalm (VSA-100)

Clock Speed

183MHz*

166MHz

120MHz

175MHz

200MHz

166MHz

Number of Chips

1

1

1

1

1

2

Rendering Pipelines

2

2

4

2

4

2

Texels/Clock

3

3

1

2

2

1

Texels/Second

1100 Million

1000 Million

480 Million

700 Million

1600 Million

667 Million

Memory Bus

128-bit DDR

128-bit SDR

128-bit SDR/DDR

128-bit SDR or 64-bit SDR/DDR

128-bit SDR/DDR

128-bit SDR

Memory Clock

366MHz* DDR

166MHz

166MHz SDR/300MHz DDR

166MHz SDR

333MHz DDR

166MHz SDR

Memory Bandwidth

5.9GB/s*

2.7GB/s*

2.7/4.8 GB/s

2.7 GB/s

5.3 GB/s

5.3 GB/s

Manufacturing Process

0.18-micron

0.22-micron

0.18-micron

0.25-micron (Enhanced)
*Note: Figures don't take into account HyperZ
The Radeon SDR will be a 32MB only card, and as the name implies, will feature Single Data Rate SDRAM instead of the Double Data Rate (DDR) SDRAM that has been on all other Radeon cards until now.  This is obviously going to cripple the Radeon SDR in the same way the GeForce2 MX's SDR memory did to it, however, theoretically, there is another factor that must be taken into account that could tilt things in favor of ATI.  Before we get to that, let's look at the various flavors of the Radeon as there has been a recent confusion expressed about the various Radeon versions available.
For starters, there must be an understanding of OEM or "white box" products versus retail products.  An OEM or "white box" product is one that, as the name implies, is used by an OEM such as Dell, Micron or any other such manufacturers, in their systems.  A retail product is one that you'll find on the shelves of retail stores, such as Fry's Electronics, CompUSA, Best Buy and other such stores.  Historically, OEM products have always required a bit more care since often times OEM versions of retail products carry slight differences.  These differences can range from simple things such as not having any software bundles or not having any TV output, to much more serious issues such as different memory configurations or lower operating frequencies.  The latter happens to be the case with ATI's Radeon line.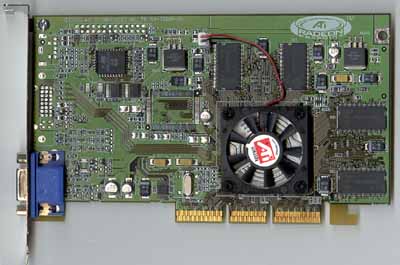 Click to Enlarge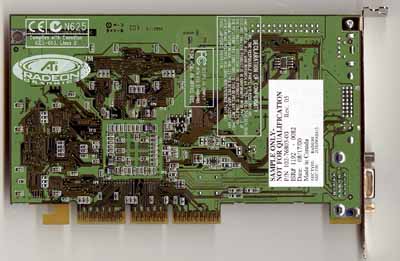 Click to Enlarge
We mentioned earlier that the Radeon operates at up to 183MHz.  The reason for the "up to" disclaimer is simple, only the retail versions of the Radeon (cards you can find in retail stores) run at 183MHz, the rest run at 166MHz.  This means that all OEM or "white box" Radeon cards run at 166MHz. 
Things get even more confusing once you take into account the different memory configurations available on Radeon based cards.  The retail 64MB Radeon cards, which are only available with DDR SDRAM, run at a 183MHz core clock as well as a 183MHz memory clock (the Radeon core is clocked synchronously with the memory clock, so the two frequencies must be identically clocked).  However, as we just mentioned, all OEM Radeons run at 166MHz, which means that the OEM 64MB Radeon DDR runs at 166/166MHz (core/mem).  With the same exact card running at 183/183MHz in the retail box, you can start to see why there would be some confusion here.
The 32MB Radeon cards are much easier to deal with since all 32MB Radeons, OEM and retail, run at 166/166MHz (core/mem).  This includes the 32MB All-in-Wonder Radeon cards as well. 
And using that information it's pretty easy to guess that the Radeon SDR, which is a 32MB only card, runs at 166/166MHz (core/mem).  It also happens to be that the Radeon SDR will be sold as an OEM card only.
ATI Radeon Product Line Comparison

Card

OEM/Retail

Memory Size

Clock Speed

TV Tuner

Video In/Video Out

Current
Price

Radeon
64DDR

Retail

64MB

183/183MHz

No

Yes

$320

Radeon 64DDR

OEM

64MB

166/166MHz

No

Yes

$300

Radeon 32DDR

OEM & Retail

32MB

166/166MHz

No

No

$230

Radeon 32SDR

OEM only

32MB

166/166MHz

No

No

$150 (est)

All-in-Wonder Radeon

OEM & Retail

32MB

166/166MHz

Yes

Yes

$300