Performance Over Time & TRIM
For starters, I ran HDtach on a secure erased drive to get the baseline performance: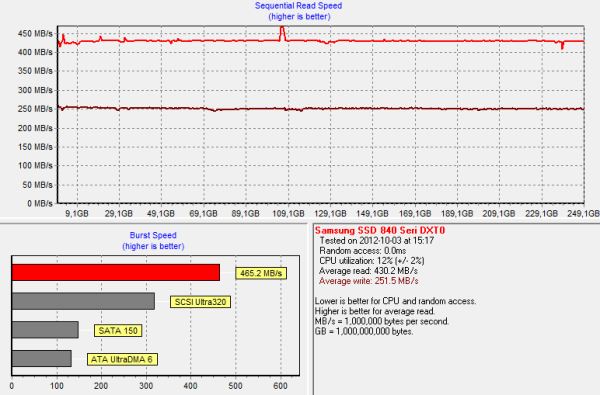 Next I secure erased the drive again, filled it with compressible data and proceeded with torturing it for 20 minutes with compressible 4KB random writes (100% LBA space, QD=32):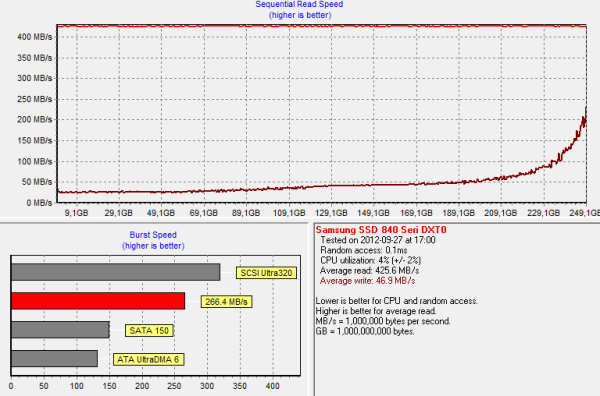 Ouch, performance takes a big hit. Usually 20 minutes isn't enough to put 256GB drives on their knees but it definitely is for the 840. Write speed drops to as low as 25MB/s, although it's nearly restored before all user-accessible LBAs have been filled. The way to avoid this worst case state is to keep as much free space on your drive as possible. We typically recommend around 20%, however with TLC NAND it might be advisable to bump that up to 30%. The 840 Pro will be a better option for heavy write workloads already due to its higher endurance.
To see how idle time is able to restore performance, I let the drive idle for 50 minutes: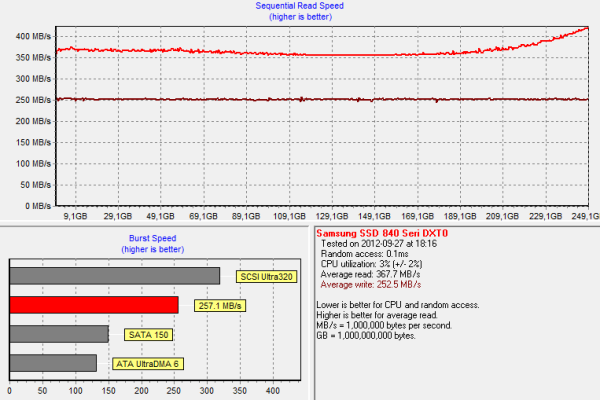 Write speed is fully restored but for some reason, read speed is fluctuating. The drop isn't huge as we are still talking about +350MB/s at all times, but it's interesting and a bit odd to see this kind of behavior since read speed was ~425MB/s after torture.
Finally I secure erased the drive again, filled it, tortured for 20 minutes and TRIM'ed it: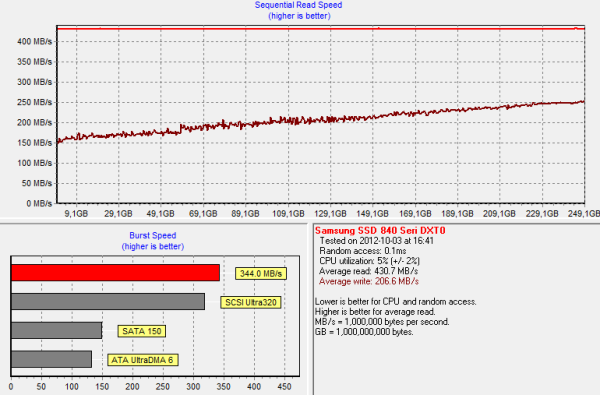 Again we see some weird behavior as write speed is not fully restored after TRIM. It does get to 250MB/s at the end of the HDtach run, but the starting performance is only 150MB/s. Keep in mind that I TRIM'ed the drive right after the torture; I didn't run HDtach in between like we often do but a functioning TRIM should still fully restore performance. Remember that TRIM is still just a suggestion—it's up to the controller to prioritize TRIMed LBAs for garbage collection. Given the higher program/erase latencies with TLC NAND it's entirely possible that the 840's garbage collection routine is just slower than we're used to seeing. Another possibility is that with the fewer number of P/E cycles, the 840 is just very conservative about using them when it's not stricly necessary (e.g. ignoring some of the TRIM "suggestions").
As a final test, I TRIM'ed the drive again and ran HDtach: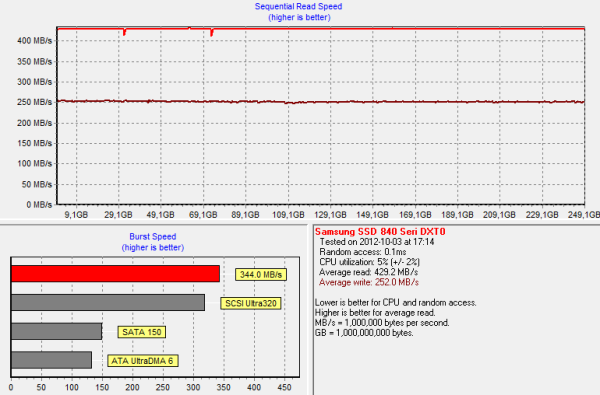 And now performance is what it should be. This is mostly due to sequential writes because at the end of the previous HDtach run, write performance was already at 250MB/s.