AnandTech Storage Bench 2011—Light Workload
Our new light workload actually has more write operations than read operations. The split is as follows: 372,630 reads and 459,709 writes. The relatively close read/write ratio does better mimic a typical light workload (although even lighter workloads would be far more read centric).
The I/O breakdown is similar to the heavy workload at small IOs, however you'll notice that there are far fewer large IO transfers:
AnandTech Storage Bench 2011—Light Workload IO Breakdown
IO Size
% of Total
4KB
27%
16KB
8%
32KB
6%
64KB
5%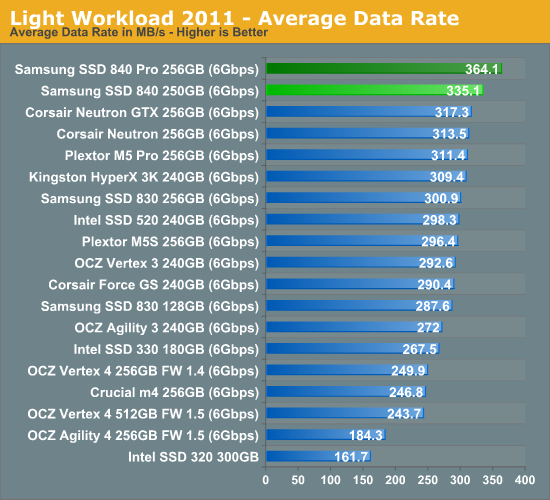 While the 840 didn't shine in our Heavy suite, it definitely takes the crown in our Light suite. The 840 Pro is still faster, obviously, but the 840 is the second fastest SSD we have tested. As the 840 is aimed towards consumers, the Light workload test should be a better indication of overall performance than our Heavy suite.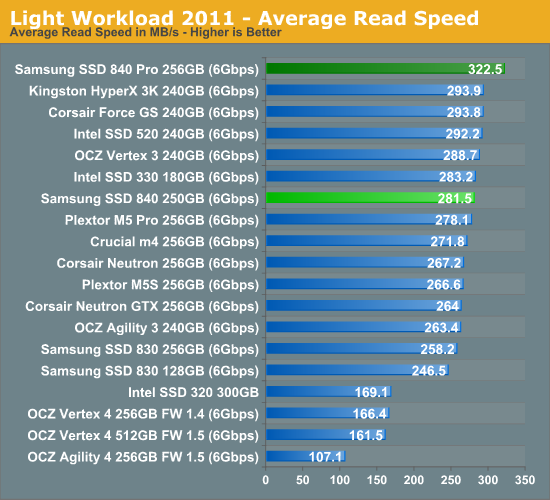 What's rather odd is that the average write speed is over 100MB/s higher than any synthetic write benchmark we ran.