Many users tend to avoid Intel GPUs because of the absence of accurate video output refresh rates. Intel has still not come out with their promised update to bring 23.976 Hz refresh to Ivy Bridge. AMD has historically been able to provide quite accurate refresh rates while NVIDIA gives users the ability to make fine-grained adjustments to their settings.
How does Trinity fare? The short story is that the display refresh rate is not as accurate as we would like. However, it is still much better than Intel's setting. NVIDIA cards, when configured correctly, can probably provide better accuracy. We are not sure whether this is an issue specific to the Asus board, or it is a problem with the drivers / processor's video output itself. Setting the display refresh rate to 23 Hz yields 23.977 Hz, as shown below.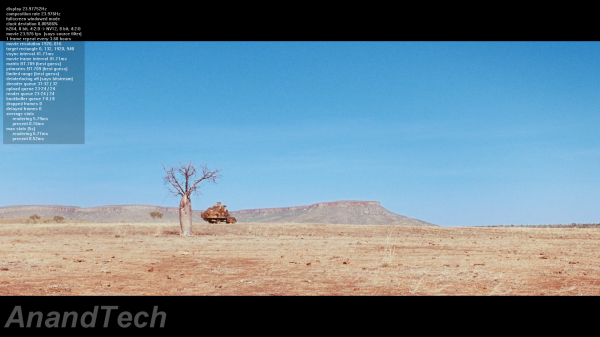 Other refresh rates also suffer similar problems The gallery below shows some of the other refresh rates that we tested.
An interesting point to note here is that AMD is able to drive 25 Hz, 29 Hz and 30 Hz refresh rates on the Sony KDL46EX720 through the Pioneer Elite VSX-32. In the same setup, NVIDIA and Intel don't present these settings in the progressive format. That said, both Intel and NVIDIA offer 50 Hz, 59 Hz and 60 Hz settings which are exactly double of the above settings (Clarification: 29 Hz in the control panel corresponds to a refresh rate of 29.97 Hz, and 59 Hz in the panel corresponds to a refresh rate of 59.94 Hz).
It would be nice to have more control over the display refresh rate similar to what NVIDIA provides. That would help users fine-tune their settings in case the out of the box behaviour doesn't match the user's expectations.