Minecraft
Switching gears for the moment we have Minecraft, our OpenGL title. It's no secret that OpenGL usage on the PC has fallen by the wayside in recent years, and as far major games go Minecraft is one of but a few recently released major titles using OpenGL. Minecraft is incredibly simple—not even utilizing pixel shaders let alone more advanced hardware—but this doesn't mean it's easy to render. Its use of massive amounts of blocks (and the overdraw that creates) means you need solid hardware and an efficient OpenGL implementation if you want to hit playable framerates with a far render distance. Consequently, as the most successful OpenGL game in quite some number of years (at over 7.5mil copies sold), it's a good reminder for GPU manufacturers that OpenGL is not to be ignored.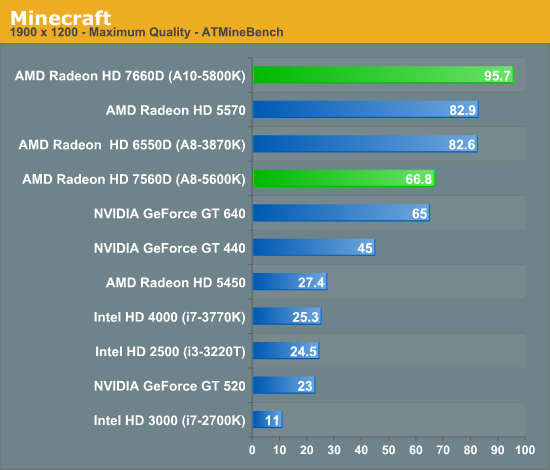 Minecraft does incredibly well on Trinity. While the improvement over Llano is only 15%, the advantage over Ivy Bridge is tremendous.
Civilization V
Our final game, Civilization V, gives us an interesting look at things that other RTSes cannot match, with a much weaker focus on shading in the game world, and a much greater focus on creating the geometry needed to bring such a world to life. In doing so it uses a slew of DirectX 11 technologies, including tessellation for said geometry, driver command lists for reducing CPU overhead, and compute shaders for on-the-fly texture decompression. There are other games that are more stressful overall, but this is likely the game most stressing of DX11 performance in particular.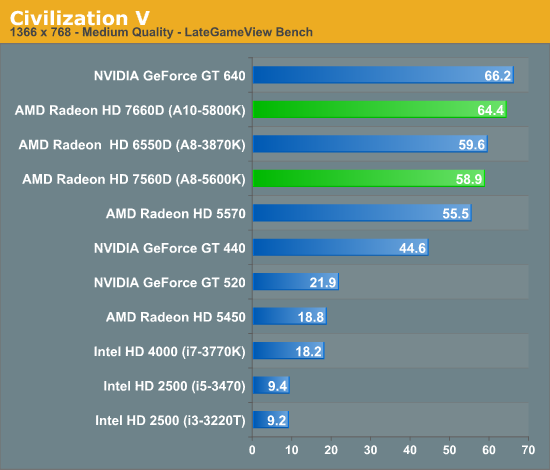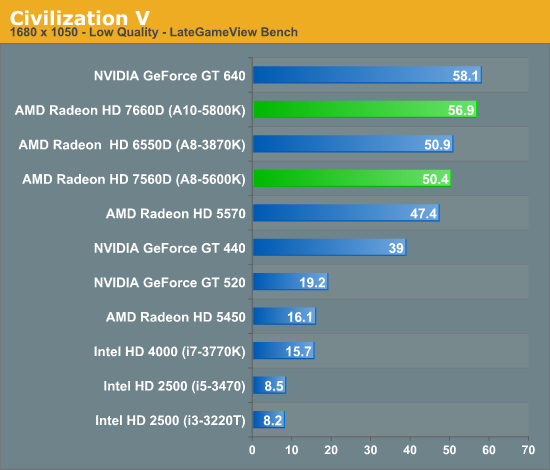 Civilization V shows some of the mildest gains in all of our tests vs. Llano. The 5800K/7660D manage to outperform Llano by only 8 -11% depending on the test. The advantage over Intel is huge of course.