We've seen a bunch of custom SSD form factors with the arrival of Ultrabooks as well as systems like the MacBook Air and Retina MacBook Pro. The need is simple: standard 7mm or 9.5mm SSDs are too big for some of these machines, and you don't actually need all of that volume to build a fast drive. mSATA cards work as a small form factor solution but they are only available in a single size. We need flexibility both on length (to allow for higher capacities) as well as on the interface side to enable higher performance. The NGFF specification gives us just that.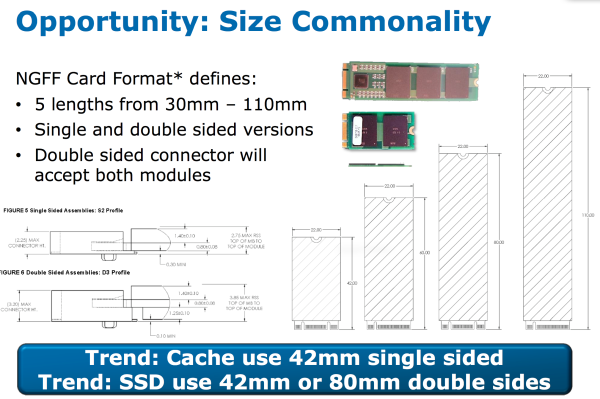 The spec allows for SATA, PCIe x2 or PCIe x4 interfaces. It also includes definitions for five different card lengths.
The proposed spec includes two connector definitions: Socket 2 and Socket 3. Socket 2 allows for SATA or PCIe x2 interface for SSDs, WWAN or other non-storage devices. Socket 3 is strictly for high-performance storage, offering up to 4GB/s of bandwidth in a tiny little package.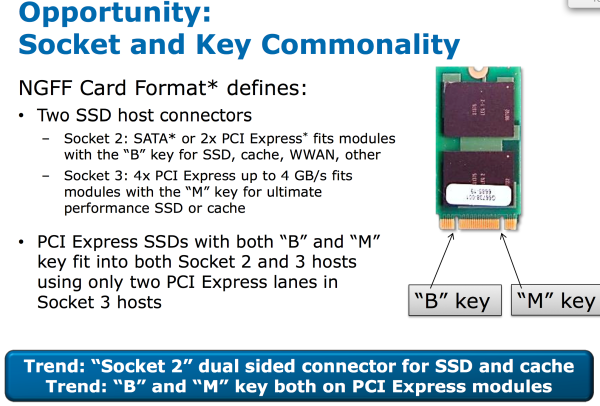 This is super exciting as far as I'm concerned. We've strayed too far from standardization and upgradability in the pursuit of ultimate mobility. Now all we need is a smaller form factor user replaceable memory standard.
Update: I just got some hands on shots with a few NGFF samples: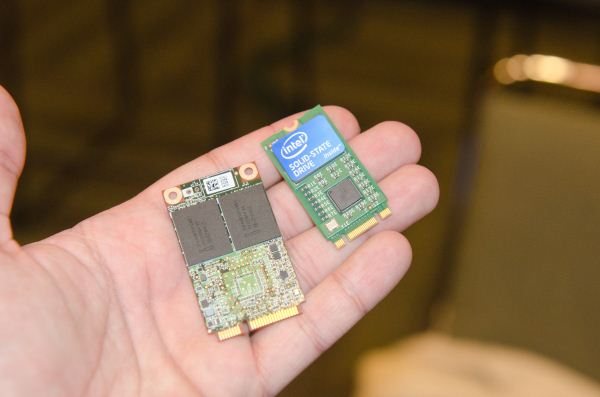 mSATA on the left, NGFF on the right