Just What Is NVIDIA's Competition & The Test
Every now and then it's productive to dissect NVIDIA's press presentation to get an idea of what NVIDIA is thinking. NVIDIA's marketing machine is generally laser-focused, but even so it's not unusual for them to have their eye on more than one thing at a time.
In this case, ostensibly NVIDIA's competition for the GTX 660 is the Radeon HD 7800 series. But if we actually dig through NVIDIA's press deck we see that they only spend a single page comparing the GTX 660 to a 7800 series card (and it's a 7850 at that). Meanwhile they spend 4 pages comparing the GTX 660 to prior generation NVIDIA products like the GTX 460 and/or the 9800GT.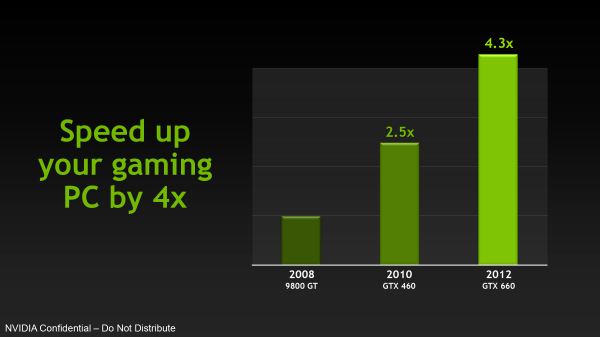 The most immediate conclusion is that while NVIDIA is of course worried about stiff competition from AMD, they're even more worried about competition from themselves right now. The entire computer industry has been facing declining revenues in the face of drawn out upgrade cycles due to older hardware remaining "good enough" for longer period of times, and NVIDIA is not immune from that. To even be in competition with AMD, NVIDIA needs to convince its core gaming user base to upgrade in the first place, which it seems is no easy task.
NVIDIA has spent a lot of time in the past couple of years worrying about the 8800GT/9800GT in particular. "The only card that matters" was a massive hit for the company straight up through 2010, which has made it difficult to get users to upgrade even 4 years later. As a result what was once a 2 year upgrade cycle has slowly stretched out to become a 4 year upgrade cycle, which means NVIDIA only gets to sell half as many cards in that timeframe. Which leads us back to NVIDIA's press presentation: even though the GTX 460/560 has long since supplanted the 9800GT's install base, NVIDIA is still in competition with themselves 4 years later, trying to drive their single greatest DX10 card into the sunset.
The Test
The official launch drivers for the GTX 660 are 306.23, which are the latest iteration of NVIDIA's R304 branch of drivers. Besides adding support for the GTX 660, these drivers are performance-identical to earlier R304 drivers in our tests.
Also, we'd like to give a quick thank you to Antec, who rushed out a replacement True Power Quattro 1200 PSU on very short notice after the fan went bad on our existing unit. Thanks guys!
CPU:
Intel Core i7-3960X @ 4.3GHz
Motherboard:
EVGA X79 SLI
Chipset Drivers:
Intel 9.​2.​3.​1022
Power Supply:
Antec True Power Quattro 1200
Hard Disk:
Samsung 470 (256GB)
Memory:
G.Skill Ripjaws DDR3-1867 4 x 4GB (8-10-9-26)
Case:
Thermaltake Spedo Advance
Monitor:
Samsung 305T
Video Cards:
AMD Radeon HD 6870
AMD Radeon HD 7850
AMD Radeon HD 7870
AMD Radeon HD 7950
NVIDIA GeForce 8800GT
NVIDIA GeForce GTX 260
NVIDIA GeForce GTX 460 1GB
NVIDIA GeForce GTX 560
NVIDIA GeForce GTX 560 Ti
NVIDIA GeForce GTX 660 Ti
Video Drivers:
NVIDIA ForceWare 304.79 Beta
NVIDIA ForceWare 305.37
NVIDIA ForceWare 306.23 Beta
AMD Catalyst 12.8
OS:
Windows 7 Ultimate 64-bit