Civilization V
Our final game, Civilization 5, gives us an interesting look at things that other RTSes cannot match, with a much weaker focus on shading in the game world, and a much greater focus on creating the geometry needed to bring such a world to life. In doing so it uses a slew of DirectX 11 technologies, including tessellation for said geometry, driver command lists for reducing CPU overhead, and compute shaders for on-the-fly texture decompression.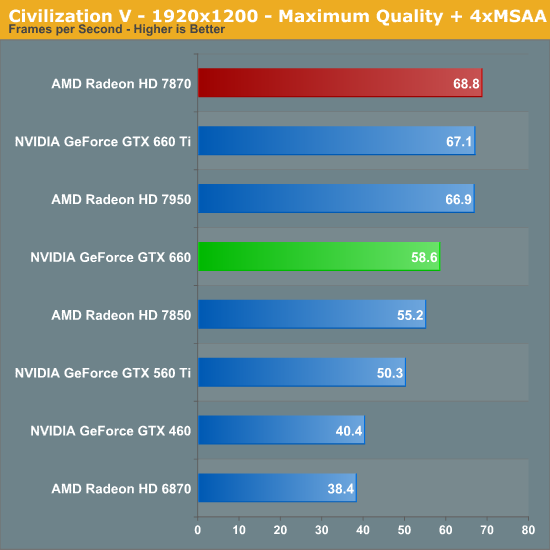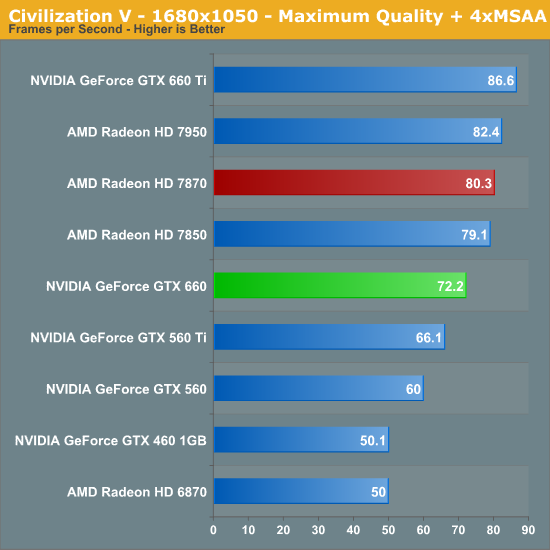 Civilization V was once a game that favored NVIDIA's hardware, but with AMD's GCN architecture that is no more. Coming from the GTX 660 Ti the GTX 660 takes a moderate 13% performance hit, but this only widens the gap between the GTX 660 series and the 7870, which was already the highest performing card out of this bunch. As a result AMD's GTX 660 competitor leads by 17%, or put reciprocally the GTX 660 trails by 15%. In fact the GTX 660 doesn't do much better than even the 7850 here, leading by just 6%.
Given Civilization V's reliance on Compute Shader performance, it comes as no great surprise that this is also one of the weakest showings for the GTX 660 relative to the GTX 460. The GTX 660 ends up being only 45% faster than the GTX 460, the smallest improvement out of any game we've tested.