PCIe 3.0 vs. PCIe 2.0
As part of our testing on the X79 Extreme11, we decided to test both PCIe 2.0 and PCIe 3.0 scenarios. Due to the PLX chips onboard giving us a full x16/x16/x16/x16 minus any PLX latency, it should give a rough idea of how these two technologies perform. Our testing incorporated each benchmark at 2560x1440 using full eye candy settings. Here are our results, indicated by percentage difference of PCIe 3.0 over PCIe 2.0:
PCIe 3.0 vs. PCIe 2.0
2560x1440, Full AA/AF
ASRock X79 Extreme11
x16/x16/x16/x16
Metro 2033
Dirt3
1x 7970
-0.3%
+3.8%
2x 7970
+2.6%
+4.3%
3x 7970
+1.2%
+4.2%
4x 7970
+1.9%
+0.5%
As we can see, there is an improvement for Dirt3 and Metro2033, though the difference is barely noticable. The effect of PCIe 3.0 depends on the different engines using DirectX and OpenGL – each system, and thus each gaming engine, uses the PCIe bus differently. In the games where the PCIe bus is used extensively, then PCIe 3.0 will win out. Otherwise we are at the whim of statistical variation between runs.
Dirt 3
Dirt 3 is a rallying video game and the third in the Dirt series of the Colin McRae Rally series, developed and published by Codemasters. Using the in game benchmark, Dirt 3 is run at 2560x1440 with full graphical settings. Results are reported as the average frame rate across four runs.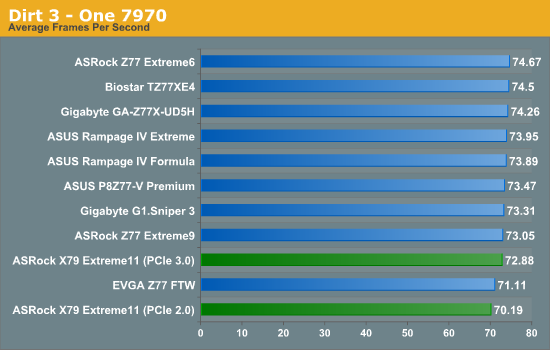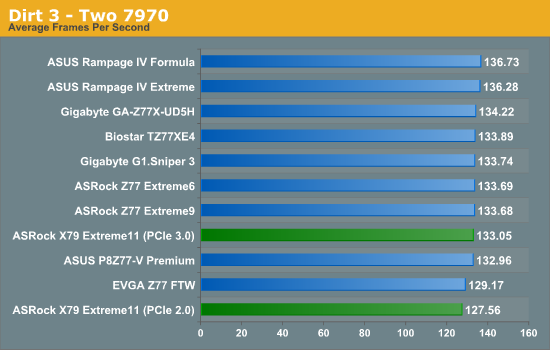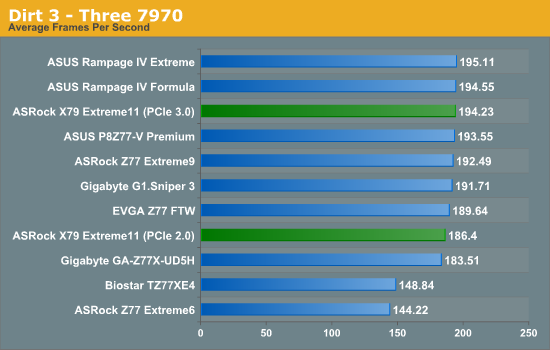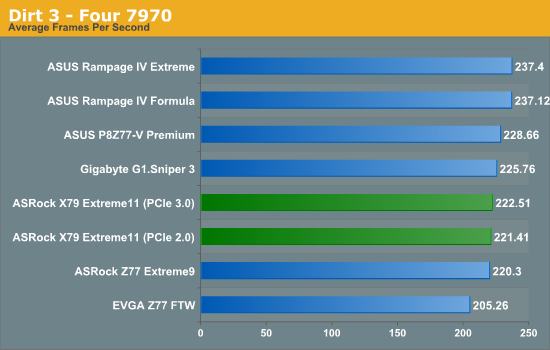 Due to the PLX chips, we would expect the X79 Extreme11 to fall behind slightly in single and dual GPU performance, which is confirmed in the benchmark results. In four-way GPU however, the X79 board falls behind some Z77 boards.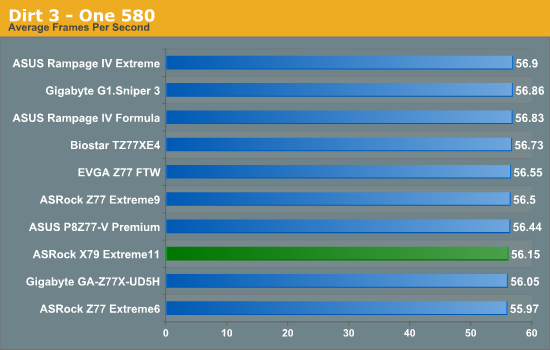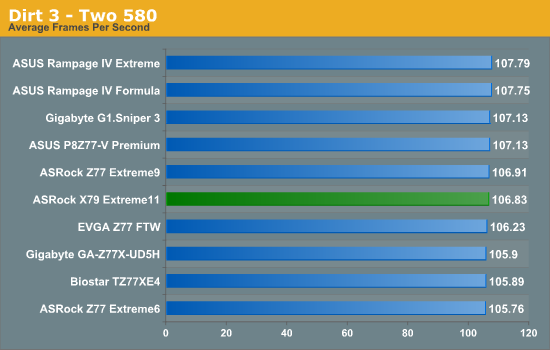 Using NVIDIA GPUs, Dirt3 is still agnostic to any CPU or PCIe performance.
Metro2033
Metro2033 is a DX11 benchmark that challenges every system that tries to run it at any high-end settings. Developed by 4A Games and released in March 2010, we use the inbuilt DirectX 11 Frontline benchmark to test the hardware at 2560x1440 with full graphical settings. Results are given as the average frame rate from 4 runs.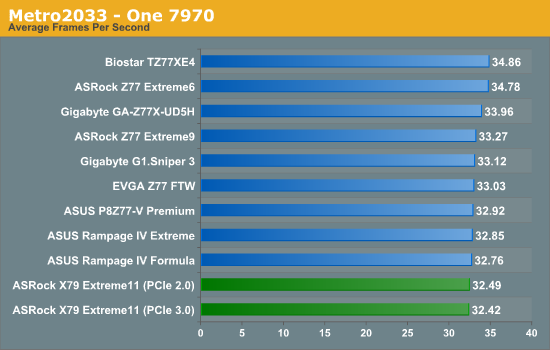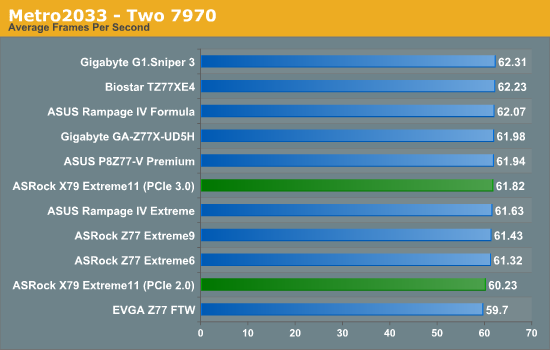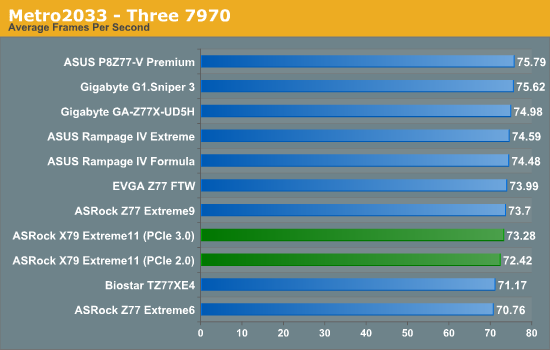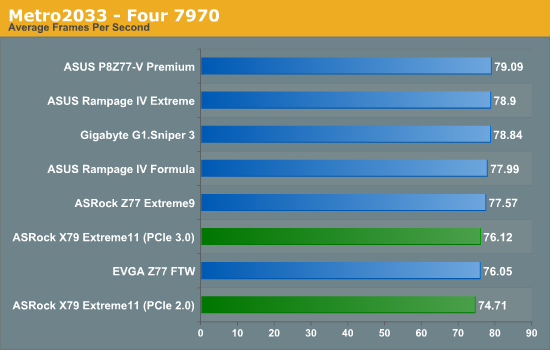 Metro 2033 mirrors similar findings from Dirt3 - the ASRock cannot keep pace with the other boards. This must suggest that having dual PLX chips offers a much bigger hit to frame rates than previously thought.