ASRock X79 Extreme11 In The Box
For the price tag, we expect a lot of extras in the box for what is ASRock's high end model. Previously we have seen additional Front USB panels and/or WiFi connectors available in ASRock's packages. With the X79 Extreme11, we get the following:
Rear IO Panel
Manual
Driver DVD
Six SATA cables
Two SATA to Molex Connectors
Two Short SLI Fingers
One Long SLI Finger
One Rigid 3-Way SLI Finger
Front USB 3.0 Panel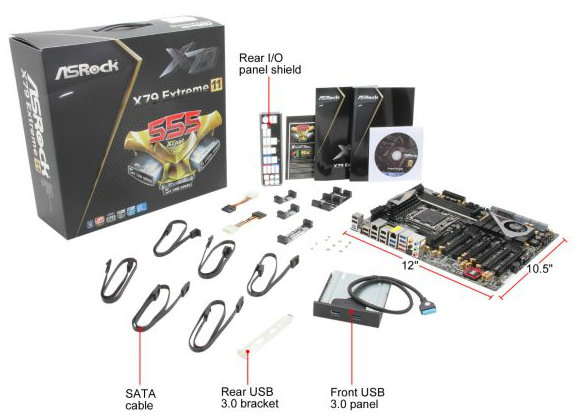 Personally, with the inclusion of the PLX and the LSI chips, I would have expected either a full compliment of SATA cables or a four-way SLI connector. There would have also been scope to increase the Front USB panels to either two, or a larger 5 1/4" bay with four ports and two connectors (depending on if workstation type cases came with USB 3.0). With boards like this, it might be worthwhile motherboard companies allying with a case manufacturer as a suggested build scenario.
Voltage Readings
After my first publication of OCCT voltage readings, a few readers responded with a more in-depth reasoning behind some of the results we were seeing. With this in mind, I would like to re-describe what we are doing with this test, and how it comes about.
Much of what an enthusiast overclocker does is monitor CPU temperature and voltage. Whatever settings a user places in the BIOS or OS is at the mercy of the motherboard - in terms of actually setting the values and reporting the values back. As an enthusiast, we have to rely on what readings we get back, and hope that motherboard manufacturers are being honest with their readings.
Take CPU voltage. What we as a user see in CPU-Z or OCCT is a time-averaged value that hides voltage ripple (if any) for power delivery. It is very easy for a motherboard manufacturer to hide this value, or to disregard slight deviations and report a constant value to the user. The CPU voltage reading can be taken at a variety of places on the power plane, which can vary between motherboards and manufacturers, meaning that each reading is essentially not comparable with the other. Nevertheless, as an enthusiast, we will constantly compare value A with value B.
Whether or not I can achieve 4.7 GHz with 1.175 volts on a particular board is inconsequential - your motherboard may perhaps produce the same result with a reading at 1.200 volts. The only way to test the actual value is with consistent methodology is via an oscilloscope connected to similar points on each board. This may sound like taking an OCCT reading is therefore redundant.
However, motherboards have settings relating to load line calibration. As load is applied to the CPU, the voltage across the processor decreases (VDroop). Load Line calibration essentially attempts to control this level of droop, by increasing voltage when voltage drops are detected away from a fixed value. Manufacturers have different ideas on how to modify LLC with respect to load, or whether the level of modification should be controlled by the user. Some manufacturers offer the option at a variety of levels, such that overclockers can be sure of the applied setting (even if it increases peak voltage, as explained by AnandTech in 2007).
By doing a full load OCCT test, we are essentially determining both how aggressive the motherboard is reporting the CPU voltage under load and how aggressive load line calibration is performing (from the point of view of the user without an oscilloscope or DVM). If someone has one of the motherboards we have tested and you have a different one, variations in load voltage should describe the offset you may require for overclock comparisons.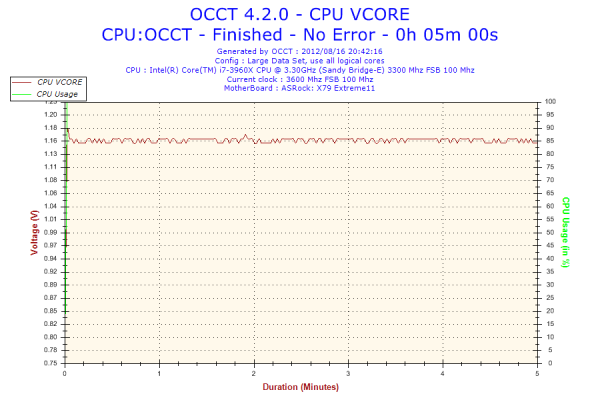 Like most ASRock boards, we see a small variation in the voltage reading under OCCT. Note that as OCCT is itself a time-smoothed reading of the ripple, perhaps the ASRock solution is not be as smooth as it could be. Nevertheless, I had no voltage issues on the board itself, and the X79 Extreme11 does a good job keeping around the 1.160 volt region during load at stock settings.