Final Words
I really like the uniqueness of the Pegasus J2. Two 6Gbps mSATA drives in a well-built bus powered enclosure that gains additional performance when plugged into the wall is a great way to deliver the best of both worlds. Sequential IO performance, particularly on the read side is amazing. You can get the performance of a 6-drive Pegasus R6 in a fraction of the volume. The chassis is well built and the design is functional.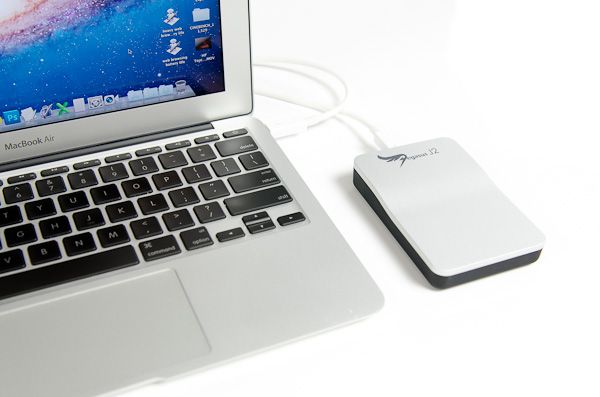 The big issues with the J2 are its capacity constraints and the Phison controllers used by the integrated SSDs. The former is really a limitation of current NAND die sizes. The best 2-bit MLC NAND shipping today still tops out at 8GB per die, with a maximum of 8 die in a package (64GB per package). It's only really possible to fit 4 NAND packages (256GB) on a standard mSATA board, which limits the J2 to a maximum capacity of 512GB. If that's all the space you need for an external work drive (e.g. as a video project drive for a rMBP or MacBook Air), then you'll be fine, but otherwise it can be an issue.
My other complaint has to do with the use of Phison controllers on the mSATA SSDs. I understand the appeal, but there are simply better options on the market. I'd much rather see something like the Micron C400 mSATA drive integrated into the J2.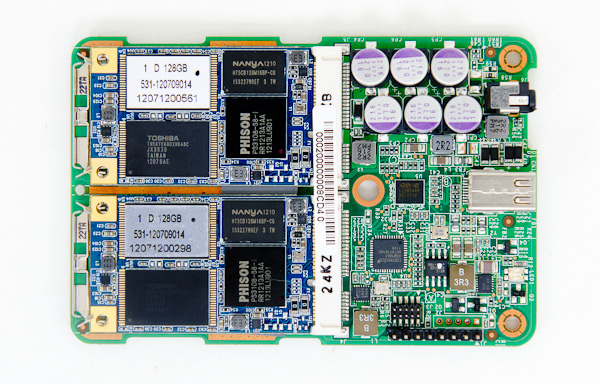 The concept behind the J2 is neat and honestly makes a lot of sense. The right way to do this would be to integrate custom form factor SSDs into a tiny Thunderbolt enclosure (e.g. Zenbook Prime/MacBook Air form factor). A larger form factor would allow you to hit 512GB per drive (or more), while sticking with an internal RAID-0 would help take advantage of what Thunderbolt has to offer. You only really need two good 6Gbps SSDs to max out Thunderbolt after all.
Kudos to Promise on breaking the mold with the Pegasus J2, but I'd at least like to see better SSD controllers used inside.