I had a chance to meet with Toshiba in surprisingly sunny (and toasty!) San Francisco, California and check out their new wares (and some old ones). Like the other vendors, Toshiba is prepped for Windows 8 to land, but the direction the technology is taking to coincide with Windows 8 is fascinating if nothing else. Whether or not you think Windows 8 will flop, the hardware being designed around it is definitely the way things are going.
The big release, and the one that was leaked by the press in Europe, is the Satellite U925t. This is what Toshiba dubs a convertible ultrabook, and is meant to be an ultrabook first and a tablet second. The U925t's three pound chassis is evidence enough of that, but the convergence of tablet and notebook usage scenarios is consistent with what seems to be Microsoft's vision for the future of computing. It's difficult to argue with when you've seen it in action.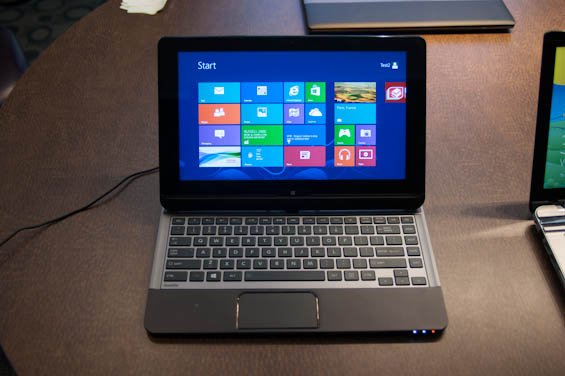 The U925t's 0.78" thin and weighs 3.2 pounds, but instead of opening in a clamshell the way conventional notebooks do, the screen hinge slides up similar to the Asus Eee Pad Slider and the Microsoft Surface, revealing a backlit keyboard and small dedicated clickpad. The display is a 12.5" IPS panel at 1366x768 and covered in Corning Gorilla Glass. Consistent with its secondary role as a tablet, there are front and rear-facing cameras along with an ambient light sensor, accelerometer, gyroscope, and magnetometer.
The underlying hardware is strong. Toshiba is opting for an Ivy Bridge Core i5, 128GB SSD, and DDR3-1600 (presumably at least 4GB) along with a healthy amount of modern wireless connectivity: 802.11b/g/n WiFi, Intel's WiDi, Bluetooth 4.0, and Near Field Communication on the left side of the wrist rest. Wired connectivity is handled by two USB 3.0 ports and a full-sized HDMI port.
Toshiba is expecting availability on October 26th; MSRP hasn't been finalized yet but should be just slightly north of a grand. Toshiba tends to price their notebooks competitively and there's no reason to expect that to change with the U925t.
The remainder of Toshiba's announcements are more traditional. Given the proximity of the Windows 8 launch to the back to school season, Toshiba's engineers elected to design most of the current generation of hardware in preparation for the impending transition. That means the ultra-widescreen (21:9) Satellite U845W will go essentially unchanged as will the LX835 All-in-One, with both just having the software updated as the hardware is already in place.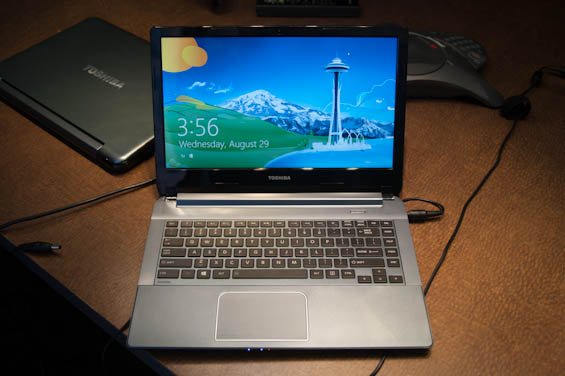 With that said, there are still a couple of new kinks in Toshiba's lineup. You'll probably have noticed that "thin is in," as ultrabooks are in many ways dictating the shape of notebooks across the market. To that end, Toshiba will have 14" and 15.6" ultrabooks on hand coming in at very competitive prices. The 14" Satellite U945 is essentially a conventional notebook slimmed down, featuring a Core i3 or i5 processor, 500GB mechanical hard disk with a 32GB SSD for caching, LED backlit keyboard, and USB 3.0 connectivity. Meanwhile, the 15.6" Satellite S955 will be available with both an ULV Ivy Bridge Core i5 or a Trinity-based AMD A8 processor, along with up to 8GB of DDR3 and up to 750GB of mechanical storage.
Finally, the only "full-sized notebook in the bunch," the 14" Satellite P845t features a capacitive touchscreen for Windows 8 along with a 750GB hard disk, 6GB of DDR3-1600, and three USB 3.0 ports.
As with the convertible U925t, these notebooks are all expected to land on October 26th to coincide with the release of Windows 8.