With Thunderbolt ports available on both Macs and PCs, as well as Thunderbolt controller costs dropping thanks to the introduction of Intel's Cactus Ridge, the Thunderbolt storage space is alive and well with tons of competition. The market is full of everything from good single drive solutions, to high performance multi-drive RAID arrays. While very few drives exist that deliver the best combination of performance and value, a growing market is bound to develop some winners.
Western Digital was late to the Thunderbolt game with its My Book Thunderbolt Duo. Take two 3.5" Western Digital Caviar Green drives, toss them in a Thunderbolt version of the My Book chassis and you've got the Thunderbolt Duo. The My Book Thunderbolt Duo is good for a bit over 200MB/s of sequential IO, not tremendous by SSD standards but still ok for external storage. Today Western Digital is announcing an even higher performance model: the My Book VelociRaptor Duo. As the name implies, the VR Duo incorporates two of Western Digital's 1TB 10,000 RPM VelociRaptor hard drives in a My Book chassis. The use of higher performance drives is good for almost 400MB/s, which is better performance than we've seen from any prior two-drive Thunderbolt enclosure without resorting to using SSDs.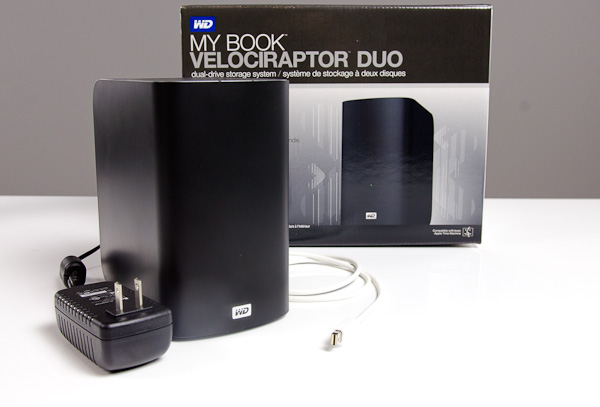 The VR Duo is available in a 2TB configuration, relying on software RAID-0 to combine the two internal 1TB drives. Unlike many earlier Thunderbolt enclosures, the VR Duo comes complete with a 1 meter Thunderbolt cable. The 2TB enclosure should etail for $900, which felt kind of pricey. To quantify what I was feeling, I went shopping at the Apple store and Newegg and put together the table below:
Thunderbolt Storage Cost Comparison
Drive Type
Capacity
Cost
Cost per GB
Buffalo MiniStation Thunderbolt
2.5" HDD
1TB
$230
$0.230
Buffalo MiniStation Thunderbolt
2.5" HDD
500GB
$180
$0.360
Elgato Thunderbolt
SSD
240GB
$500
$2.083
LaCie Little Big Disk
2.5" HDD swRAID
2TB
$520
$0.260
LaCie Little Big Disk
2.5" HDD swRAID
1TB
$430
$0.430
LaCie Little Big Disk
SSD swRAID
240GB
$700
$2.917
LaCie 2big
3.5" HDD swRAID
6TB
$750
$0.125
LaCie 2big
3.5" HDD swRAID
4TB
$600
$0.150
Promise Pegasus R4
3.5" HDD RAID
8TB
$1600
$0.200
Promise Pegasus R4
3.5" HDD RAID
4TB
$1050
$0.263
Promise Pegasus R6
3.5" HDD RAID
18TB
$3000
$0.167
Promise Pegasus R6
3.5" HDD RAID
12TB
$2300
$0.192
Promise Pegasus R6
3.5" HDD RAID
6TB
$1700
$0.283
Seagate GoFlex Desk Thunderbolt
3.5" HDD
3TB
$410
$0.137
WD My Book Thunderbolt Duo
3.5" HDD swRAID
6TB
$700
$0.117
WD My Book VelociRaptor Duo
3.5" swHDD RAID
2TB
$900
$0.450
Ranging from $180 to $3000 there are a lot of options on the market today if you want a Thunderbolt device. At $900, Western Digital's My Book VelociRaptor Duo is hardly the most expensive drive on the market. But if we sort the data according to cost per GB things look a bit different: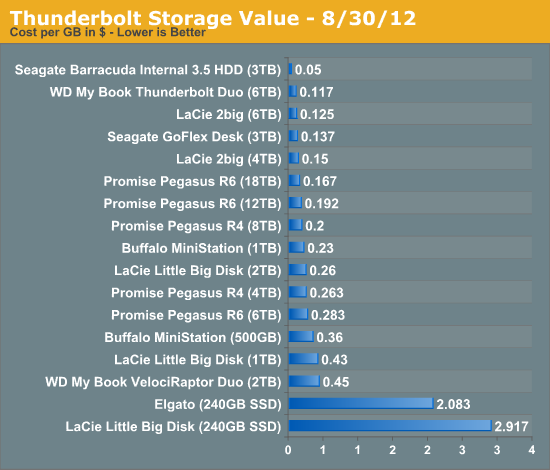 External drives are always sold at a premium, in the case of a Thunderbolt solution that premium can be considerable. While a single 3.5" 3TB Seagate Barracuda will cost you around $0.05 per GB, the most affordable Thunderbolt enclosure increases the cost per GB by over 2.3x that.
The big 3.5" Thunderbolt enclosures end up giving you the best value, but if you take into account performance it's actually the larger Promise Pegasus R6 enclosures that do very well. Remember the Pegasus R6 features six drives in a RAID array, letting you hit higher sequential performance levels than any of the other HDD based solutions that use one or two drives. The problem is only the 12TB/18TB configurations are remotely competitive in terms of $/GB, and they have quite a bit of capacity to pay for. If you're not keen on spending between $1600 and $3000 just on storage, you lose out on the efficiency curve. Although I haven't tried this myself, it might even be a better idea to software RAID two 6TB My Book Thunderbolt Duos if you need affordable capacity and performance. That being said, I'm not sure I'd recommend the configuration - I haven't tested it and it feels like there's potential for funniness.
The My Book VelociRaptor Duo is easily the most expensive, from a cost-per-GB standpoint, of the hard drive based Thunderbolt enclosures. Only the SSD based models are pricier. The appeal of the VR Duo is pretty nichey. You need to want better random IO performance than a standard hard drive setup, but not enough to push you into an SSD. The real question is whether or not the performance afforded by the drive is worth it.
The Chassis & Software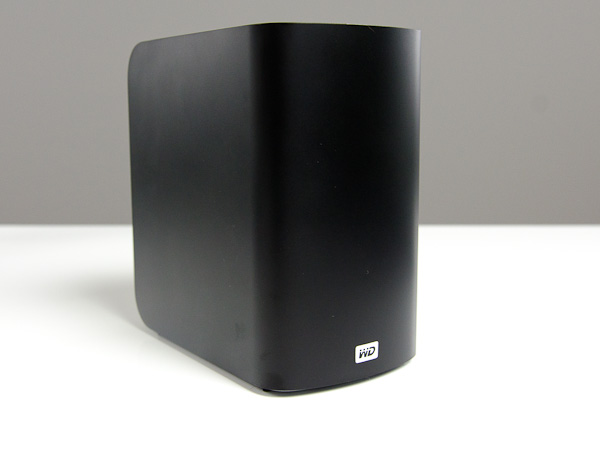 The black VelociRaptor Duo chassis is very similar to other members of the My Book family. There's only a single white LED that acts as a power/activity indicator on the front, and there's no power button. A Kensington lock port is located on the rear of the chassis, as well as the two Thunderbolt ports and DC input from the power adapter.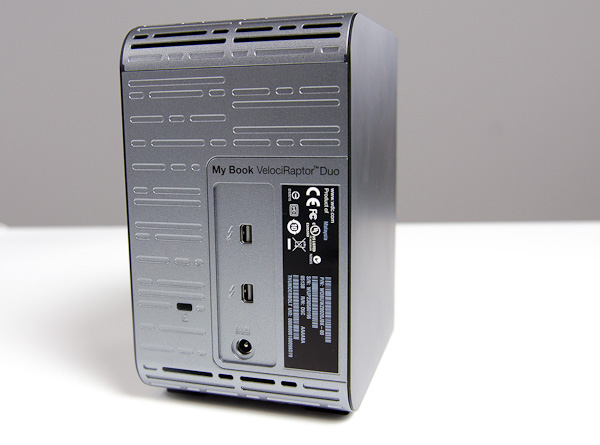 WD is proud of how easily you can get access to the drives for replacement. Just click the button at the top of the chassis to open the cover, unscrew/remove the top plate and pull out each drive independently. The VR Duo will only accept VelociRaptor drives, similar to other My Book enclosures in the past.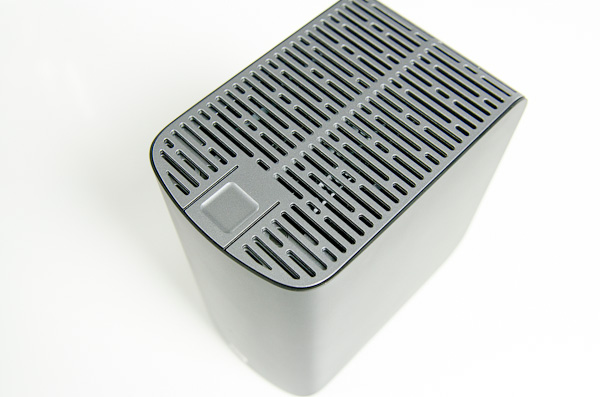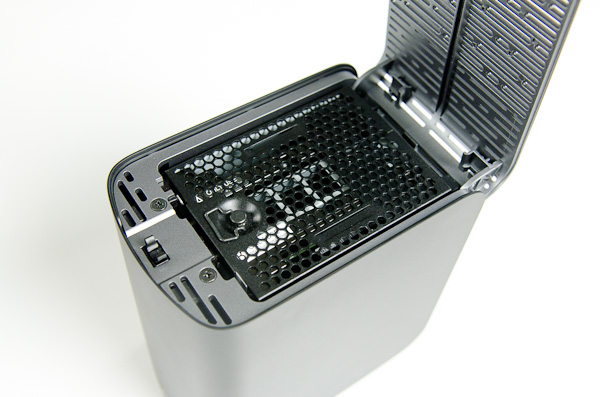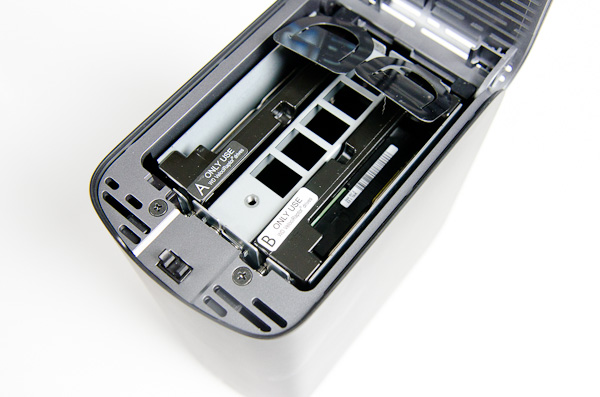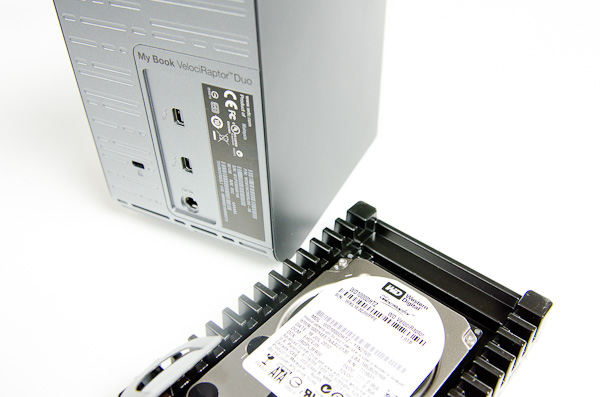 The drives come preformatted as an software HFS+ RAID-0 array. Western Digital supplies a simple management utility that lets you quickly reconfigure the RAID as a mirror or as two independent drives, you can also use the utility to perform basic tests on the drive. There's no detailed SMART reporting unfortunately, you'll need a third party tool for that.
Performance
QuickBench provides a reasonable estimation for large file sequential IO, and the My Book VelociRaptor Duo lived up to its specifications approaching nearly 400MB/s for seqeuential reads and around 365MB/s for sequential writes.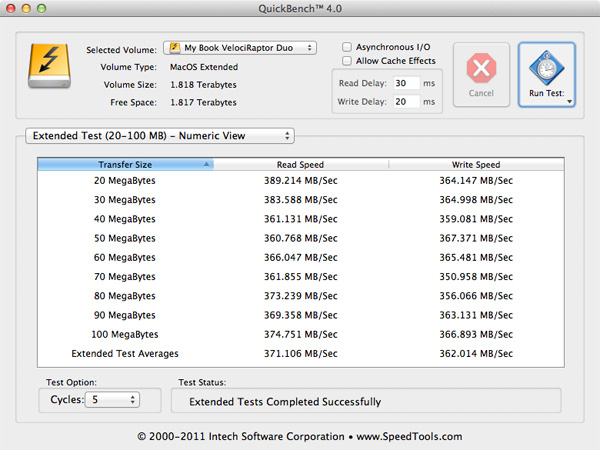 The data above represents best case performance on the VR Duo. I filled the drive to 93.5% capacity then re-ran the benchmark to look at worst case sequential performance on the array's innermost tracks: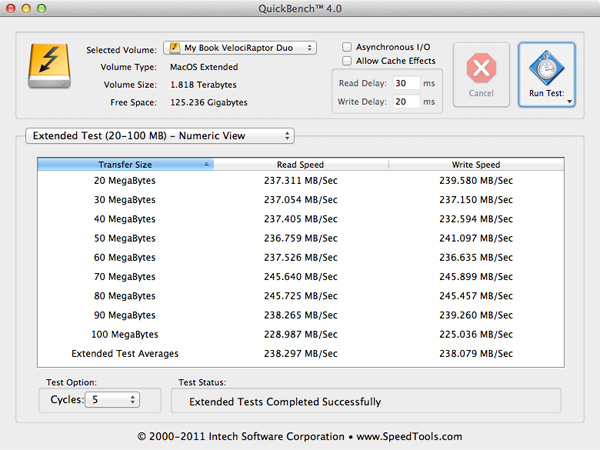 Minimum sequential performance for the full array is still pretty good at around 240MB/s.
I turned to Iometer to get an idea of how the VR Duo compared to other 3.5" HDD based Thunderbolt enclosures we have reviewed in the past:
Western Digital My Book VelociRaptor Duo Performance
Sequential Read
Sequential Write
4KB Random Read (QD16)
4KB Random Write (QD16)
LaCie 2big 6TB (RAID-0)
335.9 MB/s
301.4 MB/s
0.55 MB/s
1.29 MB/s
LaCie Little Big Disk 240GB (RAID-0)
445.8 MB/s
257.0 MB/s
48.8 MB/s
27.7 MB/s
LaCie Little Big Disk 2TB (RAID-0)
207.0 MB/s
205.0 MB/s
1.22 MB/s
0.56 MB/s
Promise Pegasus R6 12TB (RAID-5)
673.7 MB/s
683.9 MB/s
1.24 MB/s
0.98 MB/s
WD My Book VR Duo 2TB (RAID-0)
384.4 MB/s
381.2 MB/s
1.53 MB/s
3.76 MB/s
Sequential IO is a bit ahead of the LaCie 2big, but random IO performance is nearly 3x what LaCie delivers with its hard drives and much faster than what you can get from a Pegasus in its default configuration. Random IO performance is no where near what an SSD can provide however, which is the problem I mentioned earlier: you really need to have a workload that demands better random IO performance, but one that's perhaps too large for a reasonably priced SSD.
Thermals
The enclosure idles at 21.2W thanks to the two 10,000RPM drives inside and under load you're looking at a max of 25.6W. That's a good amount of heat to dissipate. As we've seen with many of these external 3.5" hard drive enclosures, thermals after continuous writes can be a problem. The My Book chassis is reasonably well ventilated. Rubber feet keep the chassis elevated slightly, allowing cool air in through the bottom grill and warm air out of the top. A fan inside the enclosure helps move the air along. I figured the best way to determine worst case thermal performance would be to fill the My Book VR Duo to its 2TB capacity, which I did. At a speed of roughly 250MB/s it took a bit over 2 hours to fill the 2TB RAID-0 array. Around an hour into the write process, the internal fan ramped up to its max speed and stayed there - which in turn ensured the VelociRaptors inside the My Book never got above 54C: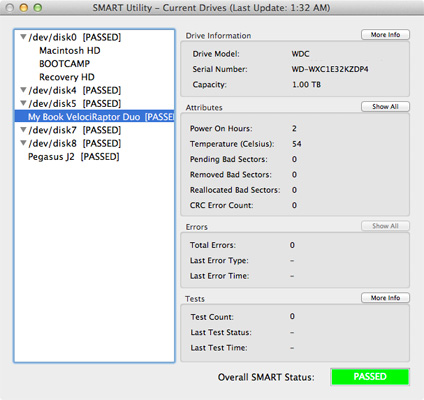 The downside is obviously fan noise. The My Book VR Duo's internal fan doesn't have a high pitched whine to it, but rather a sort of groan instead. The drives themselves aren't too loud unless you're doing a lot of random IO, in which case you're quickly reminded that you have two 10,000 RPM spindles in there. The chassis/drive combination gets loud enough to easily be the noisiest thing on your desk (assuming you don't have an obnoxiously loud desktop).
Final Words
The Thunderbolt interface can easily deal with a ton of bandwidth. Given the right storage configuration you can sustain close to 1GB/s of transfers, while driving your display, all over a single unassuming cable. The advantages of Thunderbolt over USB 3.0 really come from its ability to hit ultra high transfer speeds, as well as its ability to connect storage and display to a notebook with a single cable. When a Thunderbolt device doesn't take full advantage of the former, then it quickly becomes a tougher sell.
In the case of the My Book VelociRaptor Duo, you get better performance than any other two-HDD Thunderbolt enclosure. The problem is it comes at a hefty price. With a cost per GB higher than most other Thunderbolt solutions, you have to really want the performance to make the VR Duo worthwhile. However, at only 400MB/s (about the speed of a single, good 6Gbps SSD), I'm not sure the cost is justified. If you've got good high speed storage inside your machine, I'd prefer going with the quieter, and more cost effective My Book Thunderbolt Duo instead.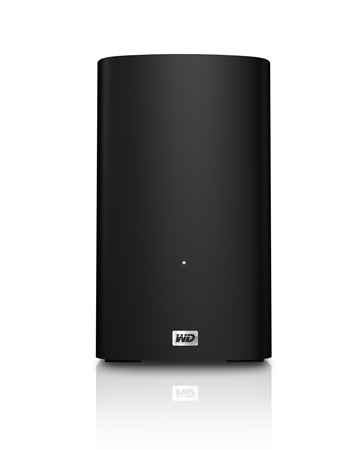 The only exception to the Thunderbolt Duo recommendation would be if you had a workload too big to fit on a reasonable priced SSD array, but still needed better random IO performance. Similar to the VelociRaptor's appeal as a standalone hard drive, the My Book VelociRaptor Duo really targets a very specific niche. I suspect if you're a part of that niche, then you already know whether or not the VR Duo is right for you. For everyone else, there are more balanced options available.