WiFi
Improvements to WiFi come every generation partly just due to better combo chips coming from Broadcom's aggressive roadmap in that space, and we wouldn't be surprised to see further generational improvement here. If you read our reviews, this will sound like a broken record, but the inclusion of 5 GHz WiFi support in smartphones is something that is starting to become relatively mainstream at the high end, and we wouldn't be shocked to see the iPhone follow suit.
The location of that antenna moved from the external metal band on the GSM iPhone 4 to an internal printed one with the CDMA iPhone 4 so that the top band could be repurposed for cellular receive diversity, something the 4S inherited. I would strongly expect that to continue with the next device given the aforementioned MIMO requirements for LTE. Multi spatial stream support for WiFi is still basically out of the question, improvements in this space are again possible 5 GHz support with 40 MHz channels, which we've seen from BCM4334 in other shipping devices already.
Apple iPhone - WiFi Trends
Release Year
WiFi + BT Support
WiFi Silicon
iPhone
2007
802.11 b/g, BT 2.0+EDR
Marvell W8686, CSR BlueCore
iPhone 3G
2008
802.11 b/g, BT 2.0+EDR
Marvell W8686, CSR BlueCore
iPhone 3GS
2009
802.11 b/g, BT 2.1+EDR
Broadcom BCM4325
iPhone 4
2010
802.11 b/g/n (2.4GHz), BT 2.1+EDR
Broadcom BCM4329
iPhone 4S
2011
802.11 b/g/n (2.4GHz), BT 4.0+EDR
Broadcom BCM4330
iPhone Next
2012
?
Broadcom BCM4334?
Battery
Battery life on a device is obviously a function of the inherent efficiency of its components, but also is a function of overall battery capacity. Increasing the size of that tank obviously gets you immediate gains in overall lifetime, at the expense of increasing the mass or volume of the device. The iPhone has been no stranger to increases in battery life, and in fact the iPhone 4 realized a considerable jump in overall battery size thanks to the side by side PCB / battery split that has now dominated smartphone design. Since then we haven't seen as much of an increase in capacity, and meanwhile some Android phones are shipping batteries as large as nearly 8 Whr (2100 MaH, 3.8V in SGS3).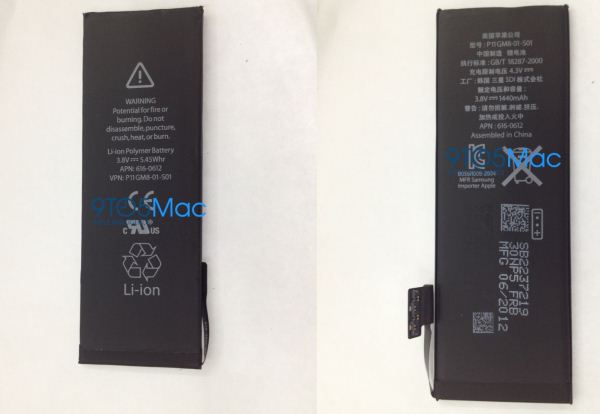 Higher capacity iPhone Battery (courtesy: 9to5Mac)
Recent leaks out of China have, howver, indicated that the next iPhone will likely move to a higher voltage chemistry, up from 3.7 V nominal to 3.8 V nominal. This follows the move that Motorola made over a year ago to the 3.8 V nominal chemistry where I saw it the first time. Since then Motorola has shipped almost all its phones with 3.8 V batteries, followed by Nokia and Samsung. Thus it seems highly likely that Apple will also move to this chemistry given maturity and the tangible benefits it provides to battery lifetime.
Apple iPhone - Battery Trends
Release Year
Battery
iPhone
2007
1400 mAh, 3.7V (5.18 Wh)
iPhone 3G
2008
1150 mAh, 3.7V (4.25 Wh)
iPhone 3GS
2009
1219 mAh, 3.7V (4.51 Wh)
iPhone 4
2010
1420 mAh, 3.7V (5.25 Wh)
iPhone 4S
2011
1430 mAh, 3.7V (5.29 Wh)
iPhone Next
2012
1440 mAh, 3.8V (5.47 Wh)
Conclusions
Based on everything we've seen, and the analysis on the previous pages, it seems likely that the next iPhone will feature a dual-core Cortex A9 SoC built on Samsung's 32nm LP (HK+MG) process, with a PowerVR SGX 543MP2 driving a larger 4-inch display. Battery capacity will see a slight bump, but battery life itself should be measurably better compared to the iPhone 4S thanks to a move to 28/32nm silicon for the baseband and apps processor. LTE and TD-SCDMA support will likely be driven by a Qualcomm MDM9x15. Evolutionary improvements in the WiFi stack are a reasonable expectation, however NFC support isn't. There are still questions about final details (e.g. camera sensors) but a lot of what Apple has been doing with the iPhone closely follows an aggressive 2-year design and silicon cadence. It's the relentless competition and hyper Moore's Law curve in the smartphone space that drive Apple's development cycle here. I don't expect much change here for the next couple of years at least.
Despite the annual release schedule and a 2-year cadence for most silicon elements, Apple also appears to remain relatively conservative in how it adopts new technologies. Process nodes, new chip architectures, and new wireless standards are all evaluated with a fairly conservative eye. Apple's iPhone business is a well oiled machine at this point, any unnecessary risks are consistently avoided.