ASUS UX31A: Battery Life
Battery life is one of the more important aspects of an Ultrabook, given their focus on mobility. The UX31A doesn't do quite as well as other Ultrabooks in this aspect, but that appears to be the price of entry for the 1080p display. Even so, battery life isn't a huge issue, as we're still in the range of being able to run all day without the need to plug in.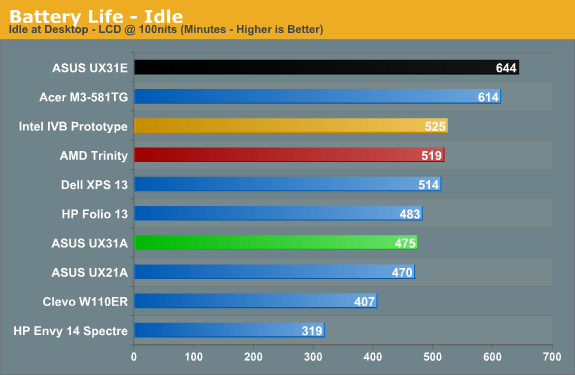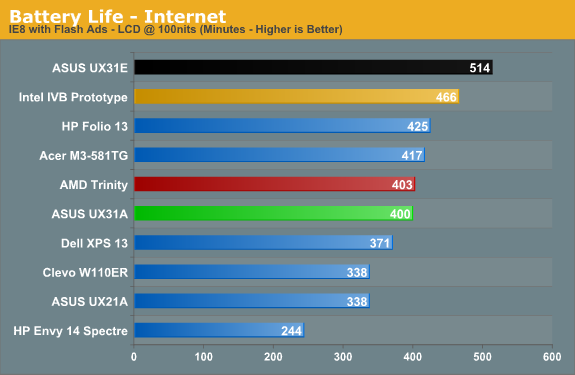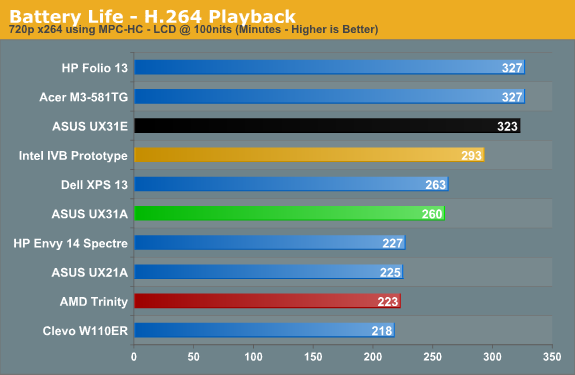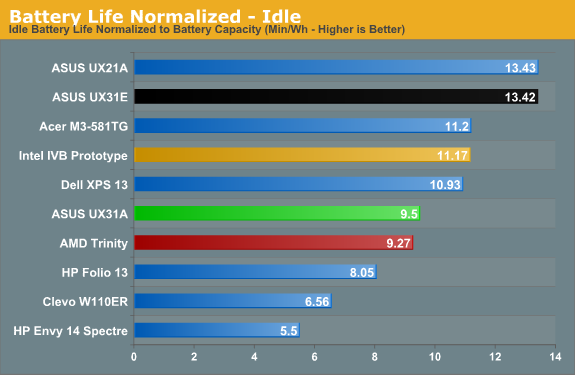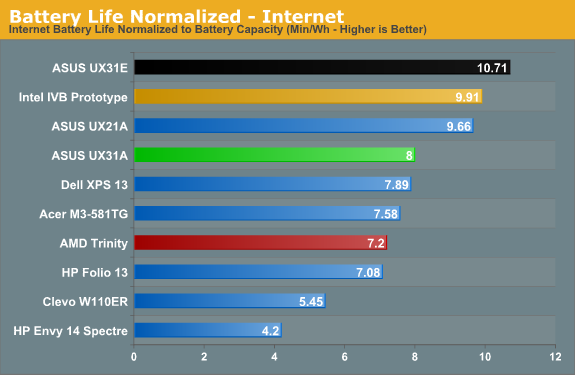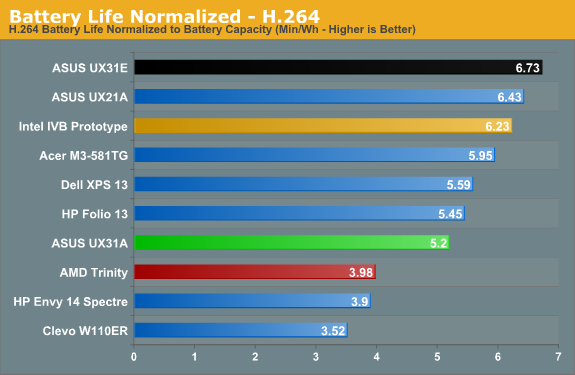 We've seen several 13.3" Sandy Bridge Ultrabooks deliver better battery life, while the Ivy Bridge offerings so far appear to cluster together. The prototype Ultrabook did better in all three of our battery tests, but at the same time the UX31A surpasses both the Acer S3 and its little brother the UX21A. In the case of those last two, of course, we're looking at a 50Wh battery capacity compared to 35Wh, which means when we look at normalized battery life, things aren't quite so good. Unless you want more than six or so hours of useable battery life, though, the UX31A should be sufficient.
Just make sure to plug the UX31A in at night, as like most laptops it will still require several hours to recharge. Actually, that's not entirely correct: ASUS has implemented a quick-charge feature where the battery can reach 80% of its maximum in under two hours (110 minutes)—and that's with the laptop powered up and the LCD at 100% brightness. The final 20% charge will require another 80 minutes or so, which means you'll need about 3.5 hours of charging to go from a fully drained battery to a 100% charge.
And speaking of running the LCD at 100% brightness, I did a quick test to see how much that would impact battery life in our idle test. This is actually a perfectly valid use case for someone working outside or in a car, and the result is a drop from 475 minutes to 295 minutes. Going with the 50Wh rated capacity of the battery, that means the LCD uses an extra ~3.9W when set to 100% brightness instead 28% (100 nits). That might not seem like much, but keep in mind that at 100 nits the entire laptop consumes around 6.2W, so the LCD can easily account for over a third of the total power draw in light workloads.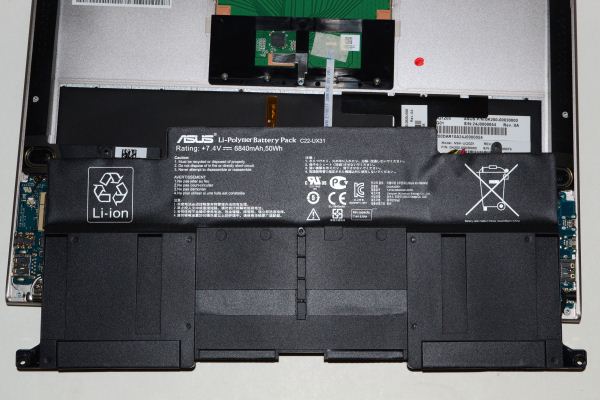 Overall, battery life is good if not exceptional. Depending on how bright you want to run the LCD, you can get anywhere from five to eight hours of light use out of the UX31A. We've certainly seen better batter life elsewhere, but the loss in raw battery life is a small price to pay for what is, in our experience, the best 13.3" LCD you can currently find in any laptop—Ultrabook or otherwise.