Conclusion: Good Deal, If You Need It
When you're talking about the Antec ISK 110 VESA, it's important to note-and I've stressed this over and over-what you're giving up. Even for a Mini-ITX system, you're sacrificing a lot to hit a form factor this small. That's not necessarily a bad thing; the ISK 110 VESA isn't intended for full-powered or even compact-powered systems and Antec makes no bones about it on their product page. It's meant for kiosk and basic lightweight corporate and personal use.
I'd argue that for those purposes it's actually more than adequate. It's very easy to make it a quiet system (just use a quiet heatsink), and as long as your expectations are properly adjusted, you should be perfectly happy with it. Antec charges a competitive price for it, too.
With all that said, though, there are still definitely a few places where Antec could improve the design. Ease of assembly is always going to be an issue with a case this small, but the ISK 110 VESA is more difficult than it needs to be. While I'm not an electrician I find it hard to believe that the power board needs to be laid out as clumsy as it is; the caps are just too tall, and the precarious way it's mounted makes it needlessly difficult to remove and replace. The power leads on the separate cable are fine for the most part (a sheath around the cables would go a long way), but the AUX 12V line is just plain too short.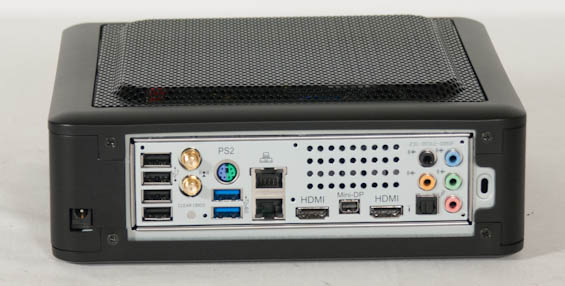 Antec could also make plugging headers into the motherboard easier by employing completely removable cables similar to how BitFenix handles them in the Prodigy. These wouldn't actually take up much more space than the existing black plastic box, either, but would again go a long way towards making the case easier to assemble.
Finally, the panel on the underside just plain needs to be ventilated better. As the case is designed it does run the risk of cooking 2.5" drives housed there, and there's no reason not to increase the ventilation.
Whether or not USB 3.0 connectivity should be added in an update (or a reset button for that matter) is going to be a matter of some controversy. I see the pros and cons for going either way, so I can't hold it as a strike against the ISK 110 VESA. I'm also wondering just how difficult it would be to switch to a 120W power adapter instead of the existing 90W; the case has enough thermal headroom to it that I don't think it's out of the question to try putting a standard 95W processor inside.
All of that essentially leaves us with a case that's pretty good at what it does, but definitely has room for improvement. This is a fairly old design from Antec, too, so it's ripe for updating. Let's hope they do it.