· Frequency Response:  How much and how accurately the speakers can reproduce the sound spectrum.  The response is measured using an analyzer that reads the speaker's reproduction of a standard audio test signal.
Human hearing spans the frequency response of 20 Hz to 20 kHz, and in an ideal world, a speaker would reproduce all of these frequencies.  Unfortunately, when indicating the frequency response of speakers, manufacturers often fail to tell the whole truth.  If they do not indicate how accurate the speaker response is, specs can often look far better than the speaker actually sounds.
The simple description of frequency response of 20 Hz to 20 kHz would seem ideal; however, this is a true statement even if the sound at 20 Hz is 40 dB SPL lower than the sound at 1.2 kHz.  This means that the lowest bass frequency is a hundred times less powerful than an average midrange frequency— i.e. the speaker may reproduce all of those frequencies but nowhere near at the same level.
A much more clear method of specifying frequency response involves giving a tolerance, the range within which the speaker produces all of the frequencies within its frequency response range.   For example, a frequency response of 20 Hz to 20 kHz +/- 3 dB indicates a much superior speaker to the one mentioned earlier with a bass roll off of 40 dB.  Basically, the latter speaker maintains its level all the way into its lowest frequency, while the former just goes away (rolls off) in its lower frequencies.  The lowest bass frequency is at most only half of what a typical mid range frequency is reproduced at.  Without indicating the tolerance on the specifications, companies can create extremely misleading specifications.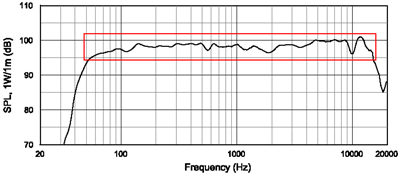 Figure 2: Frequency response chart for anonymous speaker - click to enlarge
Specifications given in figure 2 could indicate that this speaker responded from 35 Hz to 20 kHz—it reads on the diagram across that entire spectrum.  However, the red box indicates what frequency range would be offered with a tolerance of roughly +/- 5 dB, or a range of roughly 50 Hz to ~17kHz.  Both specifications would be true, but only the second one would be very honest.
If a speaker company will not indicate a tolerance in their specifications, it raises the question of what they are trying to hide.  In addition to indicating how the ends of the frequency spectrum, the tolerance indicates the accuracy of the spectrum.  The tolerance indicates that at no point in the spectrum are there extreme spikes or discrepancies that would not show up in a spec without a tolerance reading.  Each speaker has its own frequency response that gives it "color," a speaker's individual tonal qualities or sound.  This characteristic determines how the frequency response shapes the sound to make it better by emphasizing certain frequencies.