Battery Life
Owing both to its AMOLED technology and just plain smaller display dimensions, the Toshiba Excite 7.7's battery life is pretty stellar for an Android tablet. That said, while we try to measure battery running time with the display set at ~200 nits, the shifting brightness and unreliable calibration readings makes this a much more difficult proposition. As a result I did something essentially unthinkable; I adjusted the brightness by eye.
My desktop monitors are all calibrated to 220 nits (I'm a little bit blind), so I used them as a comparison point for setting the brightness of the Excite 7.7 for battery testing. Even then it's still a ballpark setting for two reasons: the dynamic brightness, and the way AMOLED technology itself works. Dark colors (and blacks) draw less power than a bright colors or a white display do. So while I tested video playback on the Excite 7.7 using a video with the same bitrate, dimensions, and codec as the other guys do when testing their tablets, there's a chance the duller color palette of the horror movie (my horror movie) might have had a slight impact on the results. If you want to see the source material for yourself (shameless plug ahead), you can check it out here.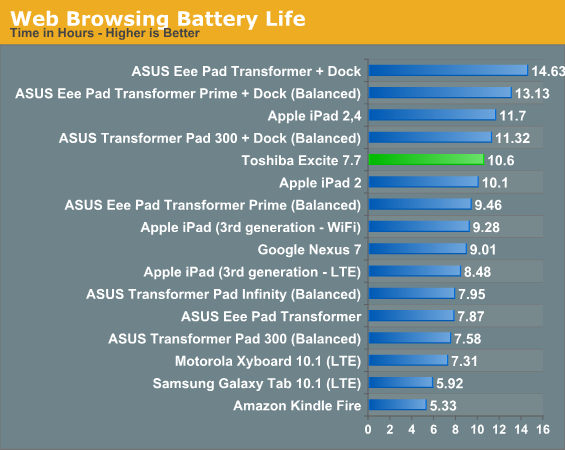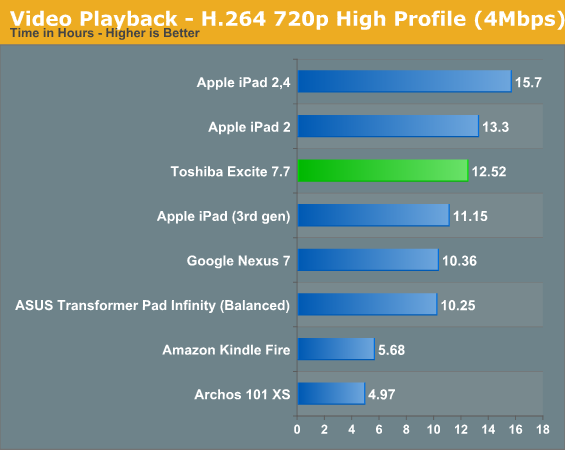 Even with having to eyeball the brightness and the potentially compromised color palette of the video played back, the results speak for themselves: the Excite 7.7 has excellent battery life. Even if you chopped a quarter of the running time off to create a worst case scenario, the Excite 7.7 would still be beating the comparably sized Kindle Fire handily and be roughly competitive with Google's excellent Nexus 7.
Subjective User Experience
If you come to AnandTech for objective product analysis, feel free to skim or skip this section. As someone who relies either on a smartphone or a netbook for most of his portable computing needs, the tablet presents an interesting alternative and I was curious to see how it would fit into my workflow and daily life. My impressions are...mixed.
As a smartphone user I've shied away from getting locked into Apple's closed ecosystem, and my experiences with Android have been less than stellar. Truth be told, I use a smartphone powered by Windows Phone 7.5; Microsoft's smartphone operating system is remarkably clean, functional, and snappy to use, and it's difficult to bog it down the way Android can very easily get. Visually I also find the spartan coloring and design to be more pleasing than Android or iOS, but I also tend to prefer more minimalistic approaches to aesthetics whenever possible. Why is this relevant?
Because I have my doubts about Android as a tablet OS. Android is very busy and not as intuitive as I'd like, and if Windows 8 or Windows RT are going to gain traction with consumers, Metro Modern may very well be a large part of why. Through no fault of Toshiba's, Ice Cream Sandwich on the Excite 7.7 felt clunky and unintuitive. Toshiba's own file management and media playback software is nice and clean and works perfectly fine, but the surrounding operating system really needs work in the UI department.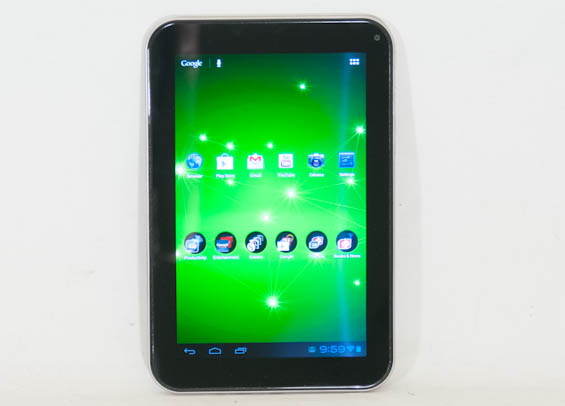 What killed the usability for me were two areas: the touchscreen keyboard and the lack of a true wireless data option. Microsoft's Surface and many other Windows 8/RT tablets are liable to fix the issue of the former, but the sluggish oligopoly that is the American wireless market is quickly turning into a boot on the throat of emerging technologies like tablets. Content consumption devices are only as good as their ability to provide content, but by being tethered to WiFi the tablet becomes more of a novelty. Unfortunately that's going to be the case for most users, Toshiba tablet or no, because wireless data plans for tablets are prohibitively expensive, especially when you're already dealing with paying the bill for your smartphone. All of this before you get into the offensively low bandwidth caps American wireless carriers have in place.
As far as smaller tablets go, I do quite like the Excite 7.7 and I've found it moderately useful for doing quick look-ups of things while I'm in front of the TV. It's much easier to pick up a tablet that's less than a pound than it is a three pound netbook. It's just not worth the price of admission, and for people commuting on public transportation in major metropolitan areas (for example, BART in the California bay area), the lack of wireless broadband is a killer. Nine times out of ten, I'm going to prefer my old-fashioned Kindle Keyboard and just read.