Conclusion: Still a Strong Contender
Having put the SilverStone Sugo SG05 through it's paces, I can see why our SilverStone rep was so interested in having us take a look at it, especially on the heels of our other Mini-ITX reviews. The SG05 has been around for a little while, but you can argue that it's still among the best at what it does. The next smallest case we've reviewed is the Cooler Master Elite 120 Advanced, a case which supports larger components and also has a cheaper sticker price. Both of these things make it an appealing alternative, at least at first, but what happens when we break things down?
First of all, once you factor in the price of a power supply (because remember, the SG05 includes one and the Elite 120 Advanced does not), the difference drops to about $20. Also consider that given the size of these enclosures, there's no real benefit to getting a power supply that supports more than 450W since using components that are going to need as much or more than that means generating more heat than the Elite 120 Advanced is probably capable of handling. Really the major benefits of the Elite 120 Advanced are the full size optical drive bay and the increased capacity for storage; if those things are important to you, then your decision is made, but keep in mind a slimline blu-ray reader/DVD writer combo drive can be had for not much more than a full size one if you're willing to chance eBay.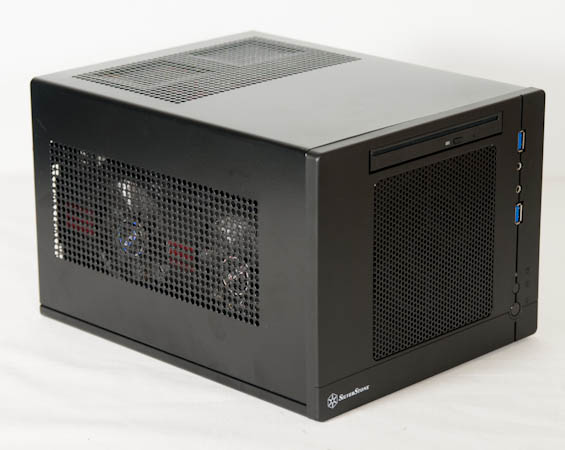 The fact is, the SG05 offers incredibly compelling performance and a solid value for the money. I think there are still a few quirks with the design (the drive caddies probably need an overhaul), but it holds up remarkably well for a three year old, incrementally-updated enclosure. Just like SilverStone's enormous FT02, sometimes a design is so right on the first try that not a whole lot really needs to be done to improve it. That seems to be true here, and at less than $120 for a complete enclosure (with quality power supply), it's hard not to recommend it. If you're looking to do a Mini-ITX build and want something smaller than the BitFenix Prodigy, shortlist the SG05.