Battlefield 3
Its popularity aside, Battlefield 3 may be the most interesting game in our benchmark suite for a single reason: it's the first AAA DX10+ game. It's been 5 years since the launch of the first DX10 GPUs, and 3 whole process node shrinks later we're finally to the point where games are using DX10's functionality as a baseline rather than an addition. Not surprisingly BF3 is one of the best looking games in our suite, but as with past Battlefield games that beauty comes with a high performance cost.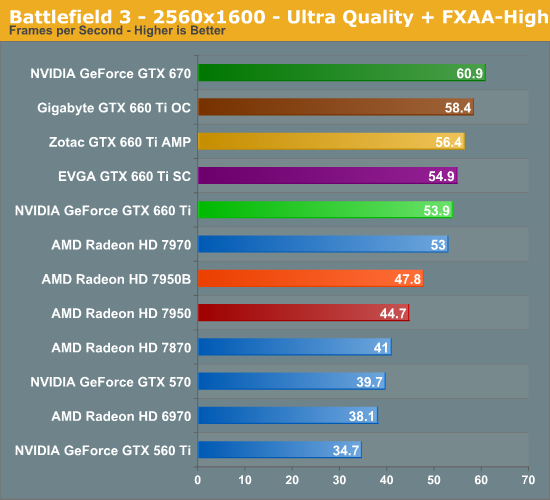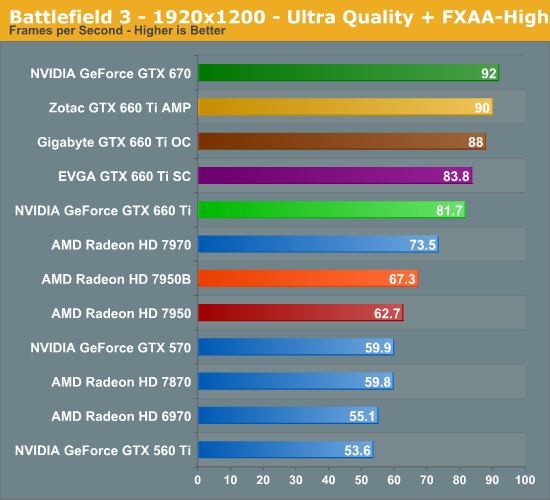 The reduction in memory bandwidth and ROP throughput coming from the GTX 670 comes with roughly an 11% performance cost here, just about splitting the difference between the best and worst case scenarios. This is important for the GTX 660 Ti since it means the card doesn't surrender NVIDIA's performance advantage in BF3. At 1920 with FXAA that means the GTX 660 Ti has a huge 30% performance lead over the 7950, and even the 7970 falls behind the GTX 660 Ti. The only real disappointment here is that 1920 with MSAA isn't quite playable – 53fps means that framerates will bottom out in the mid-20s, which isn't desirable.
Meanwhile the factory overclocked cards continue to up the ante, and ends up being another game that factory overclocks offer a decent improvement. Zotac tops the factory cards at 10%, followed by Gigabyte and EVGA. We're once again seeing the impact of Zotac's memory overclock, and how in memory bandwidth limited situations it's more important than Gigabyte's higher power target, though Gigabyte does come close.