Batman: Arkham City
Batman: Arkham City is loosely based on Unreal Engine 3, while the DirectX 11 functionality was apparently developed in-house. With the addition of these features Batman is far more a GPU demanding game than its predecessor was, particularly with tessellation cranked up to high.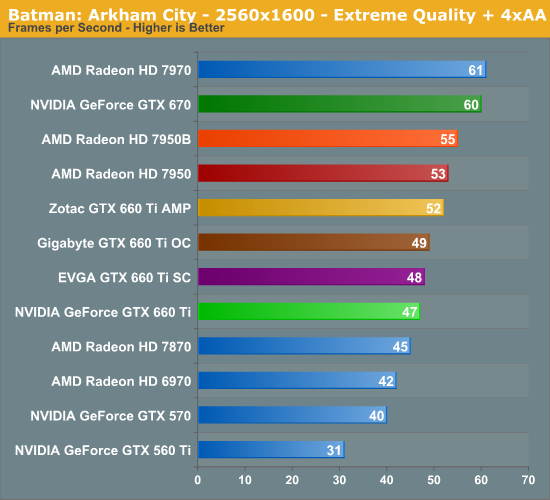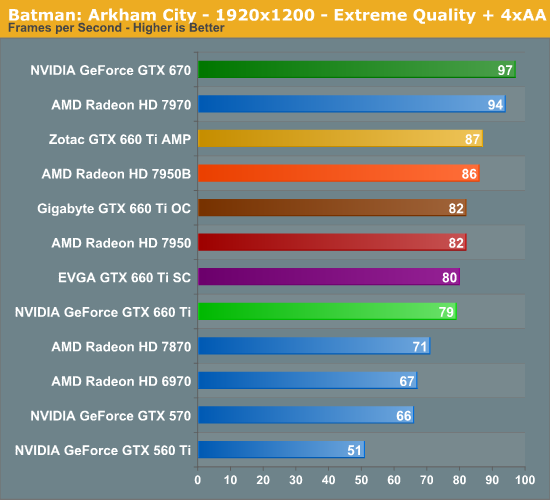 Both AMD and NVIDIA recently saw significant performance improvements here due to driver tweaks, which has shuffled the deck to a degree. With full memory bandwidth GK104 cards do well here, but this is not the case for the GTX 660 Ti. Next to Crysis this ends up being the second worst game for the GTX 660 Ti if you're comparing it to the GTX 670, as the GTX 660 Ti trails by 19%. This also means that the GTX 660 Ti falls behind the 7950 by a couple percent.
The factory overclocked cards on the other hand offer more evidence that the GTX 660 Ti can recover with a bit more memory bandwidth, which is exactly what we're seeing with the Zotac card and its 10% memory overclock. Altogether it's a full 10% faster than the reference GTX 660 Ti, and 6% faster than the next-fastest factory overclocked card. If Zotac wants to justify their $30 premium then they'll need more games like this, since it makes the card clearly stand apart from the others and makes it more than competitive with the 7950.
On a final note, we haven't been paying too much attention to past-generation cards up to this point, but it's worth taking a breather and reflecting upon the situation. So far the GTX 660 Ti is faster than the GTX 570, but it's not amazingly so. Against the GTX 560 Ti it looks much better, but then it's a matter of replacing a card that launched at $250 with one that launched at $300.