Setting the Scene: The Professional Graphics Market
Seeing as how this is our first professional video card review in quite some time, we wanted to spend a bit of time discussing the professional video card market in depth before diving into the features of AMD's hardware. Because the professional graphics market is not particularly price-sensitive (unlikely the consumer market), how it operates is not particularly straightforward. Understanding the professional graphics market also sets the stage for understanding the importance of the FirePro W series; there's more at stake than just beating NVIDIA's cards.
The biggest reason that the professional graphics market is of great importance to NVIDIA and AMD isn't just that it's another market for them to sell products in, but because it's not just another market. As we alluded to in our introduction, going by the volume of products shipped the professional graphics market is tiny. Even looking at revenue it's far smaller than the consumer market. But what revenue hints at and what financial statements prove is that it's profitable. Extremely profitable.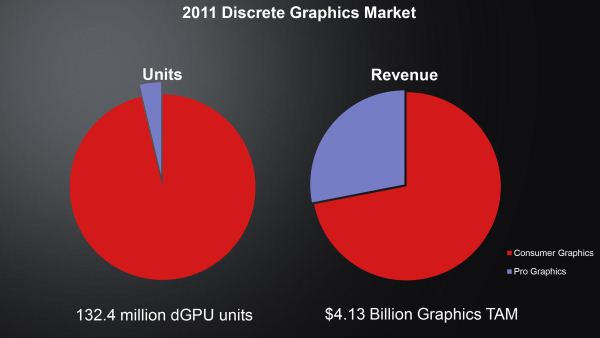 Neither AMD nor NVIDIA specifically break out their complete gross margins on a market segment basis – something that would be difficult to do since both rely on the same GPUs and R&D – but they are very straightforward in telling investors about the overall profitability of the professional market segments. To work with a simple example, take NVIDIA's product lineup, where NVIDIA could profitably sell a GF110 GPU in the form of a GTX 580 at $500. Meanwhile the Quadro 6000 – a card containing the same GF110 GPU – was released at $5000, 10 times the price. Even after factoring in the unique costs of bringing a professional graphics product to market such as driver validation, support, and a higher individual unit cost, the professional graphics market is incredibly profitable. In the GPU market, just like most other technology markets, professionals will pay a much larger premium for specialized hardware.
The end result is that to make a significant profit in the desktop GPU market you need to hold a sizable share of both the consumer market and the professional market. The professional market will provide a low-volume, high-margin income stream, while the consumer market allows manufacturers to spread out R&D costs over a much larger number of products and to sell binned chips that would never meet professional standards.
But what happens if you don't have a significant share of both the consumer and professional markets? Unfortunately, that would make you AMD.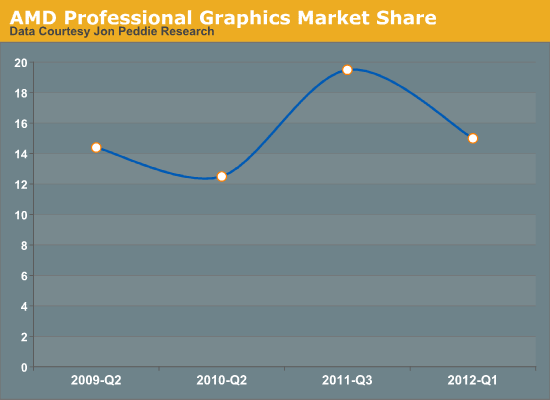 Our apologies for the inconsistent data. JPR does not regularly release detailed market share data to the public
AMD's professional graphics presence marks a continuing battle for the company. While in the consumer space they have 25% of the total market (including iGPUs) versus NVIDIA's 15%, and in the discrete market they have 38% to NVIDIA's 62%, in the professional graphics market they have only a 15% market share. This is better than the near-10% share they had a few years ago, but it's below the near-20% share they reached last year, and far below where they would like to be.
As it stands AMD's graphics division regularly turns out a small profit (in the form of operating income) every quarter, but they're nowhere near NVIDIA's profitability. It goes without saying that as a business AMD is always seeking to improve their profitability for their shareholders, however they also need to turn a profit to fund R&D of future products. Just as with CPU development, GPU development costs are continuing to rise with every generation, which makes the professional graphics market and its high margins all the more important. AMD is by no means in dire straits, but long-term a sub-20% market share is not where they want to be. A sub-20% market share means that AMD is struggling to stay relevant.