Power Consumption and Miscellaneous Factors:
In the typical usage scenario, the Probox will be used with 3.5" hard disk drives. A majority of the end users plan on using a DAS unit to store multimedia files. Typical access to these types of files involves sequential reads and writes. In order to evaluate performance and power consumption under these typical usage conditions, we used 7200rpm 1TB HDDs and ran 128K sequential access tests with high queue depth using IOMeter. The results are presented below. As seen in the previous section, USB 3.0 performance seems to plateau, while eSATA seems to be able to deliver much better performance. eSATA is unusable for configurations with more than two drives.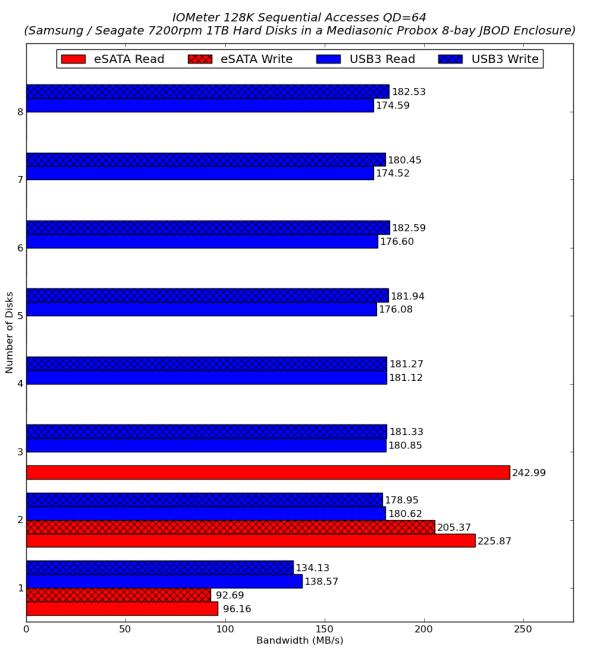 Despite being advertised as being able to provide 5 Gbps of bandwidth, the USB 3.0 port is obviously held back by the 3 Gbps limit of the SATA side of the bridge chip. In practice, both the read and the write bandwidth seems to be limited to around 180 MBps. On the other hand, eSATA seems to be able to reach as high as 240 MBps and probably has the ability to even perform a bit better with a suitable eSATA port. We may update the piece after the receipt of a suitable eSATA add-on card.
The table below presents the power consumed at the wall (as measured using a Watts Up? Pro meter) under various conditions. In the table below, the access column refers to 128K sequential reads and writes with a queue depth of 64. The average of the numbers obtained for reads and writes is presented. Between USB 3.0 and eSATA in the 1 and 2 disk configurations, we found that the power numbers were different by only a few tenths of a watt. Therefore, all the numbers presented below are for access through the USB interface
Mediasonic Probox 8-bay Single Mode DAS Enclosure Power Consumption
Turned Off
0.6 W
No Disks / Min. Fan Speed
12 W
No Disks / Mid. Fan Speed
13 W
No Disks / Max. Fan Speed
15.9 W
No. of Disks
Idle
Access (Min. Fan Speed)
1
17 W
19.7 W
2
22.7 W
26.8 W
3
28.1 W
32.8 W
4
33.5 W
39.7 W
5
39.4 W
46.5 W
6
44.9 W
52.5 W
7
50.1 W
59.0 W
8
55.6 W
65.1 W
The two fans in the unit can be put under manual or auto control. The auto control is enabled by thermal sensors and the feature works well in practice. There are three fan settings. In such units, the fans are the most likely components to fail first. Thankfully, they are quite easy to replace and Mediasonic doesn't void the warranty when users replace the fans themselves.
The unit also has sync settings which enable it to power on and off in tandem with the computer's power state. The hard disks are also allowed to go to sleep as per the drive's firmware settings (the duration can be modified for most disks using the smartctl utility).
Some users have reported problems with the USB 3.0 connection having issues, but we didn't encounter any issues in our stress testing. We can only conclude that the USB 3.0 ports on the H77 chipset / Intel's USB 3.0 drivers don't have any issues in interacting with the JMicron USB 3.0 to SATA bridge.