The Chip
The 1.1GHz Athlon "Thunderbird" (from here on referred to as the Thunderbird) doesn't boast any new changes over the previous Socket-A Thunderbirds other than the increased clock speed.
· 37 million transistor 0.18-micron Thunderbird core with Copper interconnects
· 1.1GHz (1100MHz) clock speed - 11.0x clock multiplier
· 128KB on-die L1 cache running at core speed
· 64-bit exclusive 256KB on-die L2 cache running at clock speed
· 462-pin Socket A EV6 CPU interface running at 100MHz DDR (effectively 200MHz)
· 1.75v core voltage
As you can tell by the above specs, nothing has really changed with the 1.1GHz Thunderbird. If you're interested in learning more about the above specifications feel free to read our original Thunderbird review.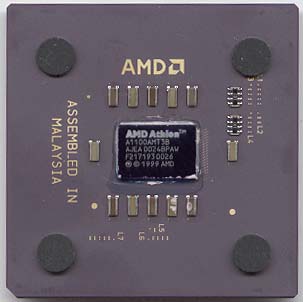 The 1.1GHz parts will most likely be produced exclusively in AMD's Fab30 plant in Dresden and thus will feature copper interconnects. As we mentioned in our Duron review, currently, the only way to differentiate between a Thunderbird manufactured in Dresden with copper interconnects and one manufactured in Austin with aluminum interconnects is by looking at the tint of the die itself. AMD uses a different polisher at their Dresden plant than they do at their Austin plant, the result being that all CPUs that come out of Dresden have a bluish-purple tint, which is what you will see on the 1.1GHz processors.
CPU Specification Comparison

AMD Athlon

Intel Pentium III

Intel Celeron

Core

K7

K75

Thunderbird

Katmai

Coppermine

Mendocino

Coppermine128

Clock Speed

500 - 700 MHz

750 - 1000 MHz

450 - 600 MHz

500 - 1133 MHz

300 - 533 MHz

533 - 600 MHz

L1 Cache

128KB

32KB

L2 Cache

512KB

256KB

512KB

256KB

128KB

L2 Cache speed

1/2 core

2/5 or 1/3 core

core clock

1/2 core

core clock

L2 Cache bus

64-bit

256-bit

64-bit

256-bit

System Bus

100 MHz DDR (200 MHz effective) EV6

100 - 133 MHz GTL+

66 MHz GTL+

Interface

Slot-A

Socket-A
Slot-A (OEM only)

Slot-1

Slot-1
Socket-370

Socket-370

Manufacturing
Process

0.25 micron

0.18 micron

0.25 micron

0.18 micron

0.25 micron

0.18 micron

Die Size

184 mm^2

102mm^2

120mm^2

128mm^2

106mm^2

153mm^2

106mm^2

Transistor Count

22 million

37 million

9.5 million

28 million

19 million

28 million
AMD has updated their Ordering Part Numbers (OPN), which can be used to identify the specifications of any of their PGA processors. The more simplified code is described below as well as a picture of the markings from our 1.1GHz part: