Introducing the Cooler Master Elite 120 Advanced
At the risk of sounding foolish, more and more it seems that Mini-ITX is very much becoming the new Micro-ATX. Each subsequent hardware generation crams a little more performance and flexibility into the form factor, and Intel's Z77 chipset complete with USB 3.0 makes it that much easier. With Intel's 8 series chipset rumored to halve the power consumption of Z77 while bumping up the number of USB 3.0 and SATA 6Gbps ports, one has to wonder just how much we'll even need Micro-ATX (let alone ATX) at that point. With all that said, Intel and AMD's advances aren't the only things helping drive forward the adoption of the Mini-ITX form factor.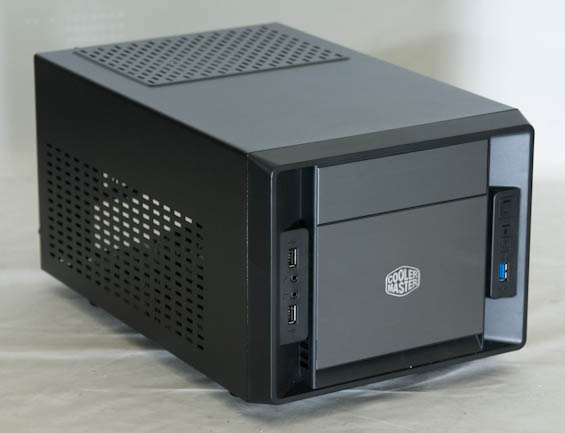 What used to be the province of specialty motherboards (typically from Zotac) is now a market that enjoys entries from most major motherboard manufacturers, and while cases supporting this form factor used to be moderately expensive oddballs, we now have beefy enclosures like BitFenix's Prodigy going for reasonable prices. Yet the Prodigy is still on the large side; what if we want to build a good-looking Mini-ITX box on the cheap? For that, we turn to today's entrant, the newly released Cooler Master Elite 120 Advanced.
Before being a case reviewer gave me the opportunity to check out inexpensive enclosures I might have otherwise missed entirely (including BitFenix's vast line), I was a pretty big fan of Cooler Master's budget cases. For a long time, my go-to was the now-outdated Elite 360, a small but efficient and easy-to-use Micro-ATX case at a very competitive price (typically around $40). When I saw the press release for the Elite 120 Advanced, I knew I had to get it in and get it tested. As I said before, Micro-ATX is the new ATX, and Mini-ITX is becoming the new Micro-ATX. That means we need a good, cheap Mini-ITX case for good, cheap Mini-ITX boards.
Cooler Master Elite 120 Advanced Specifications
Motherboard Form Factor
Mini-ITX
Drive Bays
External
1x 5.25"
Internal
3x 3.5" (two 3.5"-to-2x2.5" brackets included)
Cooling
Front
1x 120mm intake fan, 1x 120mm fan mount behind drive cage
Rear
-
Top
-
Side
1x 80mm intake fan
Bottom
-
Expansion Slots
2
I/O Port
1x USB 3.0, 2x USB 2.0, 1x Headphone, 1x Mic
Power Supply Size
Standard ATX
Clearances
HSF
65mm
PSU
180mm
GPU
13.5"/343mm
Dimensions
9.4" x 8.2" x 15.8"
240mm x 207.4mm x 401.4mm
Weight
7.3 lbs. / 3.3kg
Special Features
USB 3.0 connectivity via internal header
Removable 80mm side intake fan mount
Drive trays for converting 3.5" bays into dual 2.5" bays
Price
$49
When I unboxed and began testing the Elite 120 (Elite 120 Advanced is a bit of a mouthful) I had no idea what the price was; I was interested in examining it strictly as an arguably "true" Mini-ITX case (the BitFenix Prodigy, however fantastic, does approach Micro-ATX enclosure sizes) and to me, the initial look and feel put it in price competition with BitFenix's design. For such a small case it's remarkably feature rich; I could install my home file server into the Elite 120 without having to really sacrifice anything.
Where I do think Cooler Master made a minor mistake was in including only one USB 3.0 port, but needing the full motherboard header to do it. At this point I'm wondering whether it might've made sense to simply eschew having the third front port and just include two USB 3.0 ports in the front of the case. Cooler Master also theoretically supports video cards like the NVIDIA GeForce GTX 690 and AMD Radeon HD 6990 inside the Elite 120, but unfortunately I don't have either of these 300+ watt behemoths on hand and honestly, I think that'd really be pushing your luck with this case.