In and Around the Fractal Design Define R4
It's going to be difficult to go through this review without talking about the Fractal Design Define R3, so while I don't like assigning homework, reading our review of that enclosure can at least help put this new one in perspective. Essentially what we're looking at, though, is a mid-tower engineered primarily for silent running but capable of going the opposite direction in a pinch. This is in many ways a spiritual successor to Antec's P182 and P183, and in some ways I think it's actually a better engineered descendant than Antec's own P280 is. Fractal Design hits a lot of beats with the Define that Antec missed with the P280 and NZXT missed with the H2.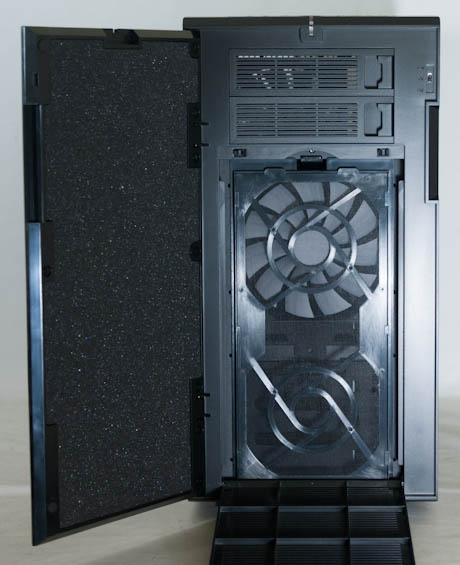 It starts with the front door. The R4's door is hinged on the left and has an attractive black brushed aluminum finish; the inside surface of the door features an acoustic foam that is used pretty extensively on the inside surfaces of the case. When you open the door, you'll see just two 5.25" drive bays and a pair of 120mm intakes hidden behind a door that pops open handily. There's also a removable fan filter in front of the fans. On the whole I like that Fractal Design has deprecated 5.25" drive bays, as it allows them to move the intake fans further north which in turn creates a better directed airflow towards the CPU heatsink. Next to the bays is a three-setting fan control switch, a great feature that was missing from the R3. With most fans (and most cases), full bore often isn't the most efficient setting to run at; usually there's an inflection point where the improvements in airflow become minimal compared to the amount of noise generated.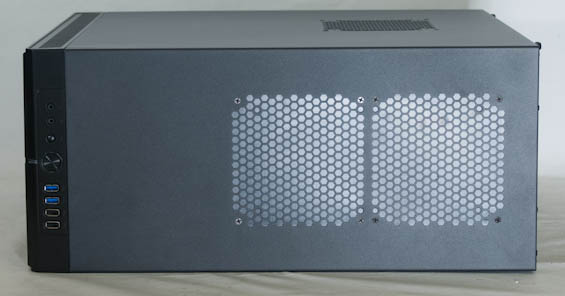 The top of the R4 is going to be pretty familiar; I/O and buttons are at the front of the case, striking a compromise between users who put their towers on the floor versus users who put their towers on their desks. There are also two blocked off 120mm fan mounts; Fractal Design includes removable, acoustically padded panels behind the unused fan mounts that gives the enclosure some flexibility. If you want to increase airflow and mount additional fans, you can do so, but if not you can block those vents off and muffle noise in the process.
Side panels are basically the same, although our review unit was a bit stiff. The panels are held in place with thumbscrews, and the left side one has a 120mm fan mount with the same padded panel behind it. If you want to add a side intake, you have the option, but again not opting to doesn't mean having to deal with increased noise from an open vent. Finally, the back of the case presents one difference from the R3: Fractal Design got rid of the rubber-grommet holes typically used for external watercooling in favor of just adding an auxiliary expansion slot. I'm all for this change; most custom watercooling loops these days are completely internal and use cases that can accommodate them, so reclaiming that space for something that could conceivably be a little more useful is appreciated.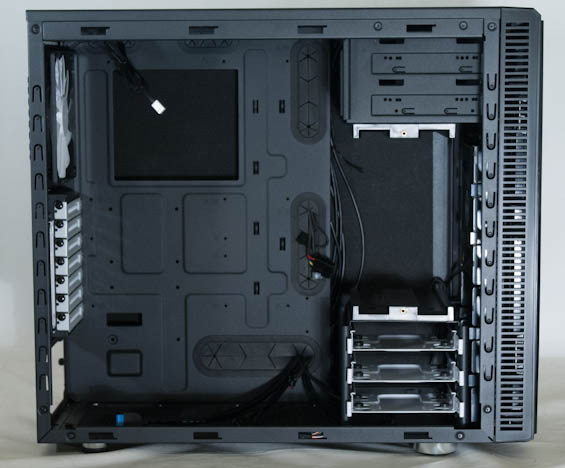 Open up the Define R4, and you'll see that while not a whole lot has changed from the R3, Fractal Design did make one very interesting change: the drive cages are now removable. They still have a staggering eight drive trays (again benefitting from the reduction in 5.25" drive bays), but the middle cage is easily removable with two screws and the bottom one can be removed by unscrewing it from the bottom of the case. Being able to ditch that middle one is a big, big win, as it allows you to completely unobstruct the primary front intake fan without sacrificing too much in the way of storage; conceivably you can still install two 2.5" drives (mounted to the back of the motherboard) and three 3.5" drives in the remaining drive trays, which should be plenty for most users.
While I feel like the R4 is in some ways still too conservative a jump from the R3, pretty much every change Fractal Design has made here has been an improvement, full stop. If you were interested in the R3, the R4's design squarely obsoletes it. I do think there's a missed opportunity in not shifting the top fan mounts over to the left and thus reducing any potential clearance issues with 240mm radiators; Fractal Design cites compatibility with 15mm-thick radiators, but I honestly just wouldn't try with this case and would probably stick with a 120mm rear-mounted closed-loop like a Corsair H80. An enterprising builder could probably get at least a little bit of watercooling action going in the R4, but it's really not ideal for it.