ASUS are actively trying to embrace the gaming community in a way that is substantially unprecedented for a non-gaming focused company. Any gamer or user, with or without an ROG product, can sign up to the ROG forums. The ROG forums are filled with like minded users who enjoy their technology and their gaming, free to share ideas, modifications and the like. What sets the ROG forums apart from most is the active participation by ASUS-employed gamers who are there to offer advice and help solve problems.
These community moderators and helpers are both tech freaks and gamers themselves, and have the same passion and enthusiasm as the members. If the user is willing to listen, these moderators will talk to the community and individuals about how to fix their problem or improve their experiences of certain products, helping users get the most out of their products. All of this comes at no extra charge.
ROG Forums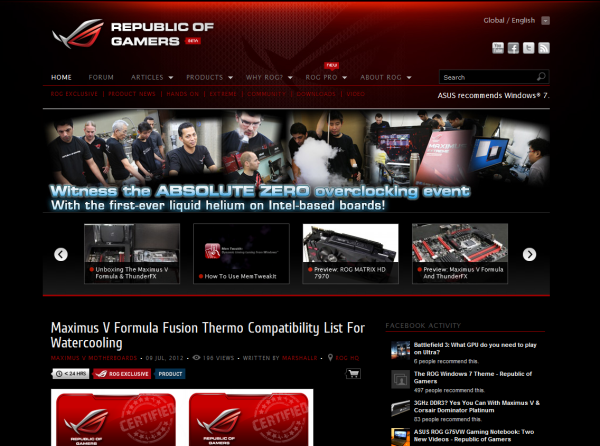 The forums themselves are split, as you may imagine, between different component types and then Intel/AMD/NVIDIA as required. There is a main section for technical talk – help with suggestions for rig building, or a place for modders to show off their builds. There is also a section for gaming, for ROG forum users to discuss latest releases or tactics. A relatively recent addition to the forums is the ROG Pro section, which features help on MemTweakIt and ROG Exchange (explained later)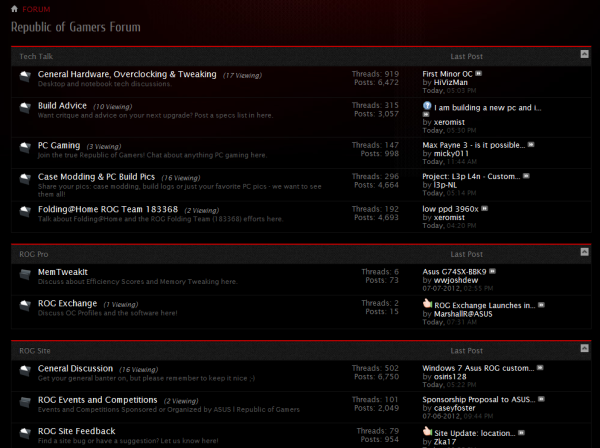 Articles
Unlike any other motherboard originated, gaming focused community, the community moderators at the ROG forums also write articles and guides for everyone. This can be as basic as installing a sound card, or more complex describing the myriad of overclocking options on product XYZ. These are not your typical guides – painstakingly written over pages and pages and then published online for everyone to use in step-by-step fashion and every section is explained. If there is a section that is not explained as clearly as you would like, the moderators or other forum users are more than keen to help (on a personal note, as long as the request is polite rather than a demand, users are more willing to lend aid).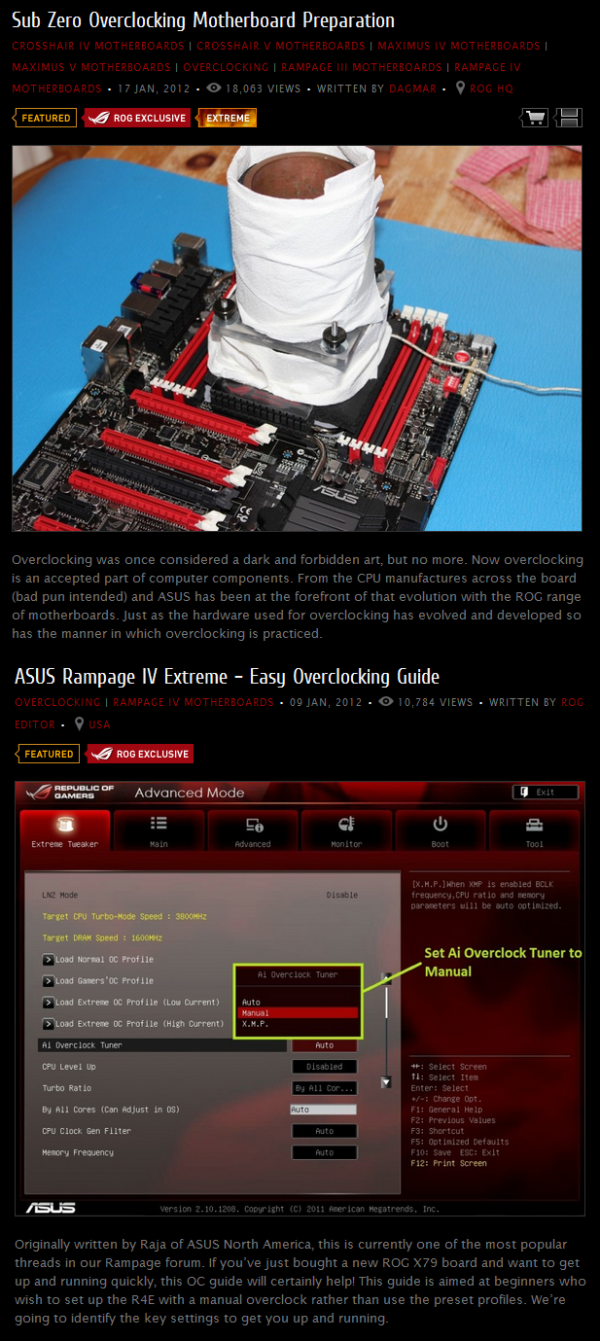 As ROG is also aimed at overclockers, there are also series of blog posts aimed at what several of the internal ASUS overclockers and R&D have achieved in terms of competitive overclocking. 24/7 overclocking is more focused in the guides, but for extreme (liquid nitrogen) scores pushing the hardware to the limits, there are videos and explanations of what these world champion overclockers are doing.
Now, how about a look at our ROG X79 motherboards we have in for testing?