Rampage IV Formula Conclusions
When we reach up to the heights of the Formula, we are already probing the high end of X79 motherboards. The Formula is the lofty goal for gamers, and lacks most of the extra overclocking features of the Extreme. However, the Formula is still very much fit for purpose - enhanced audio, quad-GPU using all the PCIe lanes, and improved performance thanks to the MultiCore Enhancement.
I could reiterate the positive nature of ASUS' software stack that comes part of the Formula, and for gamers we also have GameFirst network management software to prioritize games over other software that may want to eat up bandwidth (anti-virus updates), as well as free copies of Kaspersky Anti-Virus and Daemon Tools Pro.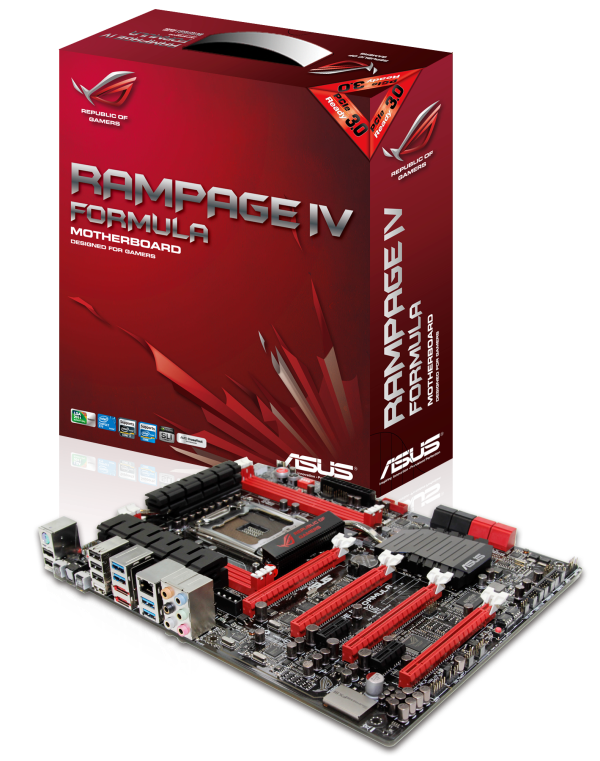 The main criticism for the Formula would be the lack of memory slots, with only four being present on one of the most expensive full sized ATX X79 motherboards. The reasoning from ASUS is straightforward - most, if not all, gaming setups require no more than 16 GB of memory, and with the extra space on board, there is room for beefier heatsinks, PCIe disable switches, fan headers, and so on.
The Formula is in reality a fully sized Gene, offering Gene-class performance for those with more than two PCIe or 6 SATA devices. There is more in the box, and it still comes with ASUS Premium Service for North America. The possible downside could be the price - over the Gene, the Formula costs $80 more. That is reasonable if you consider that in terms of real estate we are getting another 2.4 inches of PCB on the bottom end (equivalent to +20% extra PCB area). Factor that into the price of the Gene ($280 x 1.2 = $336), then add the price of the extra PCIe slots and extras in the box and we should be near to the $360 mark.
The Gene is a special board, and the Extreme has that special knack. In my mind, the Formula is a filler board - the longer Gene for the gamer who has more than two PCIe devices. This board is still heartily recommended for its performance should that be your usage scenario.