The SoC & Performance
While Amazon chose TI's OMAP 4 for the Kindle Fire, Google and ASUS picked arguably the second best SoC on the market today: NVIDIA's Tegra 3. Keep in mind that high-end ARM SoCs generally sell in the $14 - $25 range per chip, which a fabless semiconductor manufacturer has to split with a foundry. The result is a far cry from the margins NVIDIA is used to making on high-end discrete GPUs. I suspect a desire to make good use of all functional Tegra 3 parts that come back from the fab is the reason why we have so many variants of the Tegra 3.
To date we've seen three Tegra 3 SKUs used in tablets: T30L, T30 and T33. Factor in the smartphone SKUs (AP30, AP33) and it's already a pretty healthy collection for a single chip. The main differences between the 30L, 30 and 33 parts are voltages and clock speeds. I've shown this table in previous articles but I present it here again since T30L is what's in the Nexus 7:
NVIDIA Tegra 3
CPU Cores
Max CPU Clock (1 core active)
Max CPU Clock (multiple cores)
GPU Cores
Max GPU Clock
NVIDIA Tegra 3 (T33)
4+1
1.7GHz
1.6GHz
12
520MHz
NVIDIA Tegra 3 (T30)
4+1
1.4GHz
1.3GHz
12
520MHz
NVIDIA Tegra 3 (T30L)
4+1
1.3GHz
1.2GHz
12
416MHz
The loss in performance compared to T30/T33 is marginal at best, at least for most consumer use cases. Four Cortex A9s running at up to 1.3GHz is definitely quick enough for the types of applications you'll run on the Nexus 7. Things can always be faster, but like the Kindle Fire's OMAP 4, the Nexus 7's T30L is good enough for now. Give it another year and we'll see something even faster at this price point. That's the downside of buying anything in the tablet/smartphone space these days unfortunately.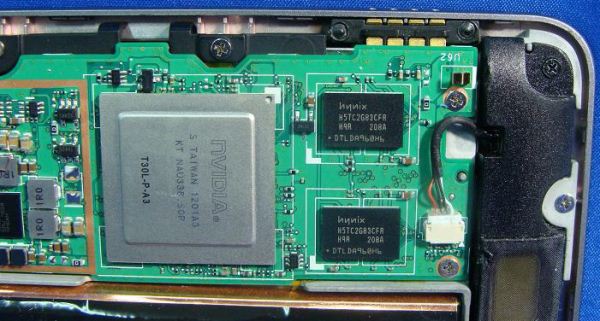 ASUS Android Tablet Memory Choices
TF Prime
TF Pad 300
Nexus 7
TF Pad Infinity
Memory Capacity
1GB
1GB
1GB
1GB
Memory Type
DDR2-1000
DDR3L-1333
DDR3L-1333
DDR3-1600
Memory Bandwidth
4.0GB/s
5.3GB/s
5.3GB/s
6.4GB/s
ASUS selected 1GB of DDR3L-1333 memory for the Nexus 7. This gives it more memory bandwidth than any of the Transformer series of tablets, with the exception of the Transformer Pad Infinity. Since the Tegra 3 SoC only has a single channel memory interface, ASUS had to rely on higher frequency memory to deliver sufficient bandwidth.
Note that the browser performance tests below paint a very good picture for the Nexus 7's performance because Android 4.1 replaces the default web browser with Chrome, with a much faster javascript engine.