Benchmarking Configuration
All test have been done on the Supermicro SuperServer 6027TR-D71FRF.
Supermicro SuperServer 6027TR-D71FRF (2U Chassis)
CPU
2x Intel Xeon processor E5-2660 (2.2GHz, 8c, 20MB L3, 95W)
RAM
64GB (8x 8GB) 1600MHz RDIMM Samsung M393B1K70DH0-CK0 or
128GB (8x 16GB) 1333MHz LRDIMM Samsung M386B2K70DM0-YH90
Motherboard
Supermicro X9DRT-HIBFF
Chipset
Intel C602
BIOS version
R 1.1
PSU
PWS-1K28P-SQ 1280W (80 Plus Platinum)
We used only one PSU for the energy measurements.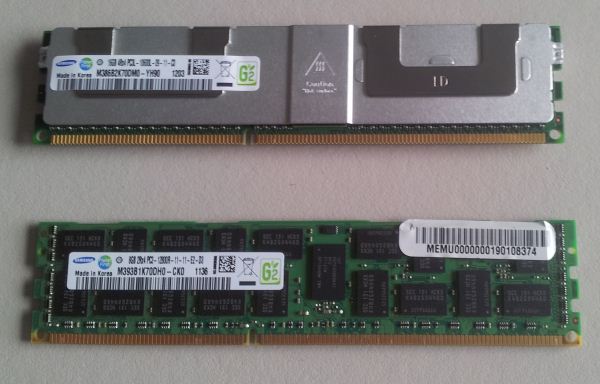 We used VMware ESXi 5.0 (vSphere 5 Enterprise Plus) for the virtualization tests, Windows 2008 R2 SP1 (64 bit) for the Windows AIDA latency test, and Ubuntu 12.04 for the Stream bandwidth test.
Two Intel i350 Gigabit NICs were load balanced with ESXi's NIC Teaming.
The storage consisted of one Adaptec RAID 5805 with two Raidsets. The first RAIDset consisted of three Micron Crucial P300 100GB 6Gbps MTFDDAC100SAL-1N1AA in RAID 5. The LUN on top was made for all Zimbra VMs, which create quite a bit of disk I/O.
The second RAIDset consisted of three Western Digital WD1000FYPS 1TB in RAID 5. The LUN on top of these disks was used for the other VMs. The other VMs only require intensive disk I/O in the beginning of the test. During that time, the performance measurements are not used for our final results.