Performance Over Time & TRIM
Over time SSDs can get into a fairly fragmented state, with pages distributed randomly all over the LBA range. TRIM and the naturally sequential nature of much client IO can help clean this up by forcing blocks to be recycled and as a result become less fragmented. Leaving as much free space as possible on your drive helps keep performance high (20% is a good number to shoot for), but it's always good to see how bad things can get before the GC/TRIM routines have a chance to operate. As always I filled all user addressible LBAs with data, wrote enough random data to the drive to fill the spare area and then some, then ran a single HD Tach pass to visualize how slow things got: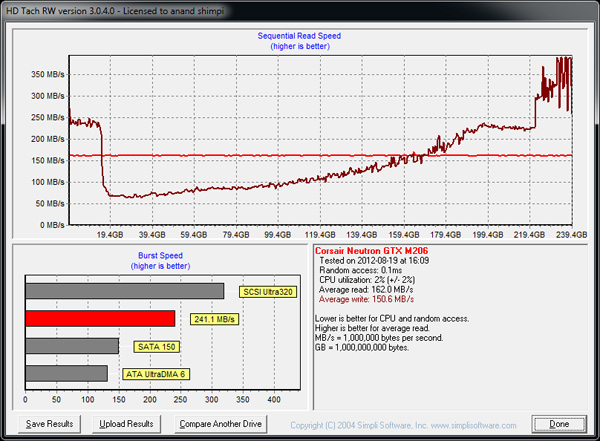 Performance drops pretty low but it's not terrible at above 50MB/s. The flat line around 230MB/s both at the starting and higher LBAs is a bit peculiar, but we could just be seeing some pinning of data that the controller thinks is important for whatever reason. Read performance is also pretty heavily impacted, being cut in more than half once the drive is in this state. A quick format of the drive triggers TRIM which restores performance to new: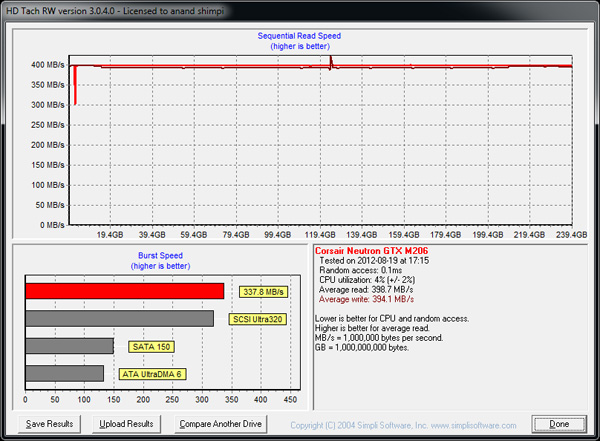 The Neutron GTX is reasonably resilient but behaves like a normal SSD in that if you throw a lot of random writes at it, you will see steady state performance well below 100MB/s. Most client usage models, particularly if you leave enough free space on the drive (I like to shoot for ~20% free space), shouldn't get into this state even after years of use.