ASUS PA246Q - Color Quality
ASUS promises a dE < 5 out of the box with their sRGB and AdobeRGB modes, but do they deliver? Well, yes and no. The problem with this promise is that you have to decide how you are going to measure dE for the display. Do we just measure the dE for white, or grayscale, or grayscale plus the primary colors? Or should we measure the full Gretag Macbeth color checker chart and expect a dE below 5 there? Also, should we use dE 1976, 1994, 2000, or something else? Since none of these are specified, I am unsure how to judge ASUS, other than against other monitors with our standard GMB testing.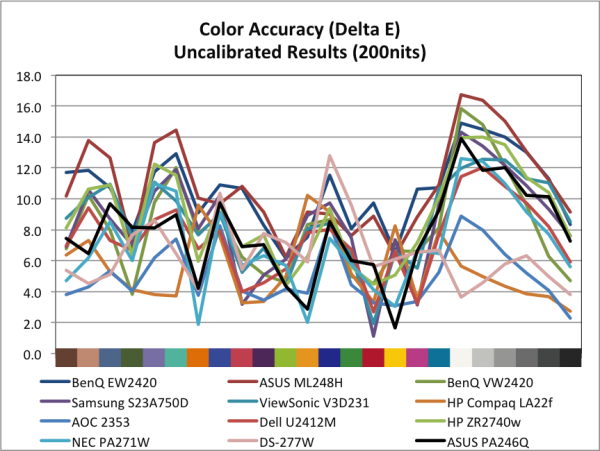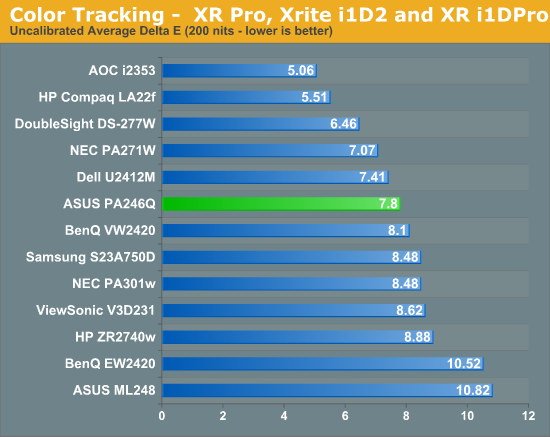 Out of the box in sRGB mode we see that performance isn't any better or worse than other displays for the most part. However the grayscale is overall very good, and the primary colors are decent for the most part with dE values that are relatively low. If I'm judging the <5 claim based on this, the PA246Q might live up to expectations. Once I move into certain shades of blue, however, the dE really gets high, and so using the whole spectrum I can't say that it manages <5 dE for the sRGB mode. Perhaps they are using a different dE formula than we are, or perhaps they are only claiming that white will be below 5, but using the same standard we apply to other vendors, the PA246Q isn't any better or worse out of the box than the competition.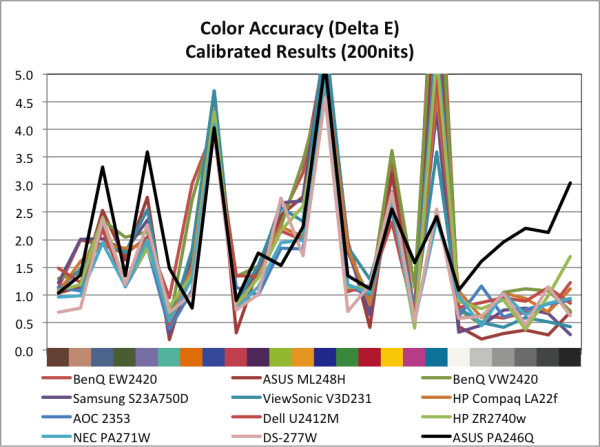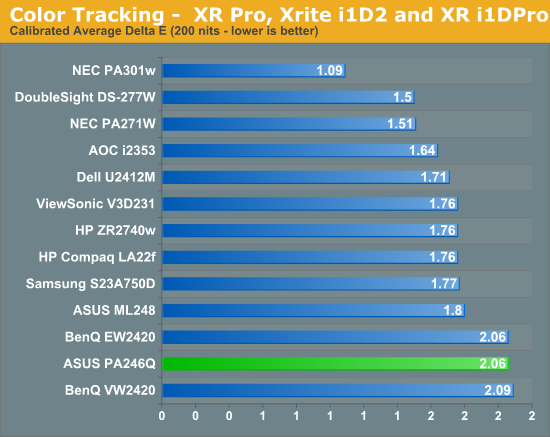 So out of the box the calibration seems fine but not exceptional, but does it calibrate well for those that need it? Overall the calibrated dE of 2.06 looks a little high, but when we examine the graph we see that the grayscale is much higher than any other display in the chart. This is a bit weird, and leads me to wonder how well the two-point grayscale calibrates and is handled internally. I set that for 100% and 30% as those should lead to a fairly accurate grayscale across the gamut, but here it seems to be good at 100% and then really ramp up. If the math is incorrect internally, this could lead to these issues where it has those two points correct, but determining the values for points between them is done incorrectly.
When I broke out the data more, the average dE for the color patches was 2.08 for the ASUS, which is almost equal to the overall value. For other monitors I had data for, the colors were on average 0.25 dE higher than the total dE with grayscale. So it seems that colors are better on the ASUS, but the grayscale is worse. In this case if you are doing photo editing, it might be a better choice than if you are using it for black and white work or even general-purpose work. With spreadsheets and word processing, you don't notice a tint since the white is very good overall, but dark shadows can be off. So overall the performance of the ASUS PA246Q here was good for color and fairly poor for grayscale, which is different than almost any other display we have seen.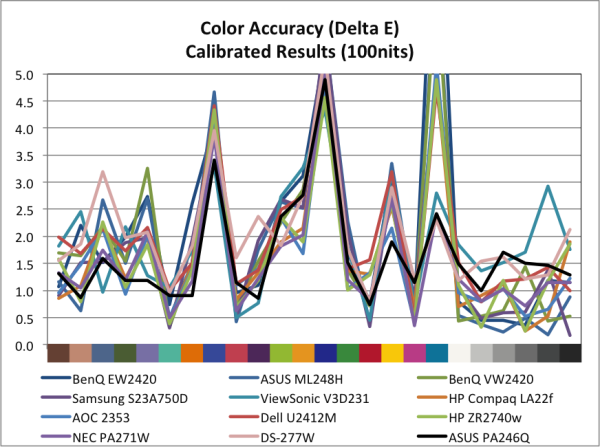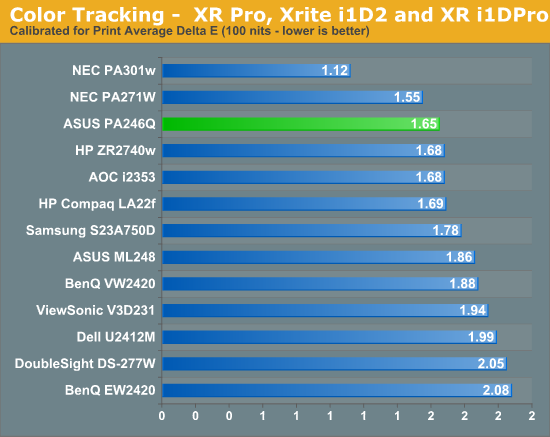 With 100 nits, the grayscale was much better and so the better colors led to a dE that was lower than with 200 nits. Because of this the ASUS seems to be a better performer for print work than for brighter rooms, but really the main area it fails is for black and white photo editing with a brighter screen.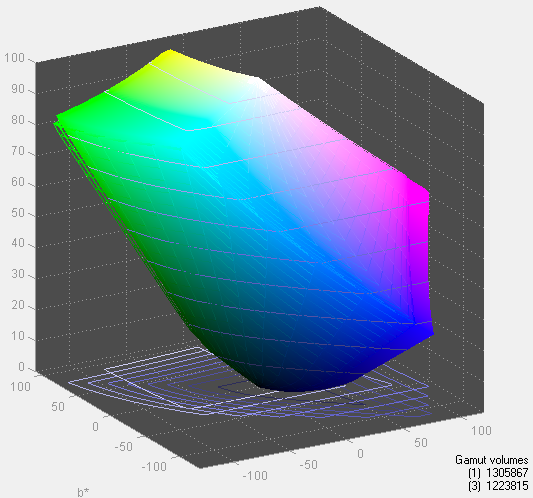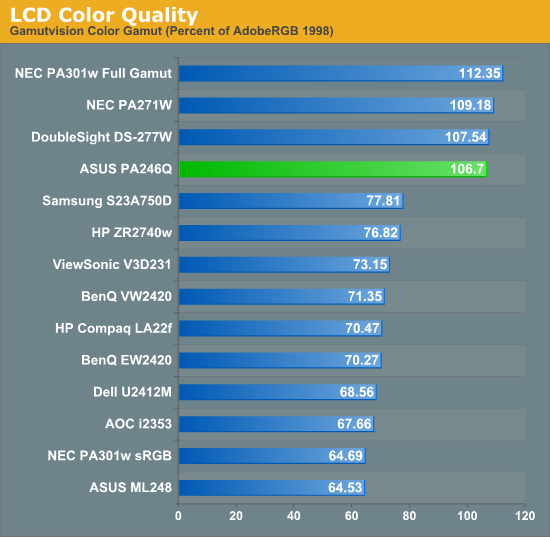 ASUS says they can do the full AdobeRGB gamut on this display and they aren't lying. With almost 107% coverage it will work well for photographers and other professionals that need the larger gamut.