Total War: Shogun 2
Total War: Shogun 2 is the latest installment of the long-running Total War series of turn based strategy games, and alongside Civilization V is notable for just how many units it can put on a screen at once. As it also turns out, it's the single most punishing game in our benchmark suite (on higher end hardware at least).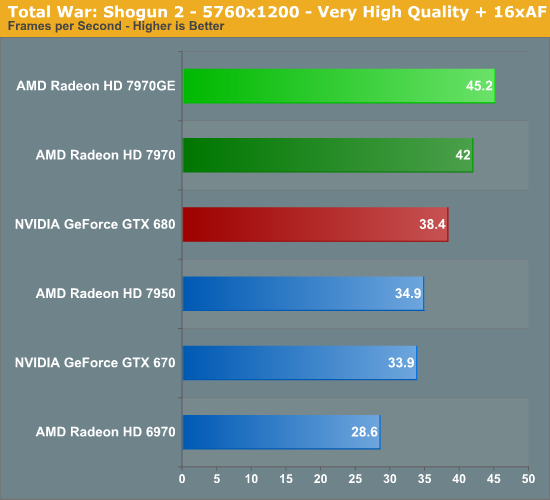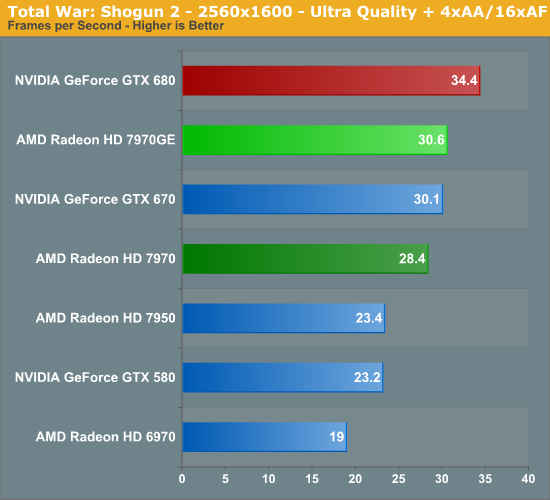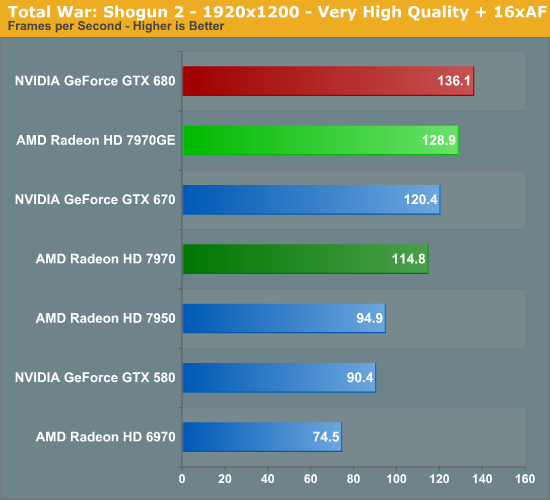 Similar to what AMD did with improving their DiRT 3 performance, NVIDIA has similarly improved their Shogun 2 performance. NVIDIA was previously bitten by a major performance regression introduced in a March update for Shogun 2, which significantly reduced performance at 2560 with our Ultra settings. With NVIDIA having fixed that regression through a driver update, their performance has now been restored.
Consequently this is the first game where the 7970GE can't power ahead of the GTX 680 at 2560. The 7970GE is just fast enough to break past 30fps, but compared to the GTX 680 the latter has a 12% performance lead here, which is a big deal for NVIDIA since performance is low across the board here.
Like we saw with the GTX 670 versus the 7970 and the GTX 570 versus the 6970, performance patterns are quickly devolving to the point where any performance leads are extremely inconsistent and strongly depend on the game in question. Or in other words, we're going to see a lot of back-and-forth movement with the 7970GE winning with some games and the GTX 680 winning with others. For better or worse there won't be a single clear winner across every game.