Crysis: Warhead
Kicking things off as always is Crysis: Warhead. It's no longer the toughest game in our benchmark suite, but it's still a technically complex game that has proven to be a very consistent benchmark. Thus even four years since the release of the original Crysis, "but can it run Crysis?" is still an important question, and the answer continues to be "no." While we're closer than ever, full Enthusiast settings at a 60fps is still beyond the grasp of a single-GPU card.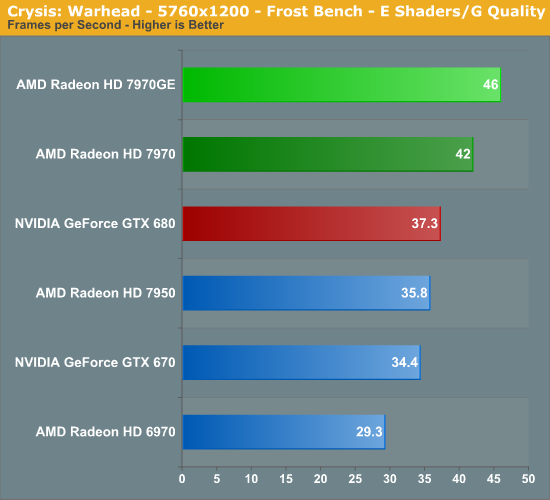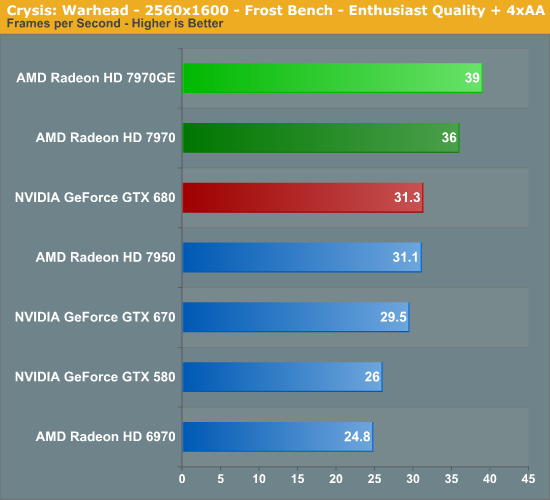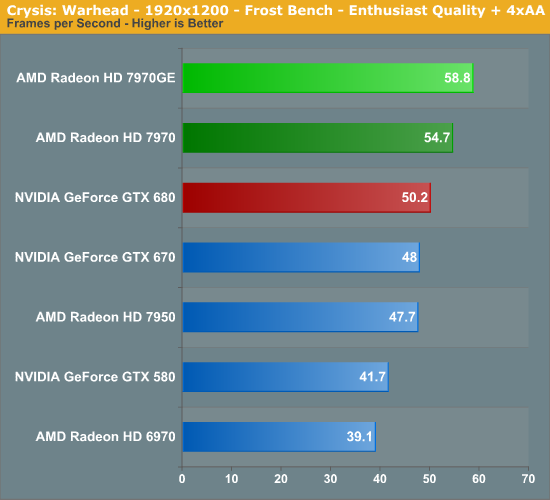 Since the launch of the GTX 680 it's been clear that Crysis is a game that favors AMD's products and this is no clearer than with the 7970GE. AMD was already handily beating the GTX 680 here, most likely due to the GTX 680's more limited memory bandwidth – so the faster 7970GE widens that gap even further. The 7970GE is a full 25% faster than the GTX 680 here at 2560 and is extremely close to hitting 60fps at 1920, which given Crysis's graphically demanding nature is quite incredible, and for all practical purposes puts the 7970GE in its own category. Obviously this is one of AMD's best games, but it's solid proof that the 7970GE can really trounce the GTX 680 in the right situation.
As for the 7970GE versus the 7970, this is a much more straightforward comparison. We aren't seeing the full extent of the 7970GE's clockspeed advantage over the 7970 here, but the 7970GE is still at the lower bounds of its theoretical performance advantage over its lower clocked sibling with a gain of 8% at 2560. The 7970GE is priced some 16% higher than the 7970 so the performance gains aren't going to keep pace with the price increases, but this is nothing new for flagship cards.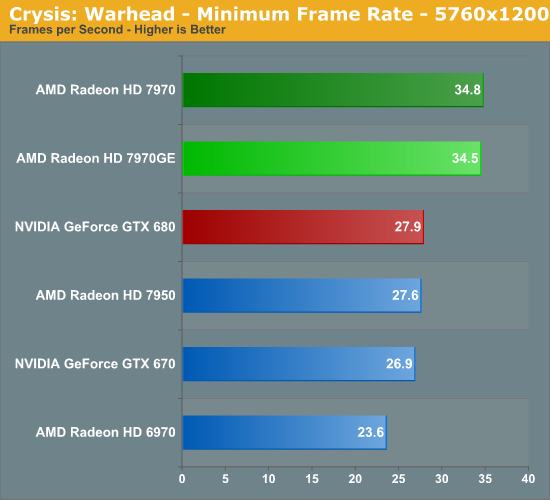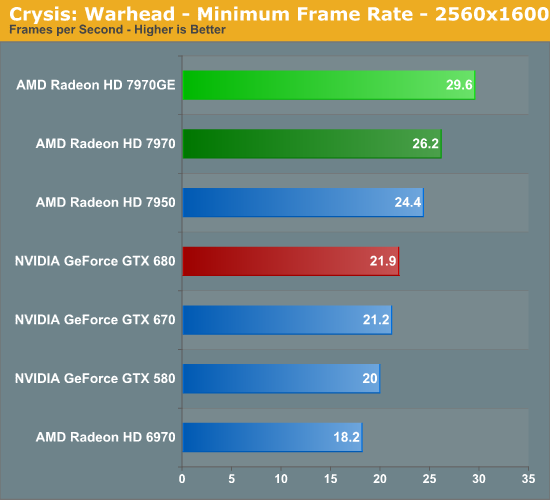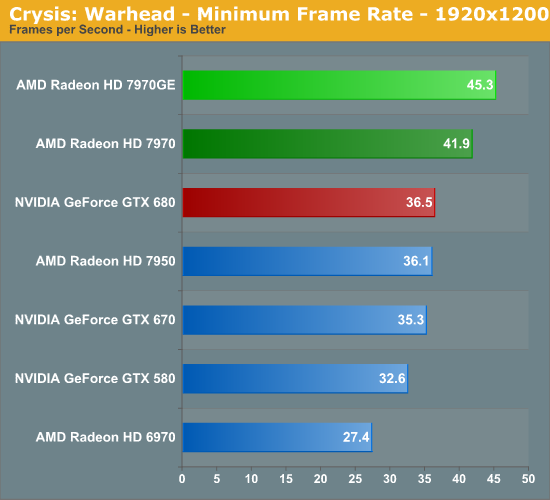 When it comes to minimum framerates the 7970GE further expands its lead. It's now 35% faster than the GTX 680 (and just short of 30fps) at 2560, which neatly wraps up the 7970GE's domination in Crysis. Even its performance lead versus the 7970 improves, with the 7970GE increasing its lead to 13%. A year ago NVIDIA and AMD were roughly tied with Crysis, but now AMD has clearly made it their game. So can it run Crysis? Yes, and a lot better than the GTX 680 can.