StarTech.com specializes in gadgets performing niche, yet handy functions. We reviewed their portable SATA duplicator last year, and this time around we have another interesting gadget from their stables. SATA and IDE hard drive docks / enclosures are a dime a dozen. However, the combination of features provided by the StarTech.com USB 3.0 SATA/IDE HDD docking station persuaded us to get a unit in-house for evaluation.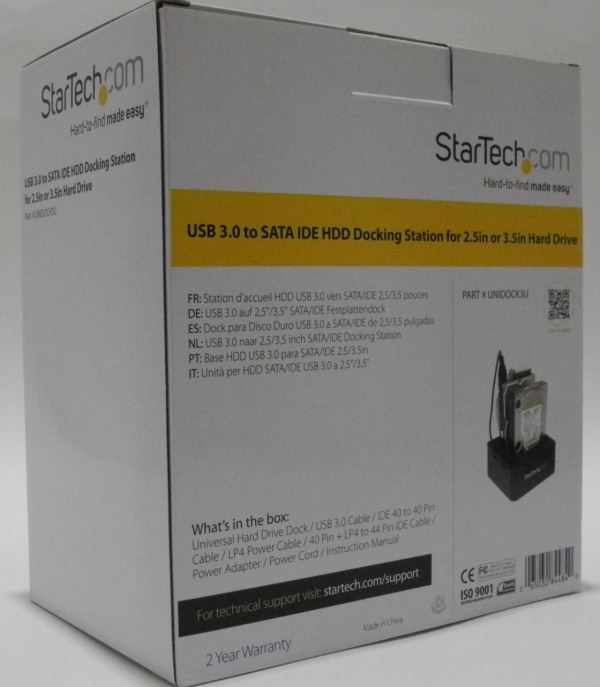 The unit supports upright docking of up to two disks (one SATA and one IDE). Both 2.5" and 3.5" drives can be used. Simultaneous access to both slots is also allowed. USB 3.0 (backward compatible with USB 2.0) is the only mode of communication between the PC and the dock.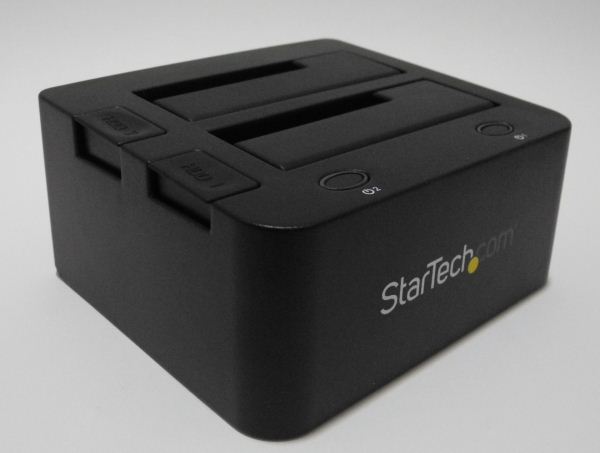 Apart from the main unit pictured above, the package comes with the following components:
36W switching adapter with US power cord
1 x 3ft. USB 3.0 A Male to B Male cable
1 x IDE 40 to 40-Pin Cable (for 3.5" IDE drives)
1 x LP4 Power Cable (for 3.5" IDE drives)
1 x 40-Pin + LP4 to 44-Pin IDE Cable (for 2.5" IDE drives)
Instruction Manual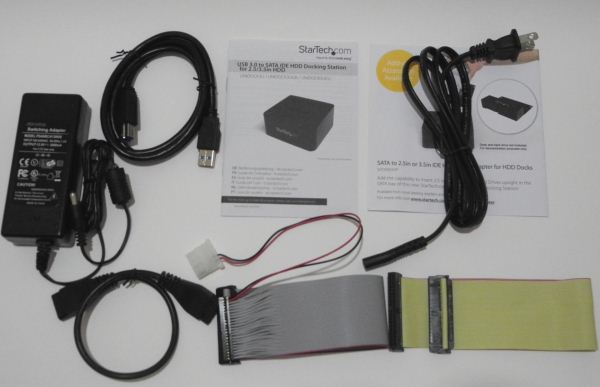 For the purpose of testing out the unit, we used the following drives:
Western Digital Caviar WD400 40GB IDE HD WD400BB-00DEA0
Samsung HD103SJ 1000 GB 7200rpm SATA HD
Corsair Performance 3 Series SATA III SSD CSSD-P3128GB2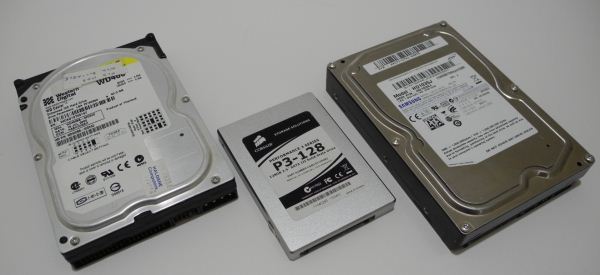 While the WD and Corsair units were used for testing performance, the Samsung unit was used to check up on the power consumption profile of the unit under typical operating conditions. The Corsair SSD was also securely erased prior to the benchmarking in order to restore it to the optimum performance level. The IDE drive wasn't recognized with the jumper settings in Slave mode. Removing the jumper completely enabled access to the drive.
On the host side, we used our Ivy Bridge HTPC setup based on the Asus P8H77-M Pro motherboard. The H77 chipset provides native USB 3.0 and this rules out any performance limitation on the testbed side. The full specifications are provided below.
StarTech.com USB 3.0 to SATA IDE Docking Station Testbed Setup
Processor
Intel Core i7-3770K - 3.50 GHz (Turbo to 3.9 GHz)
Intel HD Graphics 4000 - 650 MHz (Max. Dynamic Frequency of 1150 MHz)
Motherboard
Asus P8H77-M Pro uATX
OS Drive
Seagate Barracuda XT 2 TB
Secondary Drives
Kingston SSDNow V+ 128 GB SATA II SSD SNV325-S2/128GB
Corsair Performance 3 Series SATA III SSD CSSD-P3128GB2
Memory
G.SKILL ECO Series 4GB (2 x 2GB) SDRAM DDR3 1333 (PC3 10666) F3-10666CL7D-4GBECO CAS 9-9-9-24
Case
Antec VERIS Fusion Remote Max
Power Supply
Antec TruePower New TP-550 550W
Operating System
Windows 7 Ultimate x64 SP1
Display
Acer H243H
.
Note that the Asus P8H77-M Pro motherboard has USB 3.0 Boost, which can be used to improve the performance of storage devices connected to its USB 3.0 ports. In the Turbo mode, the BOT (Bulk Only Transport) protocol is used to improve performance (and is supported by all USB devices). USB 3.0 boost can also operate in UASP (USB Attached SCSCI Protocol) mode if the controller on the device side supports it. UASP allows multiple commands to be in transit between the host and the device at any given point of time.
For the purpose of our testing, we operated in default mode (without Turbo or UASP). This should give us an idea of the minimum performance level which can be obtained from the unit. However, we will also see whether Turbo or UASP mode makes any difference to the benchmark numbers.