HTPC Aspects : Custom Refresh Rates
AMD and Intel GPUs don't offer the end users an easy way to create custom refresh rates for their displays. While Intel does offer a control panel for custom timings, it is heavily tied to the EDID, rendering it unusable for the most part. On the other hand, AMD GPUs have had a history of being close to the desired refresh rates out of the box. NVIDIA's GPUs have always needed some tweaking, and the Zotac GT 640 is no different.
As we have recounted in earlier HTPC reviews, a GPU should ideally be capable of the following refresh rates at the minimum:
23.976 Hz
24 Hz
25 Hz
29.97 Hz
30 Hz
50 Hz
59.94 Hz
60 Hz
Some users demand integral multiples of 23.976 / 24 Hz because they result in a smoother desktop experience, while also making sure that the source and display refresh rates are still matched without repeated or dropped frames. The gallery below shows the refresh rate handling for 24, 25 (x2 = 50 Hz), 29.97 (x2 = 59.94 Hz), 30 (x2 = 60 Hz), 50, 59.94 and 60 Hz settings.
The native 23 Hz setting, unfortunately, resulted in a 23.9724 Hz refresh rate.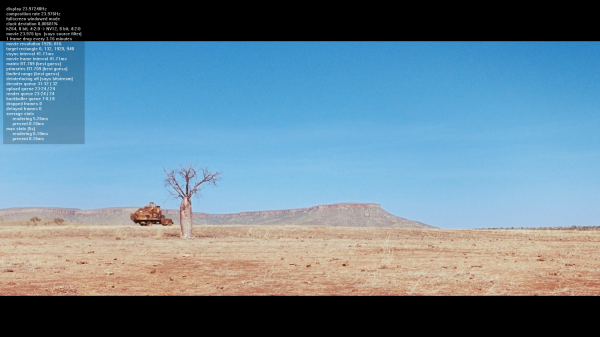 However, with some custom timing setup, we were able to achieve 23.97622 Hz, which is off by just 0.000196 Hz. In my experience, this is the closest to the optimum refresh rate that I have ever achieved with a NVIDIA card.
The custom timing feature is usable, but not without its quirks. Adding a custom resolution is straightforward. Setting the vertical parameters to values similar to the ones in the screenshot above achieves desired results, but the 23 Hz resolution gets saved as 24 Hz. We already pointed out the details in our review of the GT 540M in the ASRock Vision 3D 252B. We hope NVIDIA fixes this annoying issue in one of the upcoming driver releases.