Conclusion: A Good Step Forward for Ultrabooks
All indications right now are that Ivy Bridge is far more important for Intel's laptop division than for their desktops. Yes, we'll eventually get dual-core Ivy Bridge on the desktop as well, but many of those chips will be saddled by less than impressive HD 2500 graphics, which Anand discusses in his i5-3470 review. So why would Intel put all that die space and energy into their IGP if they're just going to disable half of it on most desktops? Because on desktops, integrated graphics performance isn't particularly important; you can always add a discrete GPU (unless you've got a really small/proprietary system). On laptops, a large percentage ship without any sort of dedicated GPU, and it's often a bottleneck for home users.
So just what does Ivy Bridge bring to the party that you couldn't get with Sandy Bridge Ultrabooks? In a word: more. More CPU performance—the i5-3427U we tested today is typically close to i5-2410M performance, and often 20% faster—or more—compared to Sandy Bridge Core i7 Ultrabooks. More GPU performance: HD 4000 in IVB ULV is generally faster than HD 3000 in SNB standard voltage CPUs. And you get all that with similar or slightly better battery life. You also get less: far less bulk and weight to carry around. We're basically looking at the performance of a laptop that used to weigh six pounds in a three pound chassis. If you're someone who carries their laptop around a lot, an Ultrabook would make for an excellent companion—whether for business, school, or some other use. They're light, fast enough, and get great battery life, and they're small enough to fit in a purse or a small laptop bag—no more giant laptop carry ons, thank you very much!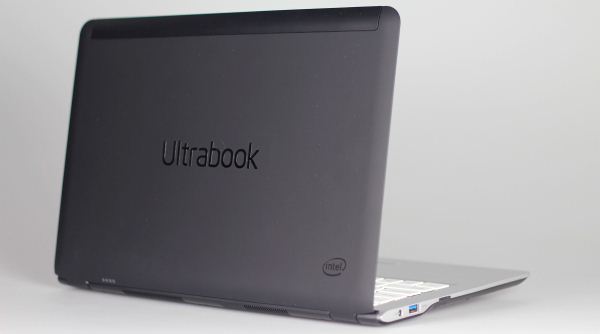 One of the other aspects of Ultrabooks that you can't overlook is that they all include some form of SSD or SSD caching. While we're not as sold on SSD caching, running an SSD on a laptop often results in an end-users experience that's better than running an HDD on a desktop. Boot, sleep, resume, and hibernate times are all excellent: the Ivy Bridge Ultrabook takes just 11 seconds to load Windows and 10 seconds to resume from hibernate, and waking up from sleep is essentially instantaneous. Couple that with features like Intel's Smart Connect Technology that lets your laptop periodically wake up, download email/content from the Internet, and then go back to sleep and you have a system that's ready to go whenever you open it.
With all the good, what's not to like? Well, there's the price. Intel wants people to buy more expensive laptops with more expensive CPUs, and if they're lucky they can even get an Intel SSD in there as well. Ultrabooks are a great way to do all that, but they don't come cheap. The lowest cost Ultrabooks typically start at $800, which is good compared to, say, and Apple MacBook Air, but that $800 is still more than you'll pay for slightly larger/heavier laptops. We've seen Llano A8 laptops going for $500, and even Sandy Bridge laptops with switchable graphics start at under $700 (with some currently on a fire sale for $600). Get one of those and add a decent SSD and you'll still come out ahead, with a potentially more flexible system. It just won't look as sleek as an Ultrabook.
We're also still waiting to see exactly how AMD's lower voltage Trinity parts perform. Given the 17W and 25W TDP on the A6-4455M and A10-4655M, they could easily fit in similar sized laptops (e.g. HP's "Sleekbooks"). Of course, without an SSD you'd lose a lot of the responsiveness of an Ultrabook, and with an SSD the price point would likely be within $100 of where Ultrabooks start. Along with the lower TDPs of Trinity are lower CPU and GPU clocks, though, so while Trinity is clearly more potent for graphics applications at standard voltages, don't expect the low voltage Trinity parts to be quite as fast—and the A6-4455M loses a large number of Radeon cores, so its performance is really hard to guess at without hardware in hand.
If you've been eying the various Ultrabooks and haven't quite taken the plunge just yet, the performance improvements are certainly welcome but may not be the most important item to consider. Instead, it's the second generation Ultrabook designs that are likely to turn heads. We liked the looks of the original ASUS Zenbook, but for all the premium materials they shipped pretty mediocre LCDs. As we discussed in our preview of the UX21A, ASUS is looking to fix that in a major way with their Ivy Bridge Ultrabooks, with 1080p IPS panels available on all three models. All I have to say is: it's about time someone finally offered a tablet quality display in a small laptop! Anand also found the keyboard travel depth to be improved over the original Zenbook, which makes the Zenbook Prime a potentially perfect Ultrabook. We're still waiting to see what others do with their new Ultrabook designs (not to mention Apple's MacBook Air line), but ASUS has thrown down the gauntlet in a big way and they'll be hard to beat this round.