Cellular
The HTC One S includes Qualcomm's MSM8260A SoC, which in turn corresponds to air interface support up to DC-HSPA+ Category 24 (two WCDMA carriers with 64QAM) for a max data rate of 42 Mbps. The difference between this and MSM8960 is obviously the lack of LTE, and lack of CDMA2000 1x/EVDO support which is in MSM8660A (but includes no DC-HSPA+). For T-Mobile, having another DC-HSPA+ phone is an obvious plus, and as we'll show in a minute results in pretty impressive speeds. The previous DC-HSPA+ platform that T-Mobile deployed was the so-called "SoC Fusion" combination, which consisted of APQ8060 and MDM8220, in devices like the T-Mobile SGS2. International customers, I believe, will get DC-HSPA+ if their carrier has made the correct network and user provisions for it.
For those that aren't familiar, DC-HSPA+ Category 24 (3GPP Rel.8) employs carrier aggregation in addition to the other HSPA+ features from Release 7. Essentially, two 5 MHz WCDMA carriers are aggregated together on the downlink, resulting in roughly double the performance of a single WCDMA carrier situation. Note that the uplink remains single carrier, so there's even more of an asymmetry that happens, but given the traffic asymmetry that already exists for most mobile workloads this isn't a huge deal. When you consider that most LTE deployments in the US are currently at maximum 10 MHz FDD, you can see the roots of T-Mobile's DC-HSPA+ as "4G" argument. Of course, that is a vast oversimplification, as WCDMA and LTE differ massively in other fundamental ways such as multiplexing scheme (CDMA vs OFDMA) and other features (MIMO, flat IP PS, etc.).
The International and T-Mobile One S differ in what UMTS bands are supported, as the International One S targets both Asia and Europe, while the T-Mobile version goes for the Americas. I've made a table with the pertinent information.
HTC One S - Network Support
GSM/EDGE Support
850 / 900 / 1800 / 1900 MHz
WCDMA Support
One S - International
850 / 900 / 2100 MHz
WCDMA Support
One S - T-Mobile
850 / 1700 / 1900 / 2100 MHz
HSPA Speeds
HSDPA 42.2 (Cat.24) / HSUPA 5.76 (Cat.6)
Baseband Hardware
Qualcomm MSM8260A
What's awesome about the T-Mobile HTC One S is that it supports 2100 MHz UMTS Band I and AWS alongside Cellular 850 MHz and PCS 1900 MHz. The result is that if you either can find one unlocked, or unlock your T-Mobile One S, you get a quad-band phone which supports DC-HSPA+. I managed to get T-Mobile to unlock my One S, and had no issue using it on AT&T. If anything, I wish AT&T would carry a device like this, since I find the smaller form factor very appealing.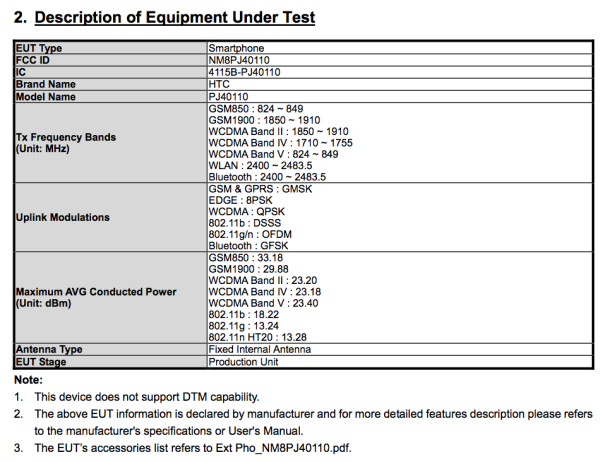 T-Mobile One S Band Support
The transmit antenna for the One S is at the bottom in the plastic region, and up on the removable part is another diversity receive path.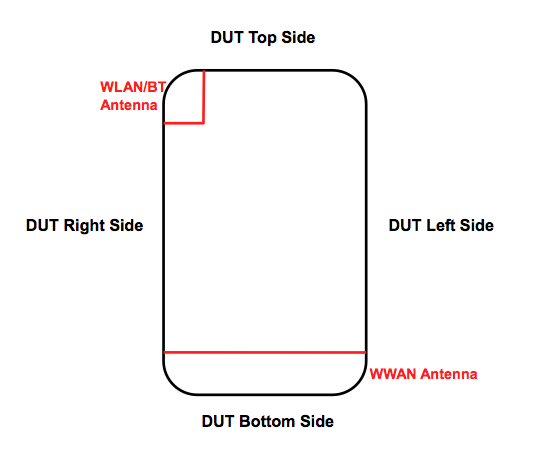 This is our second time showing some DC-HSPA+ results, the first time was in the T-Mobile SGS3. To test, I used the same workflow as always, essentially running as many tests as possible using Ookla's speedtest.net application on Android, exporting the results, and making some pretty graphs with python.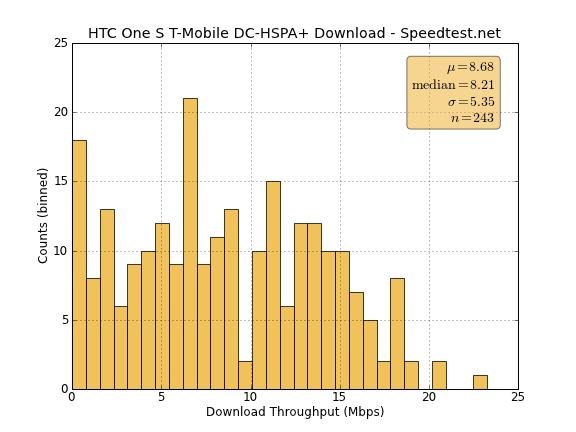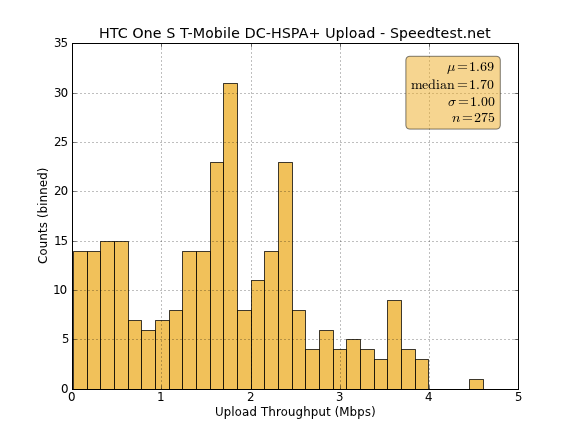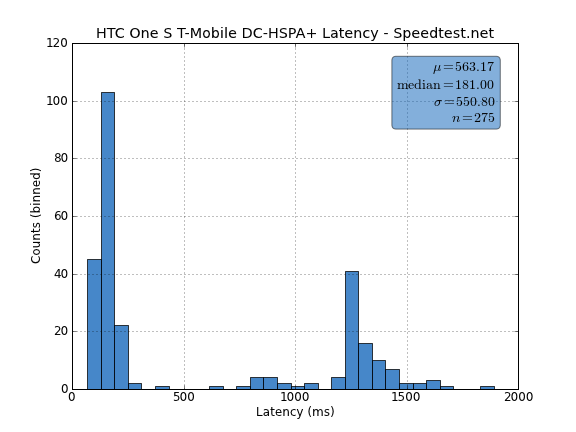 Unsurprisingly DC-HSPA+ is impressively fast on the downlink, with an average of around 9 Mbps and a maximum of just above 20 Mbps. It's not the kind of performance you'll get out of LTE (proving that the many subcarrier scheme employed in OFDMA and other enhancements to the physical layer in LTE does in fact pay off), but it's pretty darn impressive nonetheless. There's a weird double distribution in latency probably due to setup time coming out of CELL_PCH and setting up the DC-HSPA+ link. Running a test right after this setup yields much lower latency, which is why I say it seems to be connection setup related. I have to say that I'm impressed with how fast T-Mobile's DC-HSPA+ is in my area, and that DC-HSPA+ isn't a bad interim air interface until the carrier can deploy LTE. I have a lot of respect for how fast T-Mobile deploys WCDMA related updates.
On the international One S, my only option for testing was AT&T in an 850 MHz market in Pinal County north of me (I'm in Tucson, AZ from Pima county just south, where AT&T is only PCS 1900 MHz). I actually ended up driving over 400 miles and sleeping in a number of different hotel rooms (many Bothans died... and so forth) to finish battery life and speed testing on the International One S because it's the only county in Arizona where AT&T holds an 850 MHz license.
There the phone posted speeds that are more in line with what I expected for single carrier AT&T HSPA+. Running these was more of an exercise in making sure everything was working fine rather than proving something about the One S or AT&T. Those battery life numbers earlier on and seeing what experimental differences come from operating the Rx low noise amplifier in a 10 MHz wide configuration were the real effort. Note that the big power consumer, the Tx power amplifier, which is active when in CELL_DCH and CELL_FACH, is still just 5 MHz because DC-HSPA+ only affects the downlink.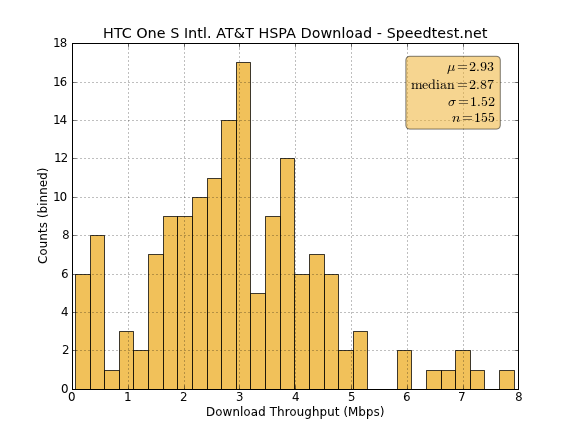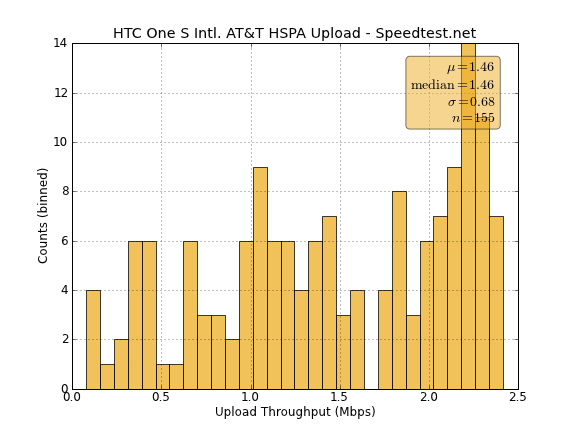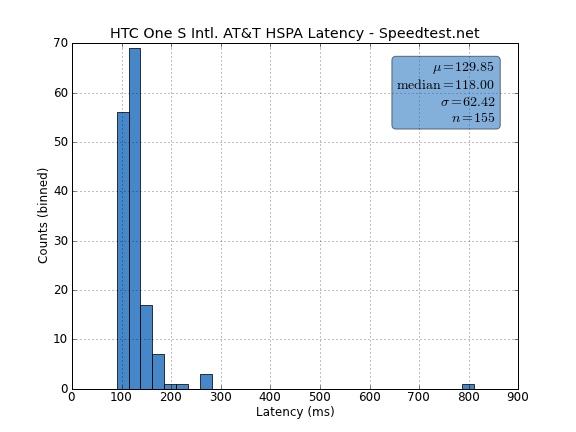 For Qualcomm, the MSM8260A is as much of a stepping stone as the MSM8960, as this is the first time DC-HSPA+ has been integrated into the on-SoC baseband. As I mentioned earlier, the previous solutions were APQ8060+MDM8220 or similar. For T-Mobile, having a number of phones coming up that are compatible with the network's DC-HSPA+ network is critical to selling its service as being roughly on a similar footing as LTE.
WiFi
Like the HTC One X (AT&T) and XL, the HTC One S uses Qualcomm's on-SoC baseband for WLAN and BT 4.0. Checking through the boot log, I see the same WCNSS firmware get loaded and initiated which is that WLAN+BT block. The difference between the One X/XL and One S WLAN is that the One S doesn't include 5 GHz or 40 MHz channel support.
As noted in the above FCC schematic, the WLAN transmit antenna is up at the top in that removable plastic region.
One of our readers pinged me and let me know that reliable iperf ports are now available on Android and iOS, so I'll be switching over to using iperf for my main WiFi throughput testing instead of the 100 MB PDF. I tested a small number of the phones I've got on hand with iperf for comparison.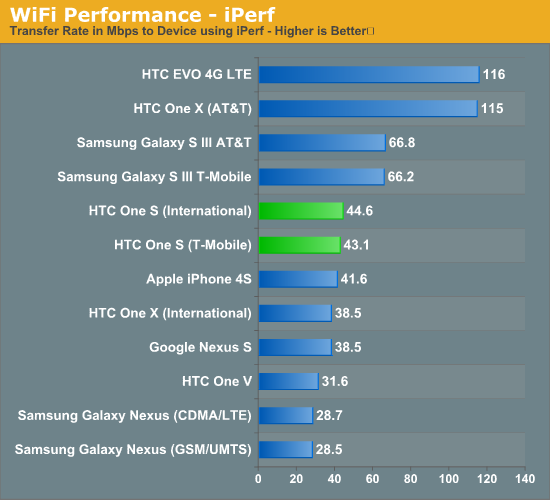 The One X and EVO both have 40HT support on 5 GHz, and thus pull pretty far into the lead. The 20 MHz channel 2.4 GHz devices cluster around 40 Mbps. Unsurprisingly the International and T-Mobile versions are very close.
Speakerphone
I tested speakerphone on the HTC One S using our sound meter 3 inches away from the device on maximum volume. The speakerphone on the One S is underneath the grid of holes on the back at the bottom plastic region. Interestingly enough the devices differed somewhat, though I'd attribute this more to the difference in carrier (AT&T on the International device) than any real difference in loudness between the two.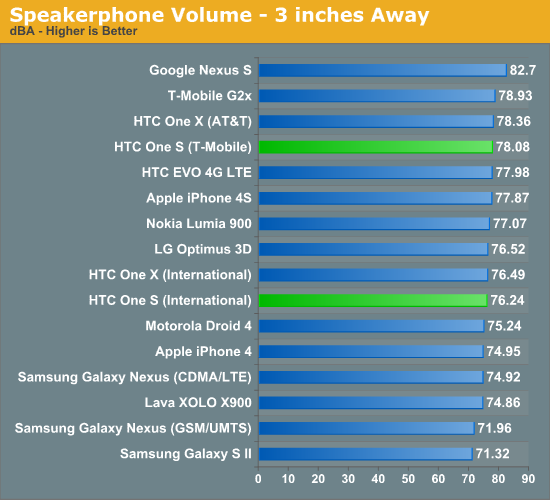 GNSS
I'm starting to sound like a broken record, but just like the One X (AT&T) the One S uses the on-SoC baseband for GNSS (Global Navigation Satellite System). In this case, that means GPS with GLONASS, specifically Qualcomm's gpsOneGen 8A with GLONASS. I have no problems getting a fast lock even indoors or in an urban environment, and like other combos with GLONASS you can see those satellites pop into use when GPS signal is weak.