Test Setup
Power Consumption
Power consumption was tested on the system as a whole with a wall meter connected to the OCZ 1250W power supply, while in a dual 7970 GPU configuration. This power supply is Gold rated, and as I am in the UK on a 230-240 V supply, leads to ~75% efficiency > 50W, and 90%+ efficiency at 250W, which is suitable for both idle and multi-GPU loading. This method of power reading allows us to compare the power management of the UEFI and the board to supply components with power under load, and includes typical PSU losses due to efficiency. These are the real world values that consumers may expect from a typical system (minus the monitor) using this motherboard.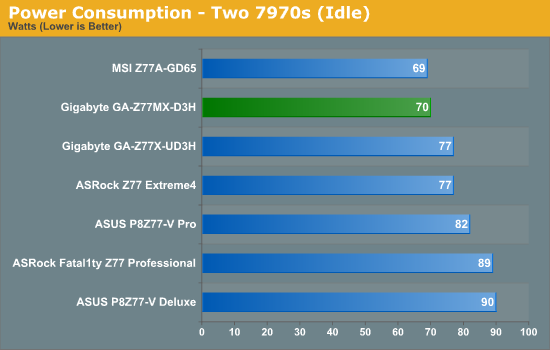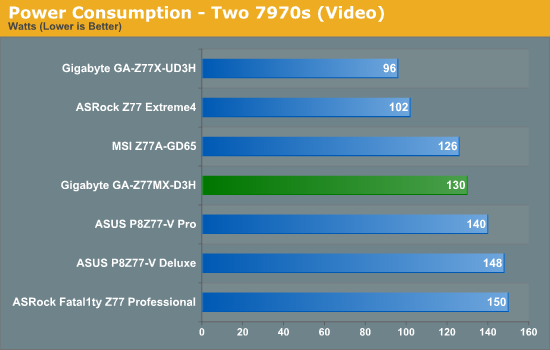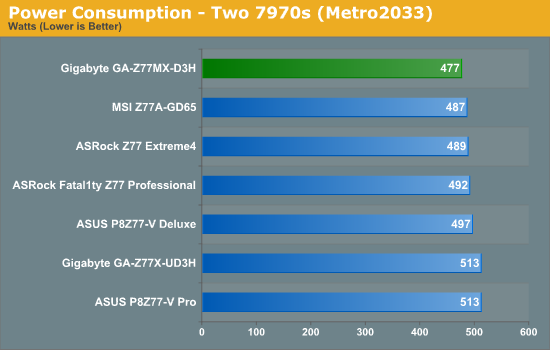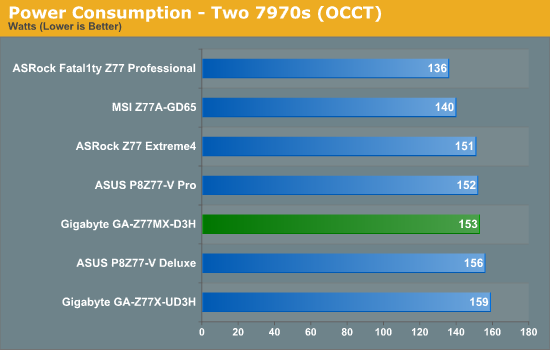 Due to the size of the board and the lack of phase loading in any serious manner, the Gigabyte Z77MX-D3H does rather well in power usage especially at idle. During video, the board is somewhat thwarted with it's bigger brother needing less power.
POST Time
Different motherboards have different POST sequences before an operating system is initialized. A lot of this is dependent on the board itself, and POST boot time is determined by the controllers on board (and the sequence of how those extras are organized). As part of our testing, we are now going to look at the POST Boot Time - this is the time from pressing the ON button on the computer to when Windows starts loading. (We discount Windows loading as it is highly variable given Windows specific features.) These results are subject to human error, so please allow +/- 1 second in these results.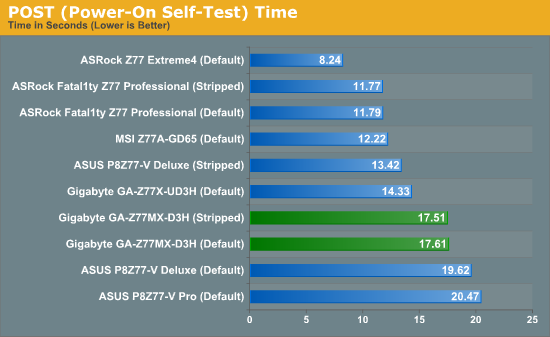 The controllers on board the Z77MX-D3H do not add much for POST times, and overall the Gigabyte is rather slow compared to its competitors. The ASRock Z77 Extreme4 for example is in a similar price bracket but takes around half the time to POST.
Overclocks
Here at AnandTech we want to provide quick and easy ways to determine if a board is good for you (with in-depth analysis of course). So here is a quick round up of our overclocking results. Overclocks are tested for stability with PovRay and OCCT - while these may not be the most strenuous of stability tests, it does offer a quick check for memory errors under high load (and also balances testing time with getting the next board on for review!).
CPU Speed
(MHz)
Voltage
(Volts)
PovRay Peak
Temp (ºC)
OCCT Peak
Temp (ºC)
Notes
ASRock
Fatal1ty Z77
Professional
4700
1.200
89
89
PLL Overvoltage enabled
ASRock
Z77 Extreme4
4700
1.175
86
86
LLC Level 1
ASUS
P8Z77-V Deluxe
4700
1.225
89
84
PLL Overvoltage enabled
ASUS
P8Z77-V Pro
4700
1.200
83
86
PLL Overvoltage enabled
Gigabyte
Z77X-UD3H
4700
1.200
82
86
LLC Extreme
Gigabyte
Z77MX-D3H
4700
1.200
80
84
LLC Extreme
MSI
Z77A-GD65
4700
1.250
90
-
PLL Overvoltage enabled