HyperZ
When we took a look at PowerVR's new chip solution, the Kyro, it became clear that a tile based rendering technique had some major advantages over the conventional rendering technique. By substantially decreasing the amount of data that had to pass over the relatively slow memory bus, the tile based rendering solution seemed like a good idea.
ATI seems to have agreed as well. Taking some of the techniques involved in tile based rendering, ATI created their HyperZ technology. HyperZ enables various forms of compression of the data going to the Z-buffer and performs an early culling of polygons so that objects that aren't visible to the viewer aren't rendered. By doing so, ATI claims that they can boost the effective memory bandwidth by about 20%.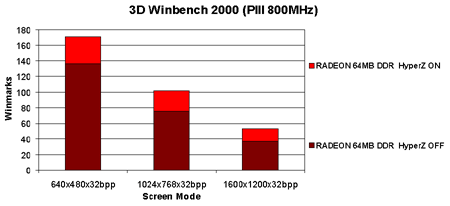 Now that we know a bit behind the chip that powers ATI's new Radeon graphics card, let's take a look at how the chip is used.