The performance of the 2big NAS unit was evaluated on the Windows platform using Intel NASPT and our standard robocopy benchmark. As a comparative reference, we also ran the benchmarks using the same disks and under the same circumstances on the Synology DS211+.
The first set of graphs below shows the performance of Samba shares on the LaCie 2big NAS as compared to the Synology DS211+ (updated to the latest DSM 4.0-2228).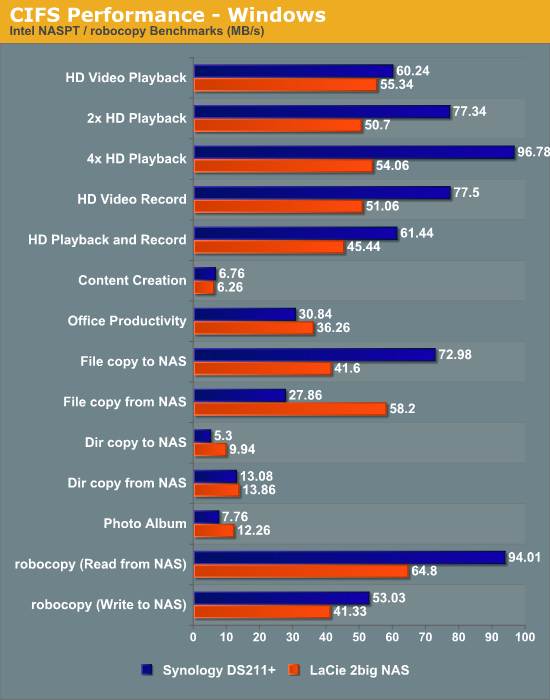 We also created a 100 GB iSCSI target and mapped it on the Windows VM. The same benchmarks were run and the results are presented below.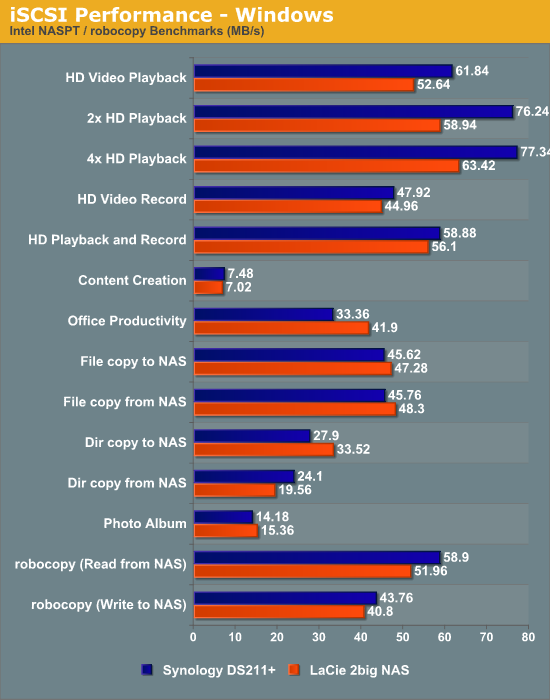 We find that the performance is affected by two factors, namely, the amount of memory in the NAS and the host processor's speed. While the DS211+ scores better in the former category, the LaCie 2big NAS has a 400 MHz advantage in the latter. That said, the DS211+ scores better in more benchmarks (and importantly, in the robocopy benchmark) than the LaCie 2big NAS. This implies that there is lot of scope for improvement in performance in LaCie's NAS OS 2 (and not all of the shortcomings might be due to the lesser amount of DRAM). That said, the 2big NAS is priced lower than the DS211+, so a difference in performance might well be expected.