The LaCie 2big NAS turned out to be one of the easiest NAS units to take apart. There were four screws which were covered up to blend with the gray metal of the chassis, but it was trivial to get them out. After pulling back the rear panel, the front part was slowly eased out. The fan's power connector was carefully removed.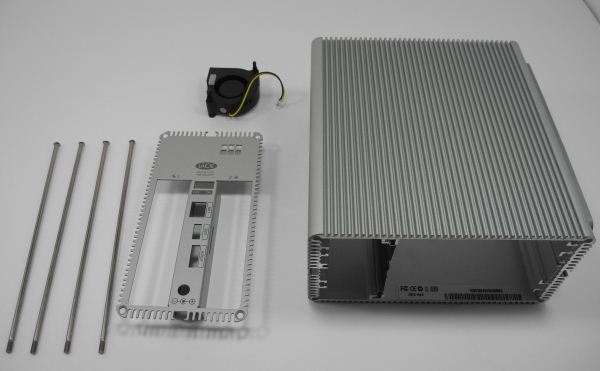 The gallery below shows some of the internal shots of the board.
In the absence of SSH access, we had to determine the configuration of the system from board inspection. LaCie indicates that the NAS is powered by a 2 GHz ARM processor, but provides no other information. As the board shows, it is the Marvell 88F6282 which is at the heart of the NAS. This is a higher clocked version (2 GHz) of the same chip used in the Synology DS211+ as well as the Netgear NV+ v2.
Two Samsung DRAM modules provide a total of 256 MB of DRAM for the system. 512 MB of Hynix flash memory is present on the other side of the board. Other major items on the board include the Marvell Alaska 88E1518 GbE transceiver PHY, a JMB360 PCI-E to SATA II bridge for the eSATA port and an Altera MAX CPLD with unknown functionality.