AMD Trinity Gaming Performance
After the 3DMark results, you might be wondering if Intel has finally caught up to AMD in terms of integrated graphics performance. The answer is…yes and no. Depending on the game, there are times where a fast Ivy Bridge CPU with HD 4000 will actually beat out Trinity; there are also times where Intel's IGP really struggles to keep pace. The good news is that at least everyone is now onboard the DX11 bandwagon, and compatibility with games has improved yet again for Intel. Here are our "Value" benchmark results for seven recent games; we'll have more information in a moment.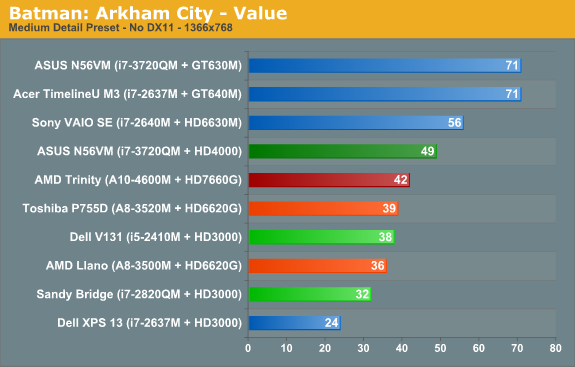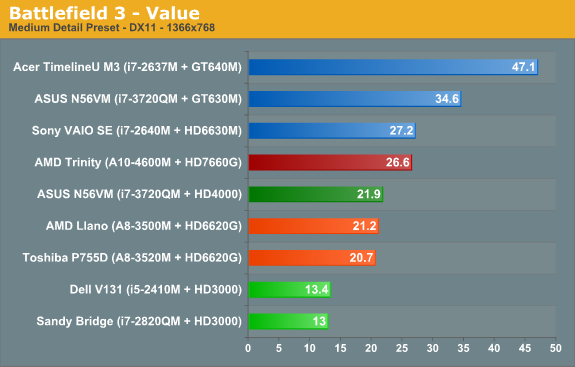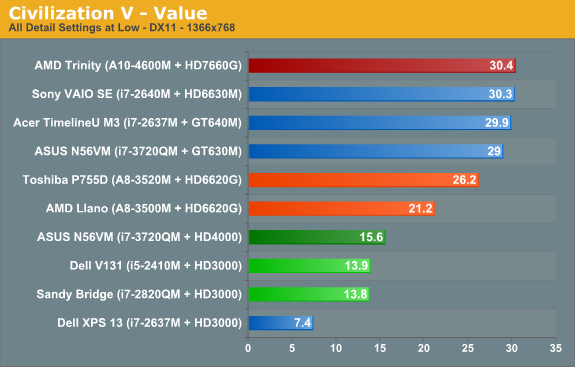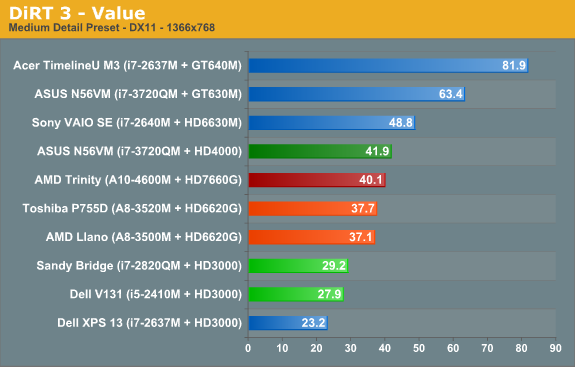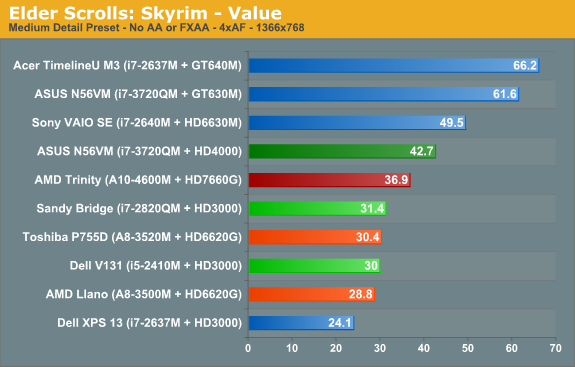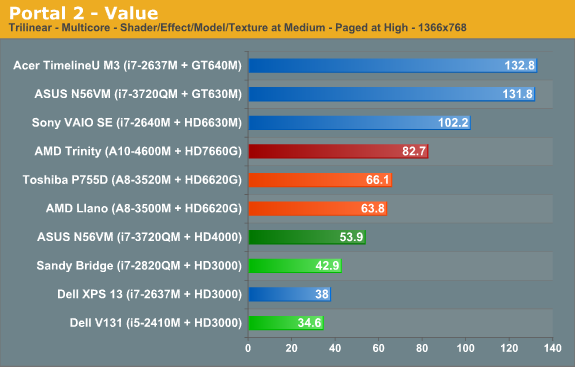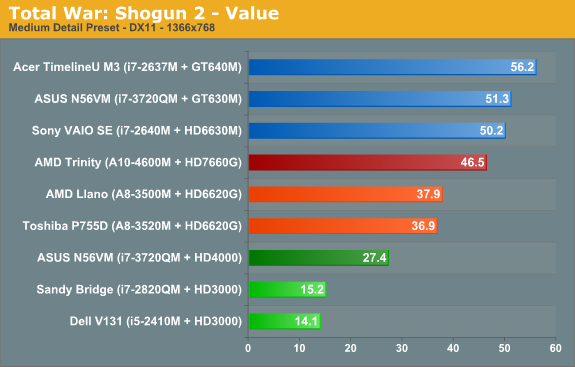 Out of our seven test titles, AMD's Trinity leads any other IGP in four titles by a large margin. The other three titles actually have Ivy Bridge slightly ahead of Trinity, but the gaps aren't nearly as big. Overall, the average performance across the seven games at our Value (medium) settings has AMD's Trinity A10-4600M leading Intel's i7-3720QM by 21%, and if we look at quad-core Sandy Bridge with HD 3000 (i7-2820QM) Trinity is 72% faster. Trinity is also around 20% faster than 35W Llano on average.
Let's expand our gaming suite just a bit to see if things change, though. Just like we did with Ivy Bridge, we ran the eight games in our previous benchmark suite at medium detail settings. We can then compare performance across a wider 15 title selection to see how Trinity matches up against HD 4000, HD 3000, and HD 6620G (Llano). We'll start with the bottom (HD 3000/Sandy Bridge) and move up.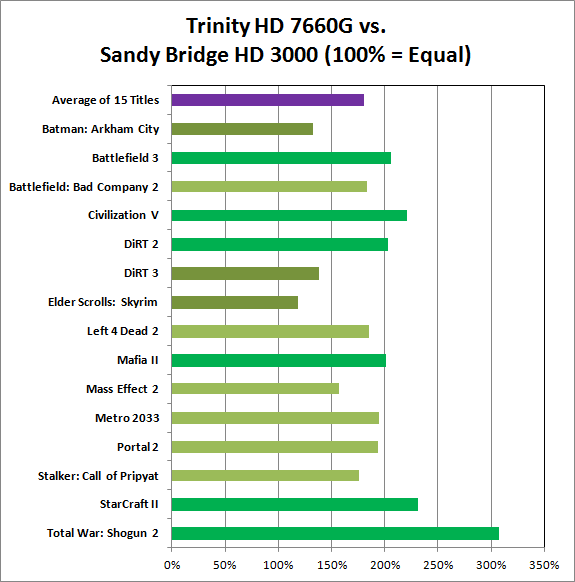 Llano's HD 6620G was already faster than HD 3000, and Trinity's HD 7660G is faster than Llano, so the Sandy Bridge gaming matchup is a landslide victory in AMD's favor. The closest Intel can get is in the same three titles where Ivy Bridge leads Trinity: Batman: Arkham City, DiRT 3, and Skyrim. Here, however, HD 3000 can't actually close the gap and HD 6620G is at least 20% faster than HD 3000, with an average performance improvement of nearly 80%.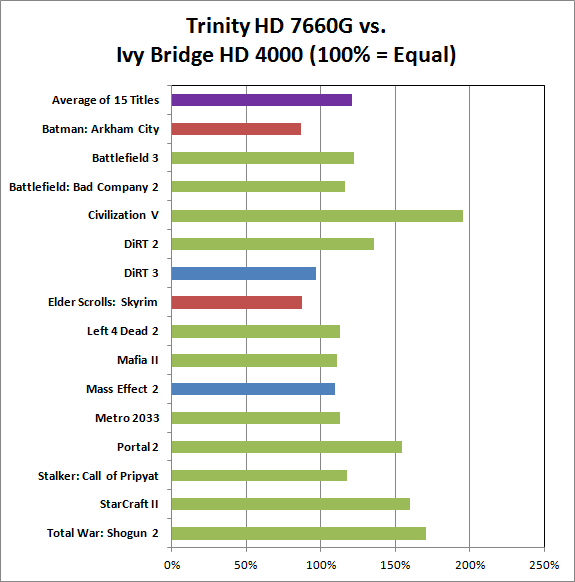 We found that across the same selection of 15 titles, Ivy Bridge and Llano actually ended up "tied"—Intel led in some games, AMD in others, but on average the two IGPs offered similar performance. This chart and the next chart will thus show a similar average increase in performance for Trinity, but the details in specific games are going to be different. Starting with Ivy Bridge and HD 4000, as with our earlier game charts we see there are some titles where Intel leads (Batman and Skyrim), a couple ties (DiRT 3 and Mass Effect 2), and the remainder of the games are faster on Trinity. Mafia II is close to our <10% "tie" range but comes in just above that mark, as do Left 4 Dead 2 and Metro 2033. The biggest gap is Civilization V, where Intel's various IGPs have never managed good performance; Trinity is nearly twice as fast as Ivy Bridge in that title. Overall, it's a 20% lead for Trinity vs. quad-core Ivy Bridge.
Against Llano, Trinity is universally faster, but the smallest gap is in Mafia II (3%) while the largest gap is in StarCraft II (30%). On average, looking at these games Trinity is only 18% faster than Llano. What's not entirely clear from the above chart is whether we're hitting CPU limitations, memory bandwidth limitations (remember that Llano and Trinity share bandwidth with the rest of the system), or perhaps both. At our chosen settings, what is clear is that Trinity's "up to 56% faster" graphics never make it that high.
We saw 35-45% higher scores in 3DMark 11 and Vantage, which tend to remove the CPU from the equation more than actual games, so our guess would be that if AMD continues with their APU plan they're going to need to work more on the CPU side of the equation. We also see the same thing looking at the VAIO SE scores in the earlier gaming charts: the HD 6630M scores are 20% faster on average, but much of that appears to come from the faster CPU rather than the GPU.