Meet the AMD Trinity/Comal Prototype Laptop
So I have to be honest: I'm a sucker for unique laptops. Not so much from the standpoint of actually using such laptops, but just as something cool to show my fellow computer nerds when they visit. The Trinity prototype is quite clearly a design that isn't going to market without some changes, but unlike the Llano prototype (or the Intel SNB prototype), at least this one tries to stand out from the crowd a little bit. AMD has gone all-in on branding, with the AMD logo featured prominently on the cover, below the LCD on the bezel, and at the top-left of the keyboard. None of that makes the design any better from a functionality standpoint, but it's still a cool tchotchke: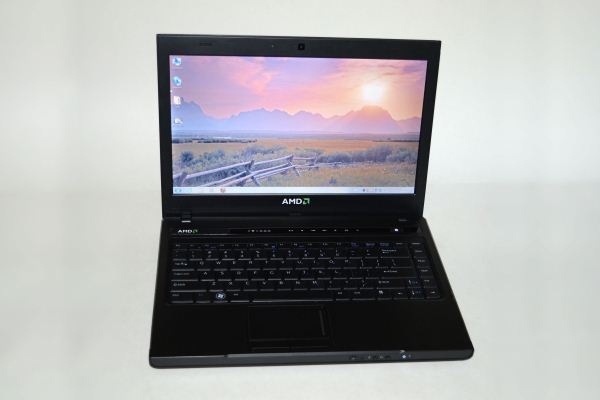 The bottom of the laptop is full of the usual warning about how the laptop may not meet regulatory requirements (and if you think that sticker is bad, you should see some of the dire warnings in the documentation for another prototype I've got hanging about waiting for the NDA to lift!). There's also a bold "Prototype System" label, and the Blu-ray drive is clearly of a not-for-resale nature, with a fascia that doesn't line up with the laptop shell. None of this affects the performance of the laptop, but it's a nice diversion for what is otherwise an unremarkable system. In terms of specifications, just for completeness' sake here's the full rundown of the system components:
AMD Trinity Prototype Laptop Specifications
Processor
AMD A10-4600M
(Dual-module/quad-core 2.30-3.20GHz, 4MB L2, 32nm, 35W)
Chipset
AMD A70M (Hudson M3)
Memory
4GB (2x2GB) DDR3-1600 Samsung
8GB (2x4GB) DDR3-1600 Hynix
Graphics
Radeon HD 7660G
(384 Radeon Cores, up to 686MHz)
Display
14" WLED Matte 16:9 768p (1366x768)
(AU Optronics B140XW02)
Storage
128GB Samsung 830 SSD
240GB Intel 520 SSD
Optical Drive
Blu-ray Combo Drive (PLDS DS-6E2SH)
Networking
Gigabit Ethernet (Realtek 8168/8111)
802.11n WiFi (Broadcom BCM4313 2x2:2 MIMO, 2.4GHz)
Bluetooth 2.1 (Broadcom BCM2070)
Audio
Stereo Speakers
Headphone and microphone jacks
Capable of 5.1 digital output (HDMI)
Battery/Power
6-cell, 11.1V, >4.84Ah, ~56Wh
90W Max AC Adapter
Front Side
WiFi On/Off Switch
Headphone jack
Microphone jack
Left Side
2 x USB 3.0
HDMI 1.4a
1 x USB 2.0/eSATA Combo
VGA
Exhaust vent
AC Power Connection
Kensington Lock
Right Side
Memory Card Reader
Optical Drive
1 x USB 2.0
Gigabit Ethernet
Back Side
N/A
Operating System
Windows 7 Ultimate 64-bit
Dimensions
13.33" x 9.53" x 1.16-1.34" (WxDxH)
(339mm x 242mm x 29.5-34.0mm)
Weight
4.7 lbs (2.14kg)
Extras
Webcam
86-Key keyboard
Flash reader (MMC/MS/SD)
Everything is pretty much standard fare these days, though it's interesting that AMD chose to ship us a laptop with an SSD drive instead of a regular HDD. You'll note that we list two SSDs as well as two sets of memory; the reason is that we performed additional performance testing with hardware that's slightly different than AMD's shipping configuration. We wanted to make our comparisons with other laptops more apples-to-apples, so we used the memory from the Ivy Bridge laptop we recently reviewed to see if doubling the RAM made any difference for our benchmarks—it didn't. We also tested five different laptops with a 240GB Intel 520 SSD, just to level the playing field for tests like PCMark.
The PCMark scores for the Samsung 830 and Intel 520 are within 1% of each other, and for most systems it's really going to come down to a question of whether you have an SSD or not rather than what specific SSD you're using. You may (or may not) be surprised to hear that the bigger impact from the SSD came in the area of battery life. The ASUS N56VM battery life remained essentially unchanged with the Intel 520 instead of the original 750GB 7200RPM Seagate HDD, so if you expect any SSD to improve battery life you might be surprised by that result. The other surprise was just how much of a difference there was between the Samsung 830 and Intel 520 SSDs in the Trinity laptop: the Samsung 830 improved battery life by nearly 10% in two out of three tests (and by 3% in the H.264 playback test). A quick look at the idle power consumption results from our SSD Bench provides the answer, of course: the 128GB Samsung 830 uses just 0.38W at idle compared to 0.82W for the 240GB Intel 520. For a desktop, it's hardly worth mentioning, but for laptops that nearly half a watt definitely shows up.
We could complain about the usual items like build and LCD quality—neither one is particularly impressive for this test laptop—but they really don't matter since this isn't a retail sample. For the intended purpose, the laptop works fine—fix the optical drive bezel and I'm sure there would even be some enthusiasts interested in owning a piece of genuine AMD laptop kit. But since that's not going to happen, let's move on from the laptop and run some actual performance tests.
Test Setup
Before we get to the charts, let's quickly discuss the list of laptops we've selected for this review. There's always some debate and outcry over what we include/omit in the charts, which is one of the reasons we have Mobile Bench—you can perform any head-to-head comparison there if you'd like. With well over 100 laptop results in our Mobile Bench database, sifting through the complete charts can be a bit of a nightmare, so for our articles we try to prune things down. I settled on ten laptops for the majority of our charts, with an attempt to represent most of the interesting data points.
Naturally we have AMD's Trinity prototype (highlighted in red), and to go along with the newest and latest hardware we've also included results from Intel's quad-core Ivy Bridge notebook (in dark green). It's important to consider that these two laptops do not target the same market: we expect the ASUS N56VM to sell for around $1200 with the tested configuration, whereas AMD's Trinity laptops will hopefully be closer to half that price—obviously, without shipping hardware we really don't know what OEMs will end up charging for Trinity. To fill in the rest of the charts, we have two AMD Llano laptops (orange)—one the original AMD prototype, only this time equipped with an SSD, and the second a standard Toshiba Satellite P755D. We've also got two primary Sandy Bridge comparisons (light green): one is the prototype quad-core i7-2820QM, and the second is a retail Dell Vostro V131 with i5-2410M; the only catch is that we retested both systems with the Intel 520 SSD.
Rounding out the rest of the selections, we have three ultrabooks: the Acer TimelineU with NVIDIA GT 640M graphics, a Dell XPS 13 with i7-2637M, and a Toshiba Z830 with i3-2367M. All three of these come with SSDs, and we thought it would be interesting to show where Trinity falls relative to the low and high marks set by Sandy Bridge ultrabooks. The last laptop in the list is Sony's VAIO SE, which has switchable graphics with AMD's HD 6630M. Given the i7-2640M CPU, the VAIO SE should give a pretty clear look at the maximum performance you can get from the discrete Radeon HD 6630M GPU, so we'll be able to see if/when Trinity's HD 7660G comes out ahead of previous generation mobile GPUs. All four of these laptops are in blue—our default "don't pay too much attention to me" color.